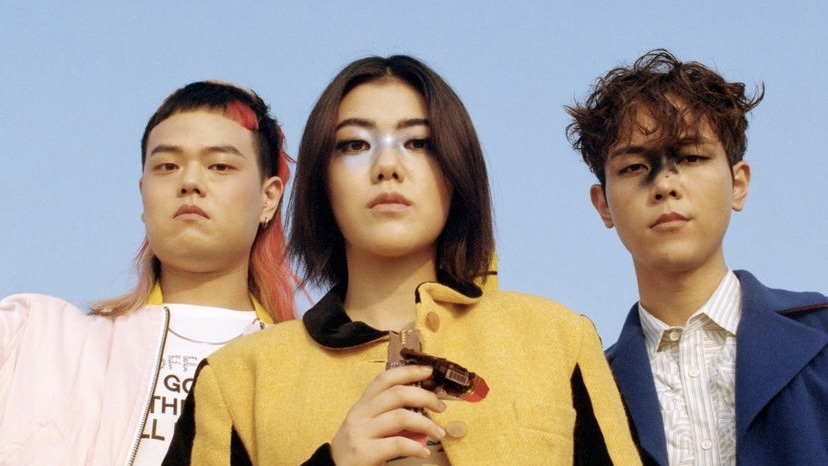 South Korean indie rock band SE SO NEON is going on their first U.S. and Canada tour. Kicking off on March 31, the band will be hitting nine cities including New York, Los Angeles, Chicago, and Toronto. They've previously performed virtually for Texas's SXSW 2020, but haven't had the chance to play their latest releases in person until now. 
Named by Pitchfork and Paste Magazine for having one of the best rock albums of 2020, SE SO NEON has already been making a splash for their solid aesthetics and unique, almost yearning, sound. With each comeback, they've only been stepping up their game, while not forgetting to invite fans into the artistic process. 
Who are SE SO NEON?
SE SO NEON was started in 2016 and means "new youngster" or "new youth" in Korean. The group is made up of vocalist and guitarist Hwang So-yoon (also known as So!YoON! for her solo work), drummer U-su, and bassist Park Hyun-jin.
As per their name, there is an air of fun rebellion around each member. So-yoon tends to rock a sharp bob, U-su channels an art student with his colorful highlights, and Hyun-jin commands attention between the very contrast. 
Their edgy style also extends into their music, which touches on different, often undiscussed facets of life, like late love and being yourself in the midst of societal pressures. They remind us that Korean music is not a monolith and that there is so much more to be explored in their work. 
SE SO NEON's fans are understandably excited for live performances of favorites like their latest single "joke!", the early 2021 release "Jayu자유", and other songs from their 2020 EP, Nonadaptation 비적응.
NOW PLAYING…
Many fans are looking forward to "Nan Chun," which is Chinese for "Chaotic Spring." The 2020 music video focuses on an older woman and her story of a departing love. It is a refreshing take beyond the popular young love stories we see today.
Throughout the moody video, So-yoon mournfully sings, "Oh, my dear, don't fall apart / Don't get cold on thе windy windowsill / Come here and hug mе tight / Live through today and let's go to tomorrow." Some fans have even interpreted the video to be about queer love. From how the women in the video embrace, to the tender lyrics evoking the struggle to preserve themselves through it all, it is a song that truly resonates with many. 
In an Instagram post, So-yoon's wrote that her inspiration came from the question, "What can I do if the person I love dies quietly next to me?" From such melancholy, SE SO NEON has put forth a truly haunting, yet comforting song.  
In "Jayu자유", we again see their adept skill for storytelling through juxtaposition. One of So-yoon's final lines is sung calmly, "On this day I feel free." But, it is soon contrasted heavily with a montage of destruction. Fires envelop the screen, buildings collapse, and tears fall as the song stretches into its end. SE SO NEON shows us there was a certain kind of freedom to be found in rising from the ashes.
Don't take our word for it, there are still many other gems to be discovered in their discography. If you haven't heard of SE SO NEON yet, now is your chance.
You can find tickets for their shows at their website, https://sesoneon.com/. We'll see you there! 
Keep up with SE SO NEON on Instagram and check out their music on Spotify, Youtube, Apple Music.
Want more music news? Read about Stray Kids and ITZY joining Republic Records here
---