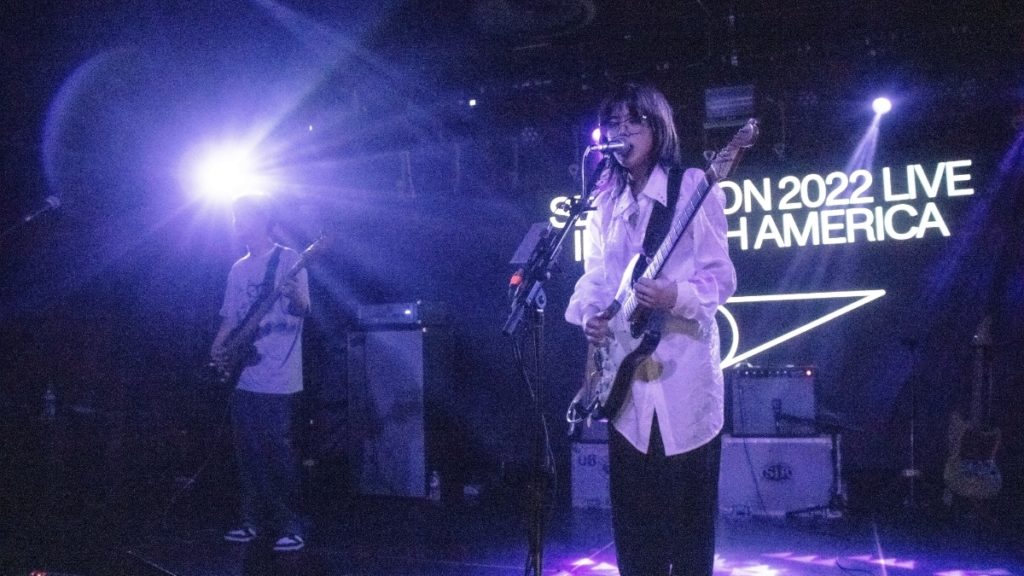 South Korean indie rock trio SE SO NEON had their Los Angeles show on April 10. With two new songs in their set list, the show was a treat for long-time fans who were finally able to see lead singer Soyoon, bassist Hyunjin, and drummer Usu in person. 
Sandwiched between their February Korean shows, Soyoon's recent March SXSW performance, and their upcoming Europe festival slot in May, L.A. was the third to last stop in their North American tour, which ended on April 12. 
In Los Angeles, although the doors opened at 7PM, some fans had been waiting since 1 PM. Once in the pit, they excitedly chatted about how they got into the group, citing frontwoman's Soyoon's solo work and even playing SE SO NEON's many artistic music videos. The room continued to pack as triangles of light flitted throughout the crowd, and then the stage got dark at 8 PM. The show had only just begun. 
Laurence-Anne and BOYO Light Up The Stage
The first half-hour act was Laurence-Anne, a Québécois pop singer who delves in indie pop, punk, and art rock. She spoke and played songs like "Indigo," which is in French, and "Pajaros," which is in Spanish. Supported by N Nao on the piano, and Ariel, who alternated between fun instruments like the maracas, a saxophone, and a güiro, the three created an outpour of music that both soothes its listeners, but pushes their senses to its limit. 
They were followed by BOYO, a project led by Robert Tilden with bassist Cameron, guitarist Huffy, and drummer Nick. BOYO played a total of seven songs, made clear on sheets of notebook paper and marker: "See You When I Die," "Mantra," "Good as Gone," "Feel," "Lose My Mind," "Freaky," and "Hit or Miss."  
Between their feel-good and upbeat rock tunes, they had fun with fans, as members challenged each other to drinking matches of vodka orange juice between sets. As BOYO closed their performances, the crowds waited in anticipation for SE SO NEON to take the stage.
SE SO NEON's and Fans' Long Dream 
Around 9:30 PM, SE SO NEON appeared and took their places with their instruments. Soyoon wore a crinkly white button up with a chunky silver necklace that brilliantly reflected the stage lights. Hyunjin kept it casual in a gray graphic t-shirt, and Usu sported tour merch, a black baseball cap embroidered with the lyrics from "Jayu:" "TAKE OFF THIS SHIRT AND GO OUTSIDE THE DOOR YOU'LL FINALLY FIND 자유." 
While introducing their new songs, Soyoon implored for creative fans to slide into their Instagram DMs if they had an idea for its title while listening. The group members all took some time to speak to the audience in English and Korean, with Usu being the go-to for lighthearted casual banter as they readjusted between songs. 
SE SO NEON began songs like with the heartbreaking "Gurumi," as well as their whimsical "Deong," which implores listeners to dance even if you're the only one doing so. The mood oscillated between the intense chords of exhilarating fan-favorite "Midnight Train," to Soyoon's highly personal "Jayu," which Hyunjin and fans pulled out their phone flashlights for. Even if the audience were all "Strangers" to each other in Los Angeles, as Soyoon noted, for this brief moment, everyone was all drawn closer together. 
Soyoon also made touching comments in Korean about how she wasn't sure how to explain a certain song or its meaning before they played it, but appreciated fans for listening to her even though they might not have understood the language. What was understood, though, was the universality of music. The small stage allowed an intimate setting and full appreciation of the band's body-infusing live improvisation and add-ons. 
Throughout the show, Soyoon talked about how they wished they had more songs to play, and that they look forward to touring again with new music. They announced that after their tours, they would be preparing for a new album!  
As the band played the last notes of their finale, the tender, lockdown-era hit, "Nanchun," Los Angeles cheered in euphoria and melancholy as the sweet time was finally over–even with the show's 11:30 PM end time. All in all, it's not an understatement to say fans can't wait for their next chance to find "Freedom" with SE SO NEON. 
See what SE SO NEON is up to next on their Instagram and check out their music on Spotify, Youtube, and Apple Music.
Want more SE SO NEON? Check out our introduction of them and their tour here!