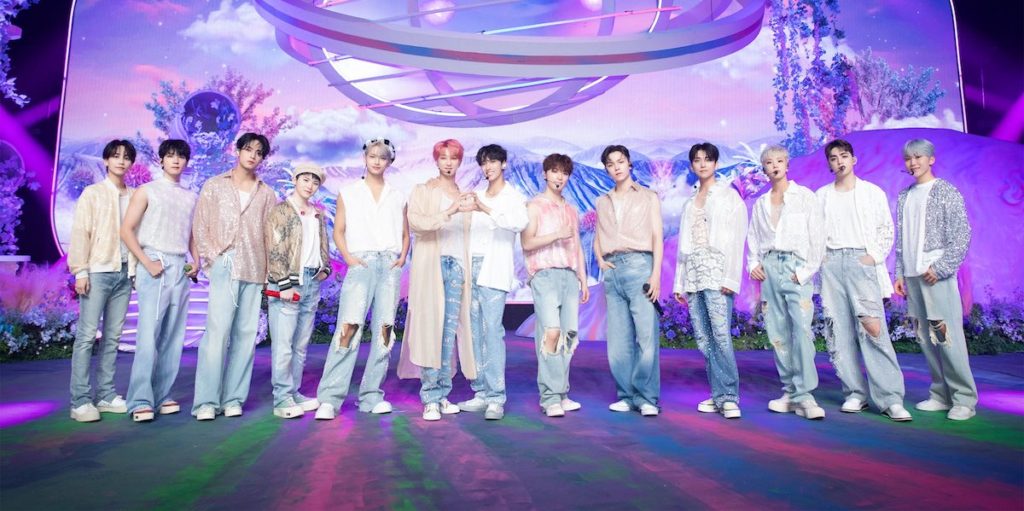 Step into SEVENTEEN's world with SECTOR 17, a freshly repackaged spin on the group's fourth full-length album. On July 18, S.Coups, Jeonghan, Joshua, Jun, Hoshi, Wonwoo, Woozi, DK, Mingyu, THE 8, Seungkwan, Vernon, and Dino returned with four new songs, building upon their previous release, Face the Sun. The 13 young men accept all of their sides and move forward as they trailblaze a new beginning for themselves with the introspective collection of tracks.
Comfort in Circles
SECTOR 17 opens with the heartfelt ballad, "Circles." Written by BUMZU, Nmore, and the group's vocal leader, Woozi, the song sets a more intimate tone for the album. Titled "돌고 돌아," which translates directly to 'turn around,' this is precisely what "Circles" is all about.
The chorus emphasizes the power of unity. With a gentle reminder that "It's gonna be okay, like the hands on the clock / They'll go in circles back to their places," this track encompasses listeners in the utmost comfort. Before the song ends, a refrain recorded by a youth choir leads into an acapella outro by Woozi, tugging at listeners' heartstrings one last time.
This special feature was appreciated so much by Woozi that he even went to Instagram to share a snippet of them recording the refrain and thanked them for working on "Circles."
A New _WORLD
It is SEVENTEEN's world, and they're inviting listeners to join their dreamland. The feel-good summertime bop, "_WORLD," is the title track off SECTOR 17 and is undeniably groovy with an equally delightful music video.
Whether they're adorning plain white shirts or dazzling garments, SEVENTEEN steal the show with their charismatic energy and smooth choreography. They entice the audience to, "Come, come into my world," with a catchy chorus and clever use of first and third-person point-of-view shots.
The cinematic accompaniment to "_WORLD" is reminiscent of a dance number from a musical. Bursts of confetti with SEVENTEEN's official colors, rose quartz and serenity, are a nod to the group's music video for their popular track "VERY NICE" and add a whimsical air to the video. With perfectly timed special effects to shots that move seamlessly from one member to another, SEVENTEEN's world is so romantic that viewers don't even need rose-colored glasses.
Something Old, Something New
The third track off SECTOR 17 is a Korean version of one of SEVENTEEN's most popular Japanese tracks, "Fallin' Flower." Lyrically, "Fallin' Flower" is a tale that truly captures the beautiful nature of love with lines such as, "A time when flowers bloom and fall / The wound heals and you bloom." This transformative element of the song makes it fit perfectly with the rest of SECTOR 17, as the group fondly reflects upon its past while also building a new world for themselves.
SEVENTEEN's leaders, S.Coups, Hoshi, and Woozi, change the pace with their own subunit track, "CHEERS." This trap-influenced song is a confident letter from the leaders themselves about their journey leading SEVENTEEN to success. From references to caring for the members to ignoring the negative words aimed at their group, "CHEERS" is a celebration of their perseverance and a message to the world that SEVENTEEN is a force to be reckoned with.
Hotter Than the Sun
With a bubbly melody, "Darl+ing" is the next testament of SEVENTEEN's undying love. The group's first English single was released on April 15 and has now been incorporated into both Face the Sun and SECTOR 17. They sing, "'Cause I know that our love was hotter than the sun" and vow to never give up on their loved one by stating, "Into your heat again, I'm diving."
No amount of heat could make SEVENTEEN back down. In fact, they bask in the heat that follows them with "HOT," the title track of Face the Sun.
"HOT" is bold, edgy, and an absolute firestarter. The group's confidence radiates throughout the track with lyrics such as, "We'll rise high all of a sudden and become the sun." Filled with hip-hop influences, playful use of autotune, beatboxing, and strummy guitar riffs, this western-themed song sets a new standard for the K-Pop group.
An Ambitious Journey
SEVENTEEN debuted in 2015 and have come a long way since then. The group boasts about the ambitious mindset that led to their current success in "DON QUIXOTE," named after the Spanish novel written by Miguel de Cervantes.
This b-side pulls inspiration from the protagonist's courageous and somewhat foolish energy, as the group references La Mancha's windmill. Just as Don Quixote stuck to his beliefs despite the doubts of others, SEVENTEEN are sticking to their dream and pursuing their career even if the odds seem to be against them. No matter what lies ahead, SEVENTEEN are ready to channel the iconic character as they sing, "I don't care if I'm crazy / Feeling like Don Quixote."
The group maintains their courageous spirit as they move forward with the pop-rock track "March." SEVENTEEN couldn't care less about flying too close to the sun as they proclaim, "Run right into the hot sun / I'll get everything I want." This song is an energetic and fearless mantra for SEVENTEEN as they continue to march towards their dreams.
Opening Up
It is no secret that SEVENTEEN wear their hearts on their sleeves with such an intimate discography. SECTOR 17 continues to showcase a more vulnerable side of the 13 members. "Domino," "'bout you," and "IF you leave me" serve as heartfelt love confessions in the shape of an electronic pop song, an R&B tune, and a stripped-down piano ballad respectively. These three songs delve into the giddiness and fear that accompany passionate love.
Meanwhile, tracks such as "Shadow" and "Ash" show SEVENTEEN for all that they are. From the good to the bad and all they hope to become, these songs are a raw and introspective look into their world. They embrace their most intimate parts and learn to wield that power to become stronger, more mature versions of themselves. The lyrics in "Ash" describe this tenacity best by stating, "Set me free, yeah, I'll fly / To the sun, to the moon / Another world, blaze up anew."
Whether it be a romantic expression or a story of personal growth, SEVENTEEN never fail to be honest with their music. Their discography continues to delve into their emotions and is a beautiful display of their journey.
To New Beginnings
As SEVENTEEN embrace a new world, they embark on an exciting new journey. The future seems bright for all 13 members as they pave new roads to travel. SEVENTEEN's next adventure will take them across North America for their Be The Sun tour beginning next month on August 10. Until then, you can immerse yourself in SEVENTEEN's world by listening to SECTOR 17 on Apple Music, Spotify, and other streaming platforms!
Want more of SEVENTEEN? Check out our review of the SVT Leader's latest song, "CHEERS," here!