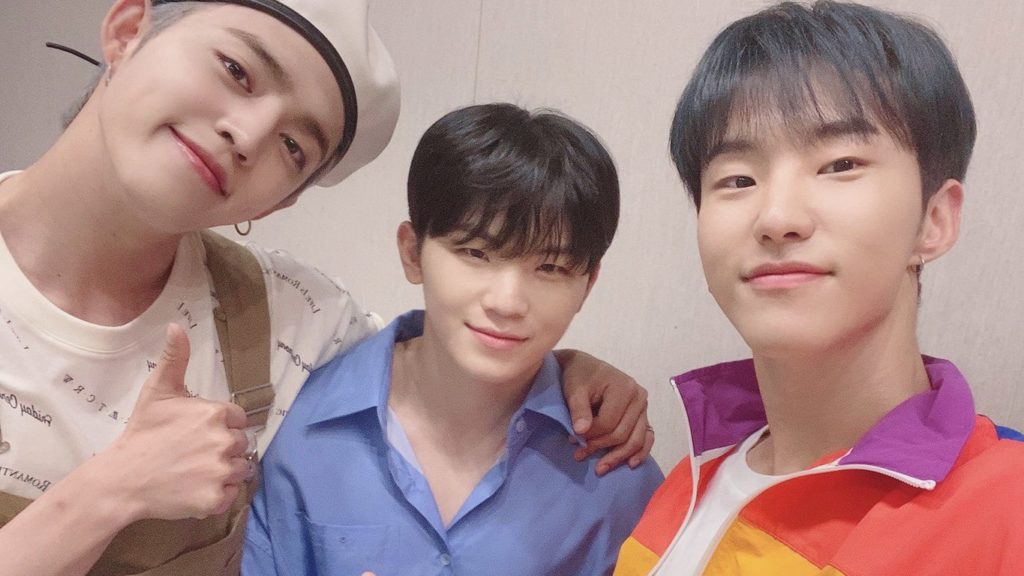 SEVENTEEN's leaders have returned with a new song making a toast to celebrate their hard work and success. On July 6, "CHEERS" made an exclusive premiere on YouTube with a music video starring the group's leaders S.Coups, Hoshi, and Woozi. It is the first track to be released prior to the group's fourth album repackage, SECTOR 17, which is set to be released on July 18.
Cheers to Dedication
Teamwork makes the dream work and the same can be said about SEVENTEEN and their leaders. The group consists of 13 members who are then split into three subunits. S.Coups is the leader of the group and hip-hop unit, Hoshi is the leader of the performance unit, and Woozi is the leader of the vocal unit. While these three members each have their own leadership style, they always come together to provide their support for all of SEVENTEEN.
S.Coups, Hoshi, and Woozi display their tenacious attitude in "CHEERS" which has led to their current success. The trap-influenced track is all about their previous hardships, uncertainty, and the confidence that they found in believing in themselves and their group.
All In The Detail
"CHEERS" opens with a catchy flute motif and leads into a succession of 808s with a heavy bass piano line. The lines, "No kick, no snare but the rhythm's freaky" and "808 bass out s**t" make nods to the trap production of the song.
With clever lyricism throughout the track, it is no surprise that S.Coups, Hoshi, and Woozi are all credited as songwriters. The group's rapper, Vernon, and BUMZU, who frequently works with the group, are also listed as songwriters. Woozi, Vernon, BUMZU, and Ohway! also participated in the composition of "CHEERS."
This is the second song that SEVENTEEN's leaders have released together, the first being "CHANGE UP" which was released in 2017. Despite almost five years between releases for the subunit, they paid great attention when writing the lyrics for "CHEERS" and linked it back to "CHANGE UP."
Both "CHANGE UP" and "CHEERS" tell the story of how the leaders work to uplift their group, but "CHEERS" is a new level of success they have reached together. In "CHANGE UP" Hoshi sings, "Shift the gears up, keep going, gotta step on the accelerator / …So that the light shining upon SEVENTEEN doesn't go out." While in "CHEERS" Hoshi confidently states, "…See the white supercar wheels / 160 BPM speed," to which S.Coups adds, "…No one can keep up / …Now they all follow us."
"CHEERS" is filled with many more lines that can be linked back to "CHANGE UP," as well as connections between the track's music videos. From just the music video teaser, CARATs, fans of SEVENTEEN, were able to connect the two tracks based on visuals.
SEVENTEEN's leader line makes a point with their consistency between "CHANGE UP" to "CHEERS" that they will continue to work hard, but they are also basking in the rewards of what their efforts have gotten them. While "CHEERS" radiates confidence, S.Coups, Hoshi, and Woozi remain humble while also taking pride in overcoming many obstacles over the years.
Cheers from CARATs
S.Coups, Hoshi, and Woozi aren't the only ones who want to celebrate their group's success. With a fierce song like "CHEERS" and intense choreography, CARATs went to Twitter to share their love for the new music video and track by the SEVENTEEN leaders.
After The Party
From beginning in a small space with only their dreams and worrying about not being able to care for everyone properly, SEVENTEEN's leaders have led their members through tough times to a party that was well worth the wait. Despite the doubt and fear, S.Coups, Hoshi, and Woozi provided support to their members and helped them push forward toward better days. Now the group is about to release their fourth album repackage SECTOR 17 in July and will be taking their Be The Sun tour overseas to North America in August.
While SEVENTEEN and their leaders celebrate their current success, the future will surely hold more opportunities for them to continue to grow as they release more music and continue to tour the world. No matter what obstacles may stand in their way, SEVENTEEN can overcome them together as they continue to believe in and support one another. While you wait for the group's release of SECTOR 17 on July 18, you can listen to SEVENTEEN's leader line's "CHEERS" and watch its music video on YouTube.
Want more? Check out EnVi's first impression of SEVENTEEN's new movie here!