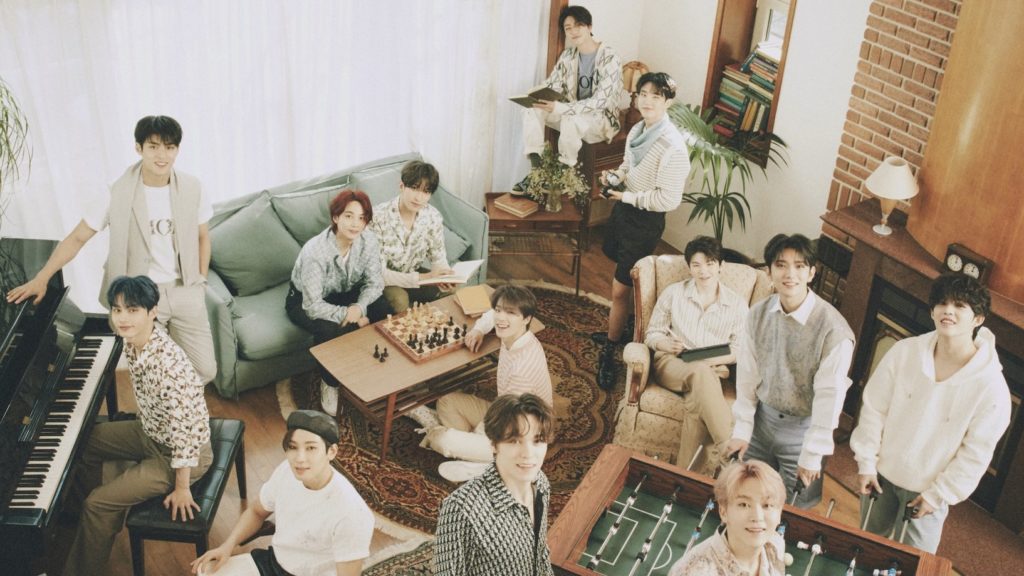 For the last few years, K-pop group SEVENTEEN has broadcast their newfound maturity to the world: the thirteen members are all grown up, and so is their sound. Their latest six-track mini-album Your Choice, with musical inspirations that span decades, is a reflection of this coming-of-age.
A Return to SEVENTEEN's Roots
The pastel universe of dance-pop "Ready to Love" is reminiscent of the early SEVENTEEN music videos for "Mansae" and "Very Nice," yet establishes how much the members have blossomed in the interim. Then, they sported ill-advised haircuts and pined over the same girl; their hearts exploded into a shower of confetti at a glance from her. On "Ready to Love," SEVENTEEN is definitive in their desires. The chorus is at once a declaration and a question: "I'm ready to love / Tell me, can we stay together?"
The latter part of the lyric leads into the leitmotif of Your Choice. Speaking about the concept to Naver, rapper Mingyu said that the album is about respecting the decisions others make. It offers a more mature idea of love: something reciprocal, and ultimately out of their hands. SEVENTEEN is making their feelings known, reconciled to the response, whatever it may be.
The Sum of Their Units
SEVENTEEN 8th Mini Album 'Your Choice' Track List#SEVENTEEN #세븐틴#Your_Choice#Ready_to_love#SVT_Ready_to_love#210618_6PM_KST pic.twitter.com/bOqA1j1FqQ

— 세븐틴(SEVENTEEN) (@pledis_17) June 13, 2021
SEVENTEEN gets its name from some simple addition: 13 members, 3 subunits, 1 team. Beyond those three official subunits—Vocal, Performance, and Hip-Hop—the sizable group often breaks into a number of other subunits to experiment with different combinations and musical flavors. On their previous album ; [Semicolon], SEVENTEEN opted to arrange themselves into units by age rather than team position, resulting in songs ranging from youthful synthpop to refined, sultry Bossa Nova.
Your Choice saw the return of the official three subunits, each tackling their own sound. "GAM3 BO1," the Hip-Hop unit track, finds its roots in hyperpop (more on that later). Then comes "Wave," the Performance unit's sensual retro-inspired track. Closing out the album is "Same dream, same mind, same night" from the Vocal unit. A city pop ballad with soft xylophone, the song is befitting of an eighties prom slow dance.
These songs, along with the album's full group tracks "Heaven's Cloud" and "Anyone," fit into a broader tonal palette vocalist WOOZI and Pledis composer BUMZU have been curating for SEVENTEEN, without ever feeling boxed into one lane.
GAM3, GAM3, GAM3 BO1
With a name like "GAM3 BO1," the fourth track of Your Choice, produced by BUMZU and PRISMFILTER's Niera, was never going to fly under the radar. When the tracklist for the album originally dropped, some speculated that the song would be influenced by hyperpop—a suspicion that was borne out when the highlight medley was released shortly after.
Though all four members of the Hip-Hop subunit—S.COUPS, WONWOO, MINGYU, and Vernon—are credited as writers, an additional composition credit for Vernon and the track's playful name alluded that Carats were in for a techno-synth bop. In the past year, Vernon has dropped hints about his affinity for the subgenre, adding Kim Petras and Rico Nasty to his Spotify playlists, and admitting to singing Charli XCX in the shower.
Hyperpop often pairs its futuristic sound with early-aughts imagery (see: "ringtone" by 100 gecs, present on one of Vernon's playlists) but "GAM3 BO1" leans more modern. "Zooming to meetings / Buy a couple NFTS," come autotuned vocals over the glitchcore beat: "8-bit coins, I was chasing / Now there are bitcoins I'll be mining until 2077." With tongue-in-cheek references to emojis and cryptocurrency, the track takes the aesthetics of living in the digital age to their ironic extremes.
Similar to "Do Re Mi," a song off ; [Semicolon] with Vernon's fingerprints all over it, "GAM3 BO1" is weightless, earworm-y, and infinitely listenable. The two tracks bring a fresh vision to the SEVENTEEN soundscape—one that will hopefully continue to be honed to its greatest (and most infectious) potential on future projects.
Riffing on the Classics
On May 26, SEVENTEEN celebrated their sixth anniversary since debut. This far into their career, the members have come into themselves individually and as a group; by now, SEVENTEEN knows their brand well, and the only challenge is to keep that brand evolving with them.
This shouldn't pose too great an obstacle for the group. For SEVENTEEN, there are always original ways to blend retro elements with fresh concepts, to outdo their past selves with reinterpretations of their dazzling choreographies. Making what is old feel new again is just another one of their specialties. 
For more SEVENTEEN, read our review of Hoshi's solo mixtape "Spider."
Thumbnail Courtesy of PLEDIS Entertainment