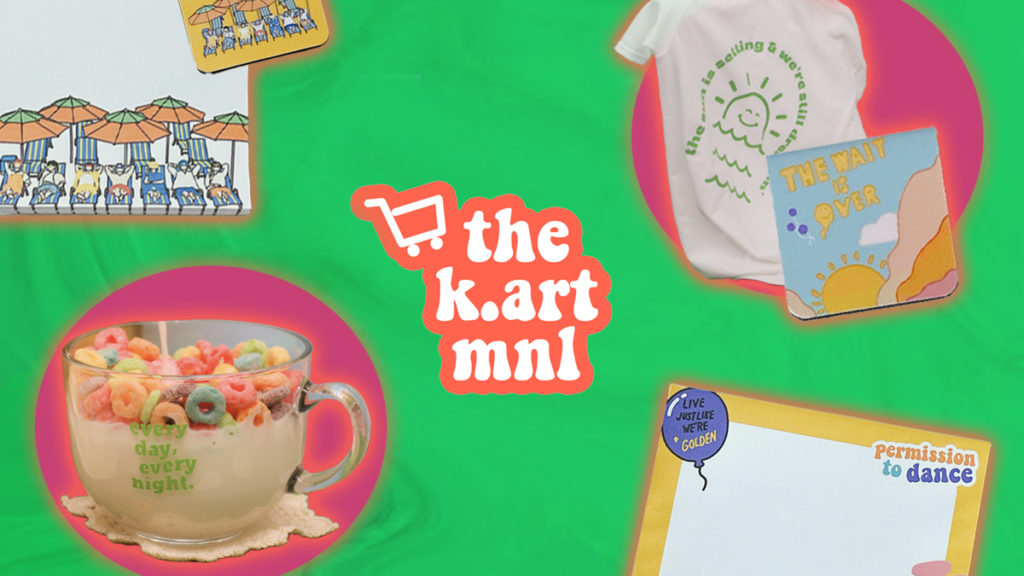 EnVi has returned with another Small Business Spotlight. In the latest edition of our series, we spoke to the owners of the k.art mnl, an online store putting a K-pop spin on stickers, stationery, mugs, and T-shirts. Catelyn and Czarina, Manila-based sisters behind the store, chatted with EnVi about their inspirations and journey from K-drama fans to the k.art mnl.
the k.art mnl Origin Story
The small business opened in June 2020, after years of the sisters following K-pop and K-dramas. "It was during the first quarter of the pandemic, and we took the risk," shared Catelyn and Czarina. the k.art mnl now sells cute yet practical items for a range of fandoms, including memo pads, stickers, magnetic bookmarks, T-shirts, and mugs. An embodiment of a multi-fandom lifestyle, their product range includes over twenty groups and soloists, including BLACKPINK, ENHYPEN, ASTRO, Jeon Somi, and more.
Catelyn and Czarina have been K-pop fans for seven years and discovered idol groups through K-dramas and variety shows. Falling in love with actor Song Joong Ki in Descendants of the Sun (2016), the siblings began following his appearances on the variety show Running Man. The appearance of Nichkhun from 2PM on the variety show is what sparked the sisters' interest in K-pop. "We started lowkey fangirling over 2PM because of Nichkhun, and because of them, we knew GOT7," the store owners revealed. Eventually, GOT7 became their favorite group."They have been our bias group and inspiration since then," Catelyn and Czarina shared, explaining their love of the septet. The business founders also follow several other groups like SEVENTEEN, TREASURE, and NCT.
Beyond Catelyn and Czarina's favorite K-pop acts, the k.art mnl is influenced by Pinterest aesthetics and the goal to make K-pop-themed products accessible for fans on limited budgets. Although the store owners enjoy buying official merchandise, they admitted these items are not always affordable, especially for young fans and students. Therefore, the sisters decided to make products that are both practical and budget-friendly. "Why not do fanmade, useful, and affordable products that could cater [to] all ages, and can make fans happy too?"
the k.art Creative Process
In the first few months of the business, Catelyn and Czarina initially worked with a supplier and focused on selling stickers. "Then, we took a big step and took the courage to invest in machines so we can finally produce the products on our own," the pair added. The sisters now manage all aspects of the business. "We do all the work from planning, designing up to producing all the said products," they told EnVi.
The Manila-based duo mentioned drawing inspiration from comeback concepts and how both team members have specific roles within the design and production process. "Catelyn, as a freelance graphic designer, is in charge of all the signature arts, product designs, public materials for postings, and production for stickers," they expanded. Meanwhile, Czarina is responsible for making handcrafted notepads and bookmarks.
k.art mnl Essentials
When listing their favorite k.art mnl items, the first product mentioned was their handcrafted memo pads, which marked a turning point for the business. "We got more audience and customers when we started selling our memo pads and to-do list pads," the k.art mnl owners revealed. Coming in a range of designs for different artists, this is also a product that allows them to explore their creativity while being practical for customers. The business partners said: "Our creativity widens when we design each pad, and most importantly, we love this product because this is very useful for us, business owners, students, workers, etc."
Their second favorite item was the cereal mug, which Catelyn and Czarina thought fans would appreciate for the combination of cuteness and practicality. "A cute K-pop mug would be perfect for their cereals, coffee, juice, or even water," the k.art mnl founders shared. The siblings also referred to the "every day, every night" quote from GOT7's "If You Do" as "on point" for the multiple ways to use the mug throughout the day.
Another favorite is the store's latest product, an NCT DREAM T-shirt, inspired by the 7llin' in our Youth YouTube series. The sisters excitedly told EnVi: "We are happy to finally be able to produce these cute art shirts because we are fans…and a lot of fans love wearing shirts with designs that are K-pop related."
Beyond the Product Line
Outside of selling their product range online, collaborating with other creatives and business owners is an important part of k.art mnl activities. Describing their brand collabs, Catelyn and Czarina told EnVi, "we do this with shops or event organizers, who would like our products to be their shop freebie or giveaway." the k.art mnl also provides art commission services where they customize a design or create products based on customers' ideas. K-pop fans can also look out for the k.art mnl giveaways as well as monthly and payday sales on the store's social media channels.
A Learning Process
Although the process has not been without challenges, the k.art mnl owners have enjoyed becoming business owners. "It's literally like a roller coaster ride, there are ups and downs, but in the end, it will always be fun," they said. If the small business owners were to provide advice to potential business owners, it would be: "Better take risks than have regrets." "Starting a business is never easy; you have to start from scratch and grow; trial and error will be your best friend."
In terms of building a community of supporters, the pair advised: "Know your market and know their wants and needs so you can have their support." Once the target market is identified, small business owners should not be afraid to put themselves out there and be persistent in marketing products. "Someone out there is proud of your work and would love to support you and your business," Catelyn and Czarina encouraged.
As for their biggest highlight so far, it would be receiving positive feedback from customers. They experienced growth when they started selling on Shopee, a large e-commerce platform in Southeast Asia. "We started​​ to grow bigger and gain more supporters because of this, and that's when we started receiving sweet and heartwarming messages from our customers," they disclosed. Not only was this feedback encouraging, but it also allowed them to improve their products and services.
Future Plans
the k.art mnl currently only delivers in the Philippines, but the Manilans hope to meet interest from fans across the world. After working with a Las Vegas-based shop-owner this year, Catelyn and Czarina feel encouraged to expand their international reach. "We started to have the courage to open our shop worldwide," they revealed, "so we can finally accommodate more K-pop fans and stationery lovers from different countries." The siblings also plan to expand their product range for K-pop acts and their original love, K-dramas. As for their ultimate goal: a place to meet customers IRL. "We are still way too far from this one goal, but we are hoping to have a physical store one day," confessed the store owners.
We hope you enjoyed learning more about the people behind the k.art mnl. For the latest updates and products from the k.art mnl you can go to @the_kart_mnl on Twitter, Instagram, Facebook, Shopee, and TikTok.
Want to discover more fan-owned small businesses? Check out the rest of our Small Business Spotlight series here.