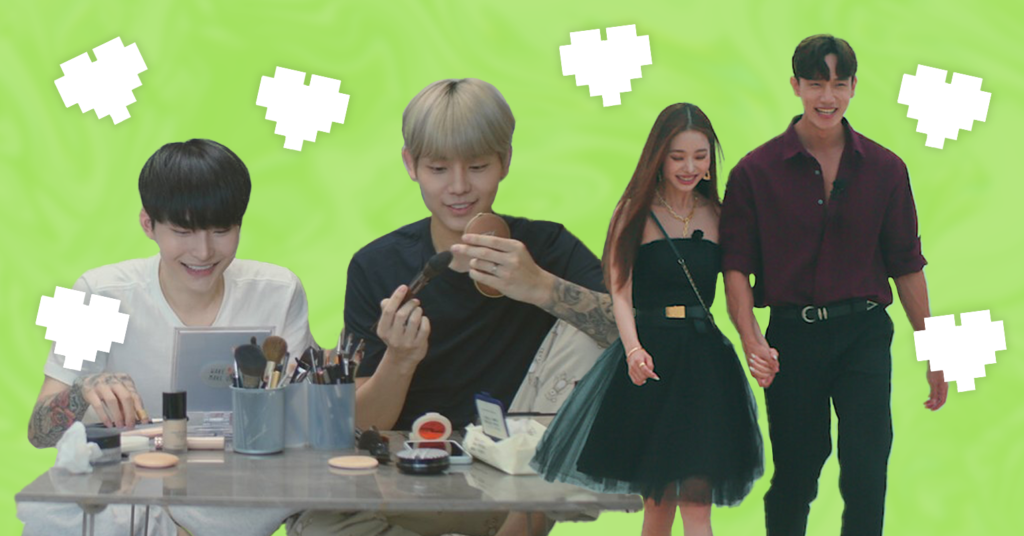 In 2021, Single's Inferno (솔로지옥) took South Korea and the world by storm as Korea's first megahit dating reality show, featuring twelve non-celebrity contestants in their journey of finding the partner. Gripping the international stage as "singles" strove to become part of a pair, Single's Inferno showcased the intricacies of the K-dating scene and inevitably, topics of love and marriage in South Korean society. In all of its glamor, the TV series fueled the start of Korea's new fixation.
In the process of screening the transition between the talking stage and the dating stage, viewers are left with deeper conversations about K-dating standards and stigmas. Single's Inferno created threads of online conversations about the intricate social layers of dating life—feminism, toxic masculinity, and cultural connotations. But the cultural impact didn't stop after the show's finale. The show's mainstream popularity encouraged a new generation of K-dating reality shows that center on LGBTQ+ communities, effectively breaking into Korea's "media mute" by popularizing K-dating reality shows.
Fueling LGBTQ+ awareness and the diversification of the dating scene, shows like His Man (2022) and Merry Queer (2022) made history as South Korea's first LGBTQ+ dating reality shows. Breaking stigmas and the shadowed conversations of LGBTQ+ dating life, 2022 has been the year to open up new themes of transformation and representation.
History in the Making
While Korean society has certainly experienced a shift in opening conversations about sexual minorities and LGBTQ+ communities, historical, religious, and social background has attributed to a brand of cultural silence. Up until the 1990s, LGBTQ+ communities, particularly gay communities, were socially exiled with meetups and dating life having to occur discretely within heteronormative walls. Crystal Tai, a journalist for South China Morning Post, mentions how South Korean society is heavily based on collectivism and Confucianist ideologies. Based on a poll conducted in 2017, she states that South Korea's living patriarchy and traditional gender norms "contribute to an environment in which 58 percent of the country is against same-sex marriage."
Seo Dong-jin, a Korean sociologist and activist for LGBTQ+ rights, is one of the first main activists of Chingusai. Chingusai is one of South Korea's oldest sexual minority rights organizations, dedicated to "ensure the human rights of gay people and to create a society without discrimination against sexual minorities." In Mapping the Vicissitudes of Homosexual Identities in South Korea, Seo states that in South Korea, "homosexuality does not have any social existence" (66). This idea is reaffirmed by Youngshik D. Bong, a senior research fellow at Yonsei University, who states that "the political visibility of the gay and lesbian population remain minimal" (87). From lack of legal assistance to the fear of ostracization, the fear of financial, familial, and social discrimination is tangibly present. The fear of "coming out" in South Korean society holds troubling social implications as "most Korean [LGBTQ+ individuals]…see the discovery of their [LGBTQ+] identity by their family as the greatest possible calamity threatening their future" (Seo 77). Yet, in the last twenty years, South Korea has slowly been improving its visibility on LGBTQ+ communities with activist groups, pride parades and festivals, and media taking hold of a shifting narrative and changing perspectives.
Single's Inferno Opening Up the K-Dating Scene
Single's Inferno was South Korea's hit show, starting the wave of big international and domestic attention on the K-dating scene and K-dating reality TV shows. Popularizing the idea of non-celebrity contestants, regular individuals made their way onto a remote island where other contestants are simultaneously neighbors and future love partners for the next nine days.
With no phones, occupation reveals, or age disclosures, all contestants must find a way to get to know their neighbors better. From first impressions to survival skills, romance is incentivized as contestants who pick each other as their preferred partner are sent to a luxurious Paradise. Testing their chemistry in Paradise, contestants are then sent back to the island's "Inferno" to start the love cycle all over again. Viewers who liked the idea of "real-world" dating found themselves enjoying the relatability of these contestants. From awkward flirting to bold moves, Single's Inferno successfully paved the way for a new genre of Korean dating shows.
In its massive popularity, Single's Inferno spawned a desire for representation of all sexual identities and preferences. With other neighboring countries such as Taiwan and Japan supporting same-sex marriages, South Korea is on a mission to bring equal rights to the LGBTQ+ community. Despite the constant appeals for equal opportunities to the Supreme Court, the current legal system still refuses to acknowledge same-sex relationships. Hoping to show a more holistic perspective of the LGBTQ+ perspective, the media was to embark on an important role to help the ongoing battle for equal rights!
His Man
His Man is a reality dating show that is exclusive to only gay male participants. Featuring eight participants, the entire cast lives under the same roof. Similar to the concept of other dating shows such as Single's Inferno and the reality TV show Terrace House (2012), His Man is South Korea's first gay dating reality series. From ex-idol trainee Jeon Eun-chan to drag artist Lee Hyeon, viewers are strapped in for quite a ride with this reality dating show!
Every night, the participants are called to the phone booth to call someone that has caught their attention. Within a limited thirty seconds, the exchange is exciting and shy, leaving viewers on the edge as we hear a confession through the phone call. Knowing that the other participant is gay, they are able to confidently act on their feelings without having the fear of social repercussions. Providing a safe space of not being outed due to their sexual orientation, His Man allows the contestants to fall in love genuinely within the dating reality show realm.
While the show is comforting to watch, it doesn't shy away from difficult conversations ranging from realizing their sexualities to their "coming out" stories. In episode 7, the cast sat together in the basement lounge and shared their experiences with homophobia in South Korea. When revealing that he's gay to others, Jeong-hyun often got the response "you look normal, why do you have to do that?" Likewise, Seong-yeol shares that his mom believes that is her fault that he is gay, recalling that "once my mom drinks, she will call me and tell me that she's sorry… I hope that she can stop telling me sorry. My mom thinks she hasn't shown the good side of women in front of me, so she is sorry."
Merry Queer
Merry Queer is the first K-dating reality show to chart the unfamiliar territory of the LGBTQ+ spectrum, showcasing queer romance stories. Featuring three show hosts—Shin Dong-yup, Hong Seok-cheon, and Hani—and three main couples, Merry Queer broadens Korea's mainstream idea of love. With a tagline of "please don't feel awkward; it's just love as everyone does; make the prejudice disappear," queer romance is normalized and in turn, stepping towards greater representation. In a message of encouragement and happiness, the series is a warm invite to love in every individual.
From marriage registration to coming out stories, Merry Queer holds emotional value in everyday hardships and successes as the contestants are seen living their daily lives. Confronting LGBTQ+ stigmas through personal stories, a look inside the lives and histories of three couples familiarizes the viewers with queer romance and particularly, sweet moments that are sure to bring a tear or two.
The first pair is a gay relationship between Kim Min-jun and Park Bo-sung. In episode 6, emotional moments had Kim asking Park, "what makes you the happiest so far?" and Park replying back, "every trivial stuff makes me happy. Together, we get up in the morning, do the cleaning, take a walk, play games as we are home…everything like this." Although the moment quickly gets shattered as they laugh at their cheesy confessions, their love persevering through hardship is enough to bring a smile. The second pair is a relationship between Yu Tae-on, a transgender man, and Lee Min-ju, a bisexual woman. With minimal transgender representation in Korean media, Yu and Lee embark on broadening social understanding of their relationship and fighting through difficulties like gender-affirming surgery. The third pair is the lesbian couple Im Ga-ram and Lee Seung-eun. In episode 3, they visited a temple as a monk guided them towards healing, stating that their relationship is that of a tree with "the sight from others towards you [being] like wind and rain… it won't make any difference to your relationship." Through soft moments that re-affirmed that social change is slowly happening, Merry Queer shows that love can be merrily queer and persevere.
In Showterview With Jessi, host Hong Seok-cheon, Korea's first openly gay celebrity, recalls his "coming out" history. He recalls coming out in 2000 with the hopes that the world would "have changed enough to accept people like [him, only to discover that] the world was exactly the same." In a saddening moment of social stagnation, he remembers struggling for a long time as he was denied from appearing on TV for three years. But with the help of progressive producers who casted him despite protestors who denied his broadcasted appearance, he slowly made his way back to the broadcasting world. As the host of Merry Queer, he gives insight into the queer community and encourages the cast and viewers alike to open their eyes to open their hearts. Merry Queer weaves personal stories like Hong's into the show, encouraging viewers to be open-minded to these passionate stories and the people behind them. In turn, the show transformed the outlook of future K-dating reality programs and encouraged South Korea to open up to its reality.
Make sure to checkout more from our issue here!