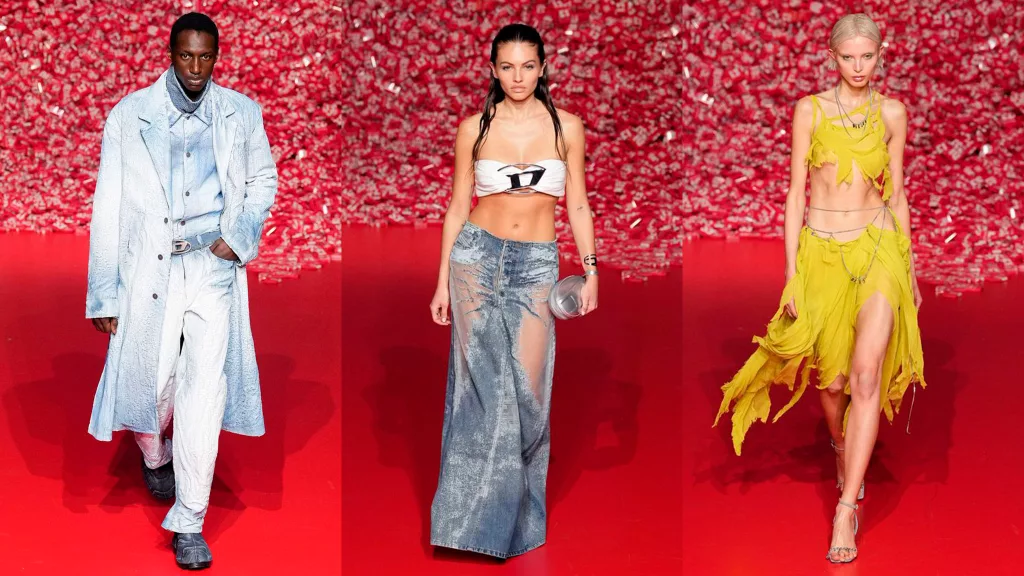 Italian-founded label Diesel returned to Milan Fashion Week on February 22 to showcase its anticipated Fall Winter 2023 collection. Under the creative direction of Glenn Martens, the brand has continued its upward trajectory after a stellar comeback in 2022. Capitalizing on the foundations of Diesel — denim, utility, pop, and artisanal — the collection pushes limits, bringing sex positivity and innovation to the forefront.
The Collection
Diesel's Fall Winter 2023 collection was nothing short of bold, presenting the brand's classic edge with a welcomed twist. Martens' designs stimulate the visual sense, playing with patterns and high contrast across both the risqué outfits and the more modest — if only in terms of showing skin — looks. The collection made use of a sophisticated, muted color palette — think mellow shades of blues, heather grey, olive green, and cream. A few hints of color stood out on the runway, drawing eyes to a yellow two-piece, distorted smiles printed on matching sets, and blue ensembles. 
Giving room to oversized silhouettes and form-fitting pieces, the runway gracefully transitioned from cold-appropriate attire to outfits suitable for warm-weather vacations. The combination of leather, knitwear, and, of course, denim is undeniably Diesel, a brand whose creative identity is becoming increasingly more recognizable. 
In sync with Diesel's previous collection, this new release features a series of iconic elements, like the rebranded "D", selected as the logo of 2022 Lyst. The symbol is fashionably incorporated into the handle of a handbag, the neckline of a sleek long-sleeve top, and the buckle of a belt; adding cohesion across the looks. To accompany the "D" logo, Martens introduced a Diesel choker, a black tote, layered necklaces, and even a mini purse — no detail was spared.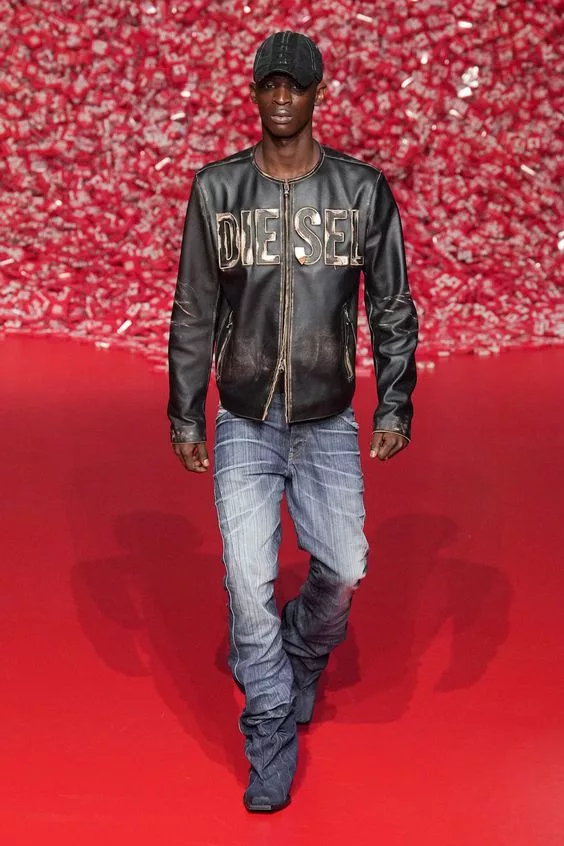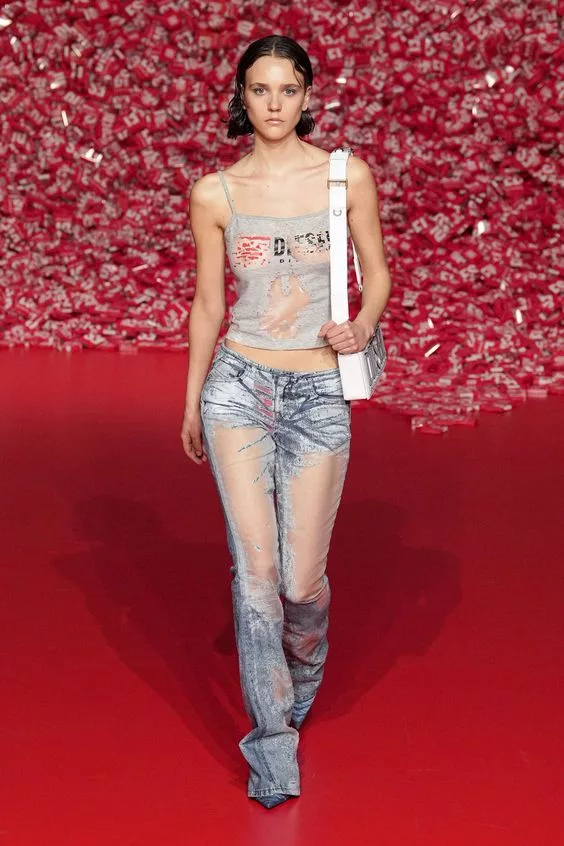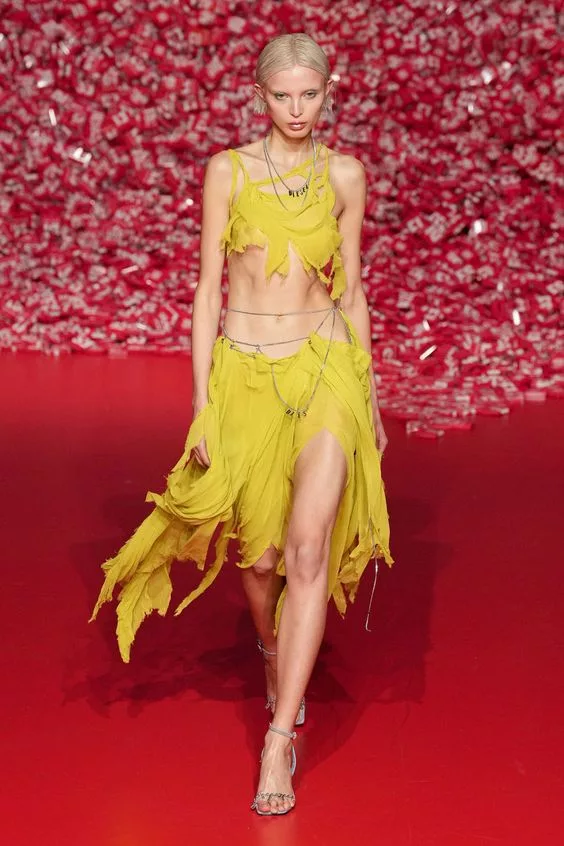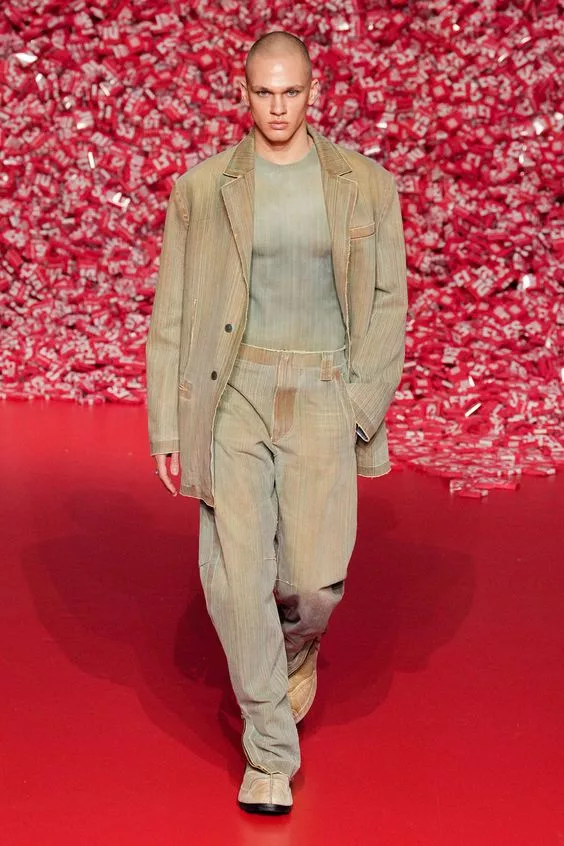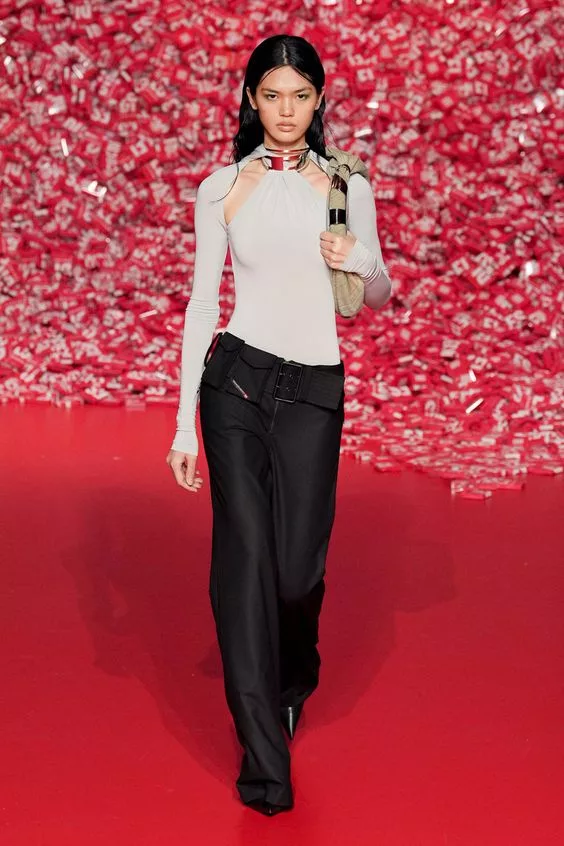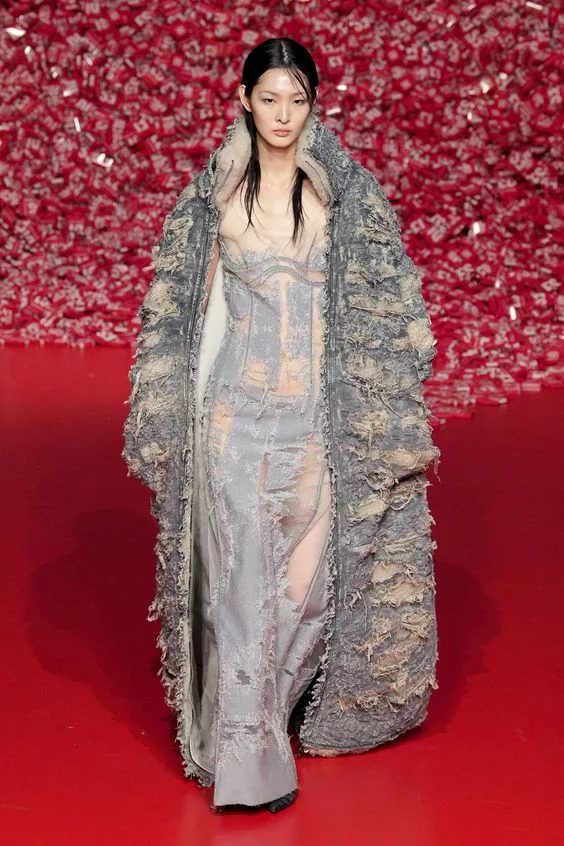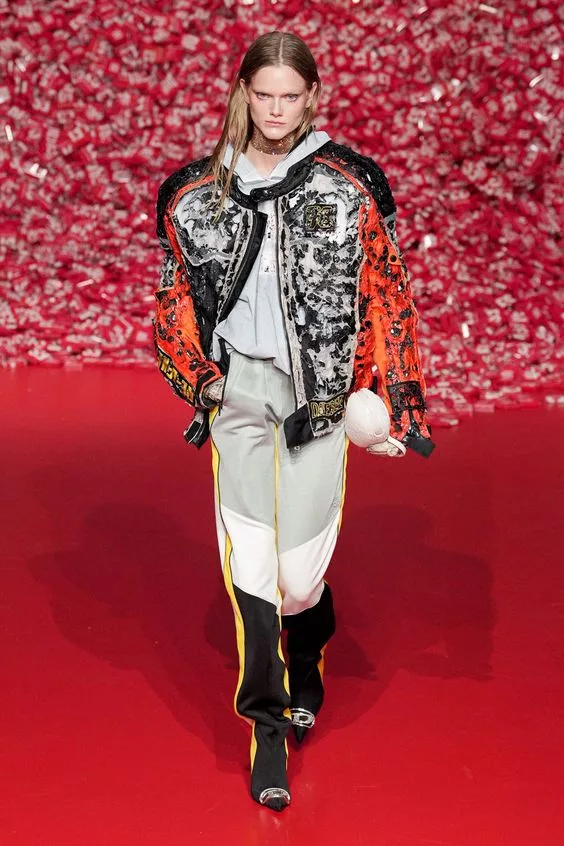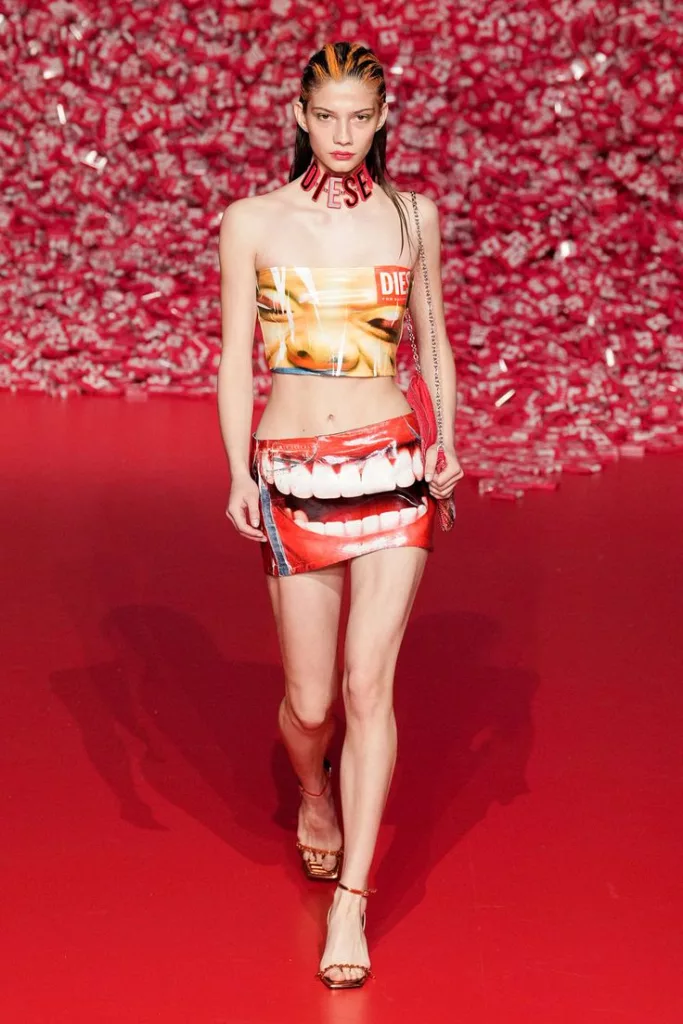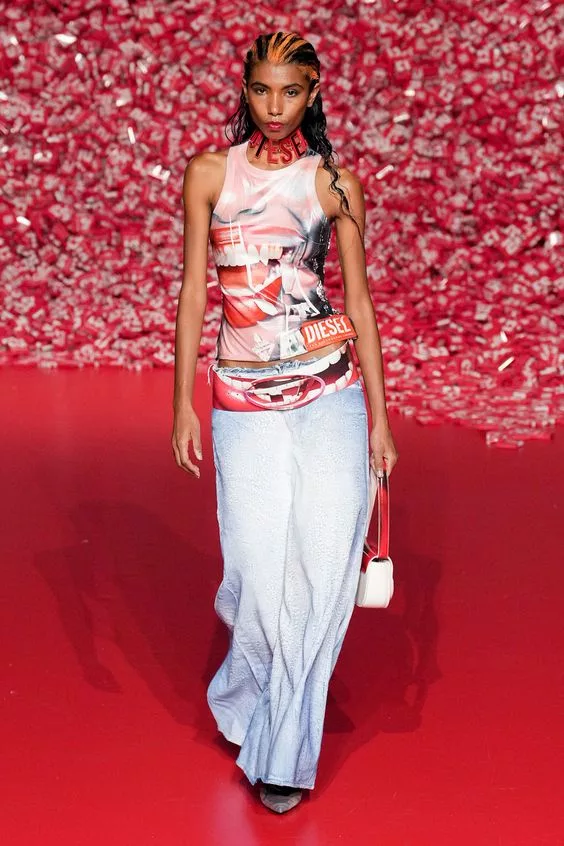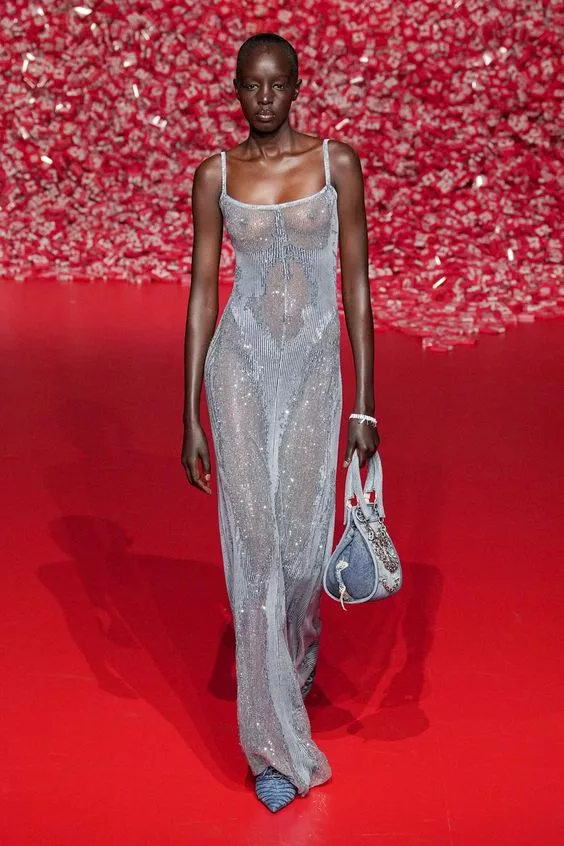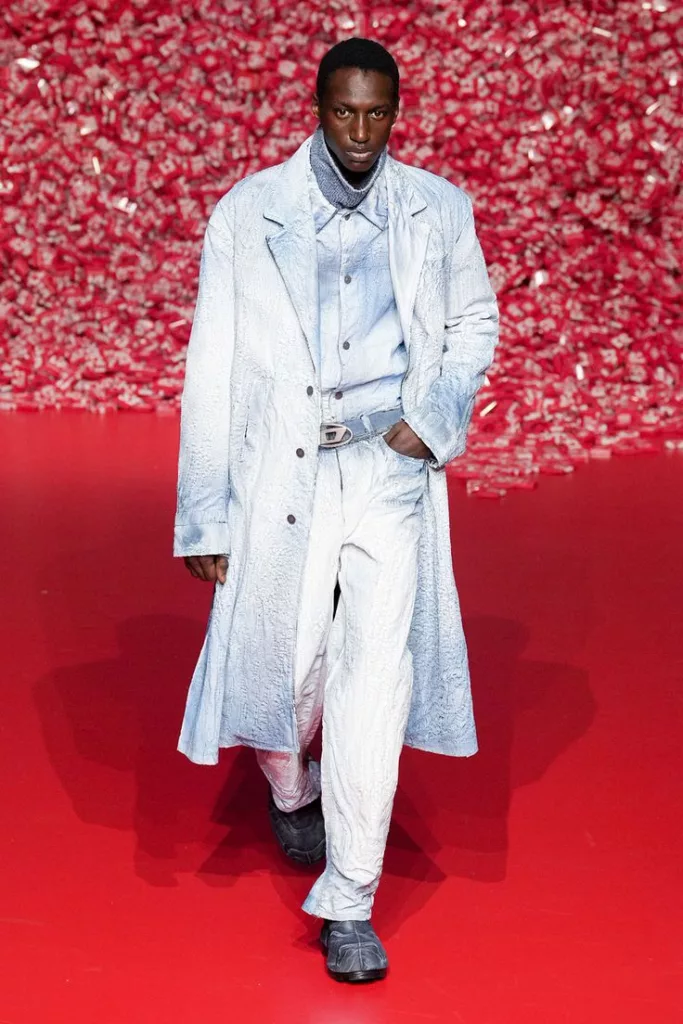 Photos courtesy of Diesel
Sex Positivity at Diesel
One of the night's most notable features was the pile — or, as Martens would say, the mountain — of 200,000 Durex condom boxes at the runway's center. Models strutted around the installation, which was a first look into Diesel's upcoming team-up with Durex. 
As part of the collaboration, which was previewed for press before the runway, Diesel x Durex condoms will be handed out through Diesel mono-brand stores and selected distributors. There are a total of 300,000 condoms available, and they will be given away as supplies last. In tandem, a capsule collection will feature the brands' logos on jeans, t-shirts, a hoodie, and a cap — and launches in April.  "Have fun, respect each other, be safe," Martens said. 
Want to read more about Fashion Week? Read everything about Simone Rocha's collection here!