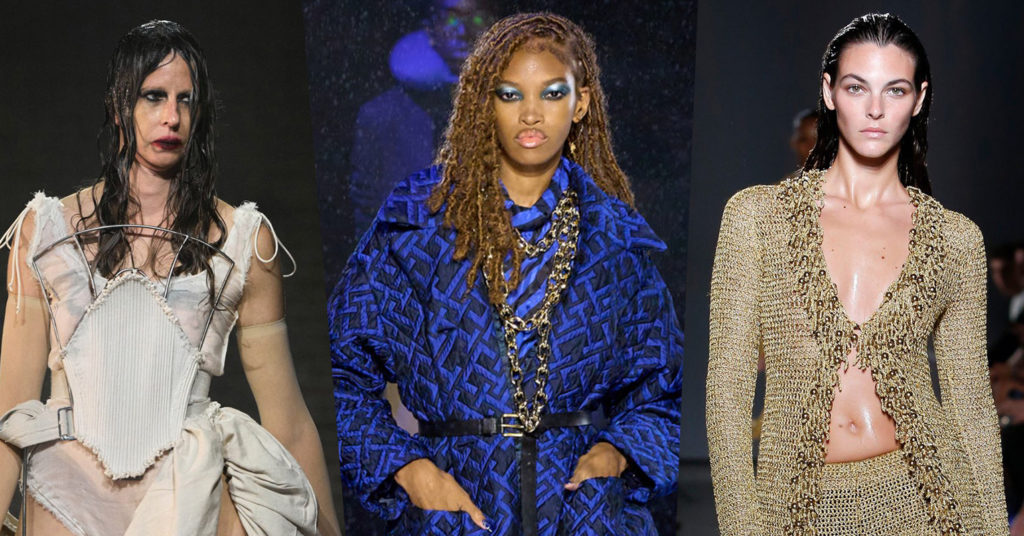 New York Fashion Week (NYFW) is the time of the year when designers come together in one of the densest multicultural landscapes in the world to share their creations. Inspirations come to life in fabrics and unique textiles, however, it doesn't stop there. The manifestation of these inspirations spills over into the beauty presented along with the fashion. To celebrate the successful completion of NYFW 2022, EnVi has compiled a list of beauty trends predicted during the week. From the classic rose gold eyeshadow to dramatic earrings and eyewear, take a look at what we'll be seeing in street styles next year.
Smokey Eyes – Tommy Hilfiger
Smoked out eyeshadow is typically reserved for colder months and dark nights, however, this look is shown to perfectly balance the bright primary colors and patterns of Tommy Hilfiger's fashion line for next season. This look can be achieved by carefully patting two to three layers of black shadow onto the lids and finishing with a thin black liner on the water line. The best part is all eye colors will 'pop' with this sultry look in the summer sun.
Rhinestones Everywhere – Johnathan Hayden
Seen at this year's Met Gala and the Emmys, rhinestone hair is sure to become a go-to look next spring and summer. Jonathan Hayden's models wooed onlookers with brows and hair decorated with sparkling gems. The rhinestones were placed on structured waves to create a modern take on the 1920s "old Hollywood" hair trend.
Sun Kissed Skin To Match the 'y2k' Fashion Revival – Fendi Resort
Models graced the runway in sky blue and lime green clothing for the Fendi show this year. Their skin tones reflected the stage lights to emulate refreshingly glowy skin. It brings us back to the early 2000s when shining complexions and freshly tanned skin were seen everywhere.
Gel It Down – Peter Do, Badgley Mischka
Fresh and radiant skin was at the forefront of the runway this year and, to no surprise, made its presence at the Peter Do show. Models strutted down the runway in elaborately designed clothing with slivers of clear complexions peeking through. Little to no makeup was worn beside luminous foundation, fluffy but structured brows, and rose-tinted lip balm, with hair gelled to coincide with the elegance of the clothing.
Badgley Mischka's models also donned hair appropriate to the shapely clothing of the collection, with straight hair gelled at the sides and poofed at the top for a heightening effect. To top the formal look off, models also wore oversized and colorful beaded earrings. We look forward to seeing gel-incorporated hairstyles and bold earrings at night events in the spring and summer.
Champagne Eyeshadow, Rosy Cheeks, and Slicked Back Hair – PatBo, Proenza Schouler
The PatBo show gave us insight into a radiant makeup trend that will be seen in the spring and summer of 2023. The look consists of the classic shimmery shadow and brown liner, peach and rose-colored blushes on the cheeks, and slicked back ponytails as seen on Proenza Schouler's runway as well. The look is simple and suits every skin tone, making it an easy way for makeup beginners to stand out even when the heat rises.
Chunky Earrings and Eyewear – Luar, Prabal Gurung
While wearable makeup and hair looks were common for this year's runways, we also saw an abundance of large earrings and even larger sunglasses. From feathery ear pieces to oversized visor sunglasses, these accessories offer a refreshing take on relaxed beauty looks for spring and summer, showing that fashion statements can be made in any form.
Tribute to Caribbean Culture With Beads and Vivid Eyeshadow – Marrisa Wilson
Bulky transparent beads graced the runway during the Marrisa Wilson show. The entire collection and show were inspired by Wilson's Guyanese heritage, hence the use of hair beads on braids and orange, red, and teal-colored eyeshadows at the corner of each model's eyes. Beads and colorful accents in beauty are a staple of Caribbean culture and have now been brought to the runway for all to see.
Dark Lips and Dark Eyes – Elena Velez
Submersive fashion has experienced phenomenal growth with the rise of grunge aesthetics in media this year. It's no surprise to see dark, messy red lips and smudged black eyeliner on the runway. The models for Elena Velez donned intense burgundy lips with the most pigment resting at the center and dispersing into a cloudy shade towards the ends. This method of lipstick application, first seen in 'douyin' makeup trends online, is set to be standard in spring and summer. Brows were bleached to give the gloomy look even more intensity.
Middle Part Hair and Waves, Natural Curls, and Fros – Lela Rose
Offering a more refreshing and familiar take on spring beauty, Lela Rose presented a natural theme on their models. Skin with little to no foundation, peach-toned blush, and full brows was the focus on this runway. Hairstyles included relaxed waves with a middle part, afros, and tight curls to emphasize clean and hydrated beauty.
Neat Side Swept Bangs – Lionne
Sleek bangs across the forehead are a trend predicted from the Lionne show at this year's NYFW. Models were seen in blazers of a variety of shapes and colors with straight and shiny bangs to match the sophisticated looks. This method of hair styling is sure to be seen everywhere, especially in the office.
The beauty looks on the NYFW runway mirrored current beauty trends on social media sites while offering a refreshing take on traditional styles. We look forward to seeing glamourous hair waves dazzled with rhinestones or pops of vibrant green and blue added to the eyes when new fashion hits the streets.
Want more NYFW coverage? Take a look at our breakdown of Peter Do's SS23 collection here!