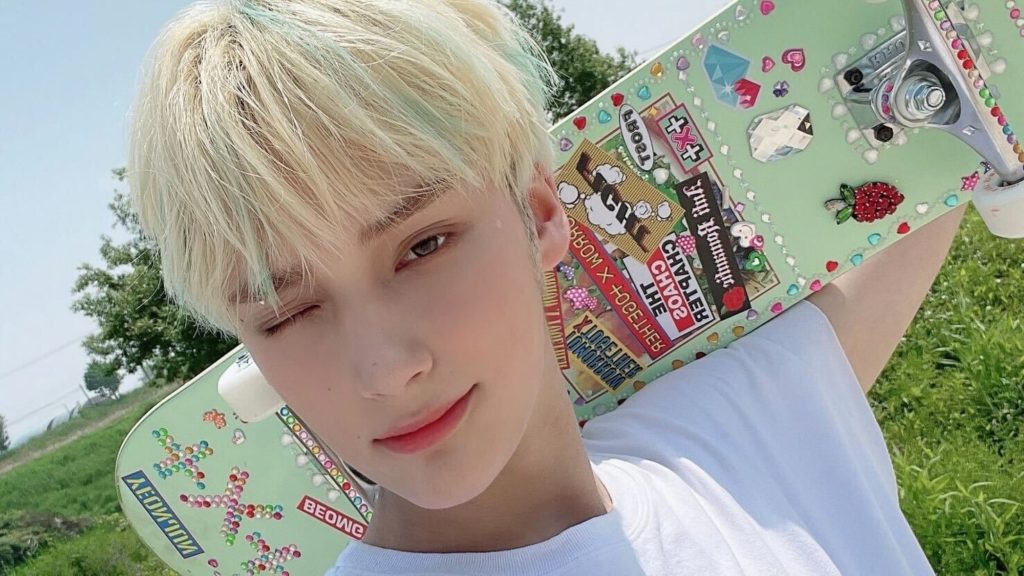 On February 16, Huening Kai of K-pop group Tomorrow X Together posted on Twitter a throwback selfie wearing the skater boy concept outfit from their repackaged album The Chaos Chapter: FIGHT OR ESCAPE. Holding a bedazzled mint skateboard over his shoulder and winking at the camera, Huening Kai captioned his charming selfie "He was a 🛹😎." The selfie and caption, a reference to Avril Lavigne's superhit "Sk8er Boi," gained traction online. Later on February 17, the legend herself reacted to Huening Kai's Tweet by quote retweeting the selfie with the caption "🤘 🤘 🤘."
Huening Kai did not respond to Avril Lavigne's comment immediately, but on February 19 his upcoming cover was confirmed to be "Sk8er Boi." The announcement was quickly followed, by Huening Kai replying to Avril Lavigne's reaction with the comment "Hope you like my cover!! You are an icon 😈✨"
Huening Kai's Sk8er Boi
An hour after the announcement, the cover was released as part of the TXT MINITAPE series, where TXT members do song covers of other artists. Set to an animation of someone riding and doing a kickflip on a bright sky-blue skateboard, Huening Kai's cover of "Sk8er Boi" stays loyal to the original version, but his distinct vocals give the song a new charm. The cover encapsulates the carefree youthful nostalgia of the 2002 hit.
Punk and Rock Pop Veteran
In addition to "Sk8er Boi," Avril Lavigne is globally recognized for other songs like "My Happy Ending," "Complicated," "Girlfriend," and "What the Hell." With a collection of smash punk-pop hits, the eight time Grammy nominated artist rightfully earned the title of "Pop Punk Princess."
With a career that spans two decades, Avril Lavigne remains active to this year. Her latest singles "Bite Me" and "Love It When You Hate Me (feat. blackbear)" are a sneak peek into her upcoming album Love Sux set to be released on February 25!
When K-pop Meets Punk and Rock
Despite starting their career much later, TXT are following in Avril Lavigne's footsteps as one of the K-pop acts who have embraced songs with a punk-pop and rock-pop sound. TXT's latest title tracks, "0X1=LOVESONGS (I Know I Love You) feat. Seori" and "LO$ER=LO♡ER," took fans by surprise when the usually upbeat and melodic group's sound was switched for emotional rock and pop-punk tracks.
TXT's discography also counts with the alt-rock and pop-punk infused track "Dear Sputnik," which uses an artificial satellite as a metaphor to express attraction. If these tracks were not enough to prove TXT's commitment to the grungier sound, as part of their repackaged album they released the emocore mix version of "0X1=LOVESONGS (I Know I Love You) feat. Seori." This emocore mix stays true to the original version, but the guitar riffs are amped up by two.
When Fandoms of Icons Collide
The short but sweet interaction between Avril Lavigne and Huening Kai was enough to spark conversations between fans. Some Avril Lavigne fans were introduced to TXT through this interaction and Huening Kai's cover. MOA, TXT fans, who are also fans of Avril Lavigne were ecstatic to see their two worlds collide. 
If you would like to see more of Avril Lavigne, make sure to follow her on Twitter and check out her upcoming album Love Sux! If you would like to read more about TXT, make sure to check out our album review of their first Japanese EP, Chaotic Wonderland!