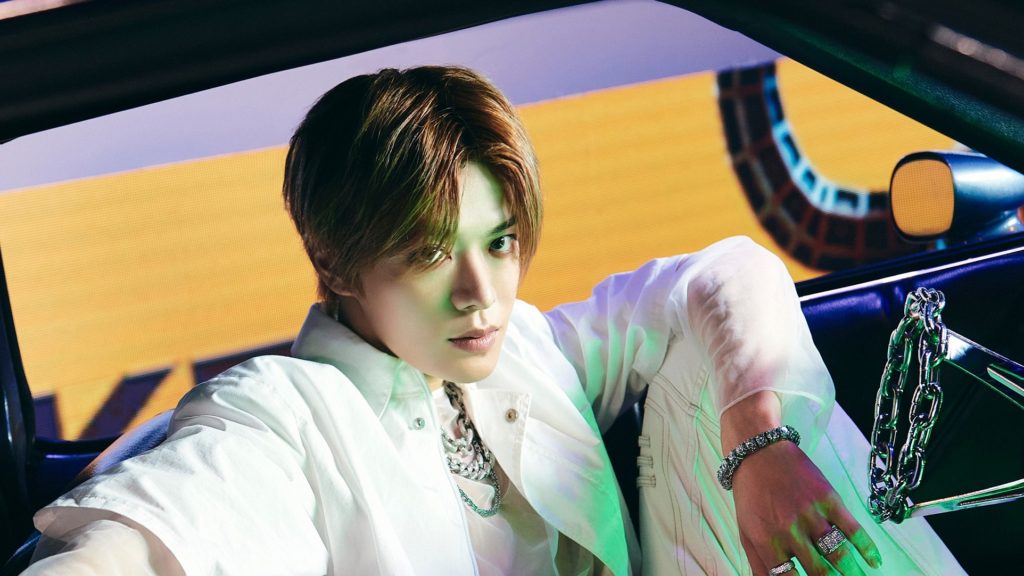 NCT 127 released the music video for their title track Sticker today. Following the video's release, some key concepts such as cowboys, heat and love appeared. Keeping with the themes, their beauty styling followed the same concepts.
Slick-styled Locks
Similar to the teasers, the members' color was kept neutral. Doyoung had swapped his red streaks for white, whilst Haechan opted for a more peachy-toned pink. 
Taeyong kicked off the video with a strong and structured hairstyle. His hair parted, half tapering into a point over his forehead and the other swooping upward. The style mimicked the flame pattern in his outfit and started the whole video off with a punch. Likewise, he kept his detailed undercut— changing the design to fluid lines around his ear, almost like flames themselves.
Other members,  such as Jaehyun, Johnny, Jungwoo and Yuta, sported curtain bangs. The split fringe worked differently for each member, all styles ensure the focus was on the eyes. The rest of Jaehyun's hair was slicked back, whilst Yuta's hair was left free-falling down from his center part. 
The remaining members, Mark and Taeil, had individual hairstyles. Taeil's short licks were pushed back, with a few strands left in front— reminiscent of the looks from Kick It and Resonance. Mark's hair through most shots was soft and naturally over his forehead. 
Fiery Faces
Keeping with the warm times of the set, costume and lighting, the makeup for each member followed a similar palette. Whilst their skin was left clean and glowing, their eyes were each highlighted with shimmer shadows in warm tones.
Most noticeable, Jaehyun sported a sheer peach-Burgundy shadow both on top and below his lid. The red tones drawing focus upwards to his eyes. 
Working similarly, Doyoung rocked warm brown tones on his lid. The placement deepened his eyes and elongated them, making them seem more intimidating. To do the same, Jungwoo had an almost-black shadow liner pulled out from his natural lash line, making his eyes seem longer. 
Members Mark and Johnny had fairly clean lids, with only their outer corner having deeper, smoker shades applied. Since their natural eyes are both upturned and downturned, this was a great way to balance out the shape and utilize their natural features. 
All the members had only slightly filled brows. Taeyong kept his brow slit from the teasers to match his hair. Each member also had well-balmed lips. Every closeup proved the sheer peach satin color played well with the members' skin tones.
Beautiful Bodies 
It can't go amiss that highlighter was the prime component for the member's revealed skin looking moisturized. Along with oil, the stylists were able to create a glow that almost pushed the sweaty agenda- playing in with the heat from the color palettes. This is best seen with Taeyong and Jaehyun in the opening of the video, and Johnny later on.
Fan Reactions 
Although it was difficult to focus on one aspect, fans didn't hold back when sharing their reactions.
It's just art.
ART, NOTHING MORE TO SAY. #NCT127_Sticker #NCT127Sticker_Accessed @NCTsmtown_127#TAEYONG pic.twitter.com/fPMl0koihX

— #NCT127COMEBACK♠️ (@TYONGLENN) September 17, 2021
AAAAAHHHHHH *chef's kiss* 😩👌

NCT 127 'STICKER' OUT NOW#NCT127_Sticker #NCT127Sticker_Accessed @NCTsmtown_127 https://t.co/p5F6JDVx2l

— marx🍚 | wonwoo au 📌 (@wooahaaae_) September 17, 2021
Others still couldn't get over members' looks.
Every Neo hits different but JUNGWOO in that white hair and hairstyle is sooooo in a different level!! <3#NCT127 #NCT127_Sticker #Sticker https://t.co/gJYHPpqFhB

— prince hendery 👑 (@justin_xiaoo) September 17, 2021
OH MY GHOD HAECHAN HOLD ON https://t.co/48MGLQwXEZ

— Cj (@kitsdae) September 17, 2021
MOON TAEIL CENTER . THATS IT THATS THE TWEET SEND IT.#NCT127_Sticker #STICKER #NCT127 #TAEIL pic.twitter.com/ZxZMdqRu7K

— ü (@jenovelized) September 17, 2021
YUTA AND DOYOUNG IN STICKER MV IS INSANE!!! THEYRE SO😳😳🔥🔥🔥🔥 pic.twitter.com/cWKjRpEbpr

— ً (@dearmydoyu) September 17, 2021
THIS LOOK 🔥 #MARK #NCT127_Sticker pic.twitter.com/pnBY81lrSF

— ً (@mleesource) September 17, 2021
Comedy was also at the center point of expression.
Mark lee: don't forget that sticker is a love song hahaha

The #NCT127_Sticker mv: pic.twitter.com/uAv7kbiHYd

— ☼¹²⁷ (@aintkwing) September 17, 2021
"don't forget that sticker is a love song hahaha." – mark lee 💀😆 pic.twitter.com/DoeU2l2duL

— lyn (@deputymarklee) September 17, 2021
After much anticipation, fans had seemed to receive the music video and comeback positively.
If you want to read more about NCT 127's teaser looks, click here! 
Thumbnail courtesy of SM Entertainment.