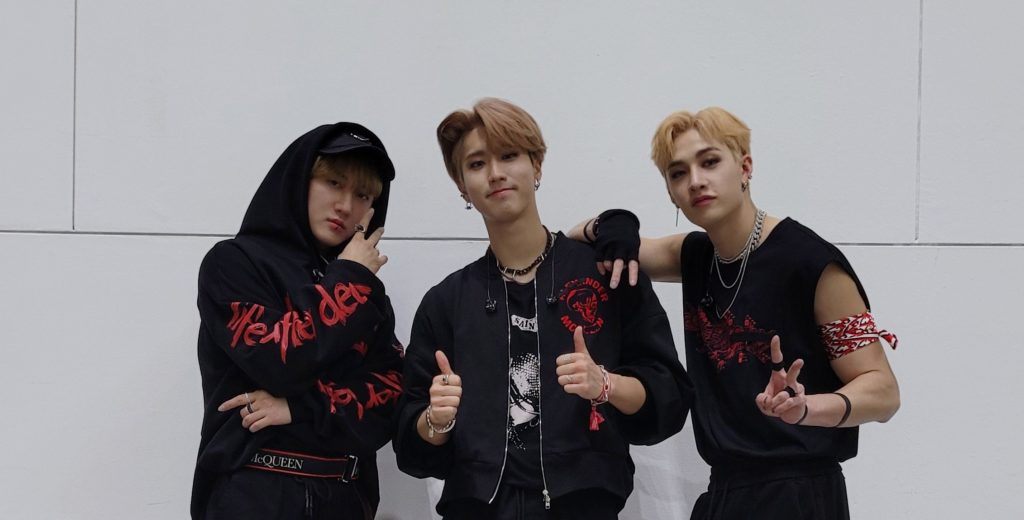 Stray Kids are well-known among the fourth generation of K-pop. The eight-member boy group have drawn the attention of many newer K-pop fans due to their distinctive sound and iconic performances. However, behind those characteristic melodies, there's 3RACHA, the sub-unit that includes Bang Chan, Changbin, and Han- the trio who have been behind the creative process of Stray Kids' music since their debut in 2018.
Introducing 3RACHA
In October 2017, JYP Entertainment and Mnet released Stray Kids, a survival reality show where a group of pre-selected trainees created their own music and performances to see who got to debut. After successfully wrapping up the series and performing their original single "Hellevator," the members debuted under the name Stray Kids in March 2018.
Nonetheless, before their debut, the members of 3RACHA were already making a name for themselves as composers, songwriters, and producers, dropping tracks such as "Runner's High (Prod. CB97)," "WOW (Prod. SPEARB), and "힘이 돼 (Prod. J.One)" on their YouTube Channel and SoundCloud. The mixtapes explored their introspective vision, diving into themes like adolescence, youth, and inner hardships.
As the producer team, 3RACHA has been heavily involved in the making of the group's albums. In January 2018, Stray Kids dropped their pre-released EP titled Mixtape, and with the release, the unit took part in composing, writing, and producing the tracks. Since then, the members have shown their diverse artistry throughout each Stray Kids album.
Although 3RACHA's last mixtape as a unit came out in 2017, that hasn't stopped them from sharing their abilities with the world. Aside from being immersed in Stray Kids' musical arrangements, the trio has dropped several tracks as a sub-unit including "We Go" from the group's album IN LIFE and "Zone" for SKZ-PLAYER. The unit also exhibited their solid production by creating the song "不屑・NEVERMIND" for Yaocheon from the Chinese boy-group R1SE.
Bang Chan: CB97
Aside from being a singer, dancer, and leader, Christopher Bang, also known as Bang Chan or CB97, is one of the main producers behind every Stray Kids album. As he previously mentioned on Vlive, his passion for music has been present from a very young age. Motivated by his mom, at only 13 years old, Bang Chan passed an audition for JYP Entertainment in Sydney, Australia. After years of training, in 2017 he produced six tracks on 3RACHA's first mixtape J:/2017/mixtape.
From title songs to B-sides, he already has 120 registered songs under his name at the Korean Music Association. His abilities as a producer are shown in both group tracks and solo projects like "인정하기 싫어," composed and arranged by himself. Through his work, he has demonstrated his experience, strong professionalism, and creativity.
In an interview with Zach Sang, he said he puts effort into being involved in each song so Stray Kids' signature printed on each of them. "Ever since pre-debut, we have been trying our best to work on our own music and creating our music," he said. "We feel like it's really important. We are gonna be a group that does the music they perform on stage […], it has to be ours in order for it to feel more genuine."
In addition to being an all-rounder, the 24-year-old has been characterized for supporting and guiding his members, who never miss an opportunity to highlight his talent. Before his debut, he chose the preliminary members that would eventually debut beside him in the Stray Kids reality show.
Changbin: SPEARB
3RACHA's SPEARB is Changbin Seo, born in 1999 in the city of Yongin, South Korea. From a young age, his developing interest in hip-hop and music diverted his attention from studying. His goal changed from enrolling in a prestigious university to becoming an artist. Although his parents were against him pursuing a career in music, that didn't stop him. With passion and hard work, Changbin accomplished his dream.
In Stray Kids: Two Kids Room, he shared his parents were proud of him despite pursuing a different path. "I think they were happier with [me passing the JYP auditions] than me getting into any college," he said. As his parents trusted him and acknowledged his drive, Changbin kept growing and polishing as an artist.
As part of 3RACHA, his work as a lyricist and composer during his trainee period showed his potential. He also ventured into producing tracks, one being "WOW" from their first mixtape, J:/2017/mixtape. It was a hip-hop song with cheeky lyrics. During the group's final showcase that would determine whether they debuted, his rapping skills and confidence made him stand out amid Stray Kids' performance of the rearranged version of H.O.T's "Warrior's Descendant." He impressed the founder and producer of the company, J.Y. Park, who praised his work.
Fast forward to their success as a group, Changbin has proven his status as an all-rounder. As a rookie, the now 23-year-old idol made appearances on shows like Masked Singer, where he showcased his vocal range. He also participated in the ninth season of popular rap competition Show Me The Money while simultaneously promoting Stray Kids' album IN LIFE. Most recently, he became the first K-pop idol to win a TOTY Award for "Mirror Mirror" alongside Thai artists F.HERO and MILLI. Changbin currently holds writing credit for 102 tracks, including their latest title track "Maniac" and the other five tracks from ODDINARY.
Han: J.One
Born in Incheon, South Korea, Han Jisung has had a long journey with music. After passing his JYP Entertainment audition, he took Musical Instrument Digital Interface (MIDI) classes to learn about creating music with Bangchan and Changbin. He trained at the company for three years. In 2017, the trio formed the hip-hop group 3RACHA.
As a member of 3RACHA, he took the name of J.One, and dived into music production. With tracks like "I SEE" and "힘이 돼," he exhibited his skills as a rapper, determination as a musician, and strength as a producer. Han also participated in the composition and songwriting aspects of their three mixtapes, slowly starting to make a name for himself within the K-pop industry.
With around 100 songs registered with the Korean Music Association, Han's extended artistry includes both group and solo projects. Singles like "Close," "Wish You Back," "외계인 (Alien)," and "HaPpy" exhibited a more vulnerable side of the artist. He delved into subjects about life and finding your place in the world. His meaningful lyrics create an emotional environment for the listener. He tends to draw inspiration from ordinary things like movies, comics, or dramas.
When asked about what he thinks about when writing lyrics on Vlive, he opened up about feeling like the main character in the stories he creates. "When I'm writing songs, I don't have a single emotion," he said. "At first, I go deeply into the emotion when I'm writing lyrics. I touch upon the surface at first, but I feel like I'm the protagonist of the song as I write. I become deeply involved. It's different from each song and their vibes."
Behind The Stray Kids Sound
3RACHA's wide musical range makes them the powerhouse of Stray Kids. They're credited in all of their albums as songwriters, composers, and producers, giving the group its distinctive sound. When introducing NOEASY in 2021, Changbin expressed their desire to create a more distinctive and characteristic sound. "We worked on [the album] while knowing what we are good at," he said. "I think it came out really well."
From Mixtape to ODDINARY, 3RACHA has shaped the potent, loud, and unique tone of Stray Kids. Their growth and versatility as musicians has made them a pillar within the group and their company as they have set their own standard for their music.
With years of experience, their sound has clearly been reshaped as they have gone from rookies to idols. Their music grew alongside them. Nonetheless, it still embodies the atmosphere from their first tracks. In an interview with Teen Vogue, Changbin reflected on their development as musicians and their own musical color.
"At the beginning of our career, I think there was a bit of wandering when it came to our music," he expressed. "But through the consistent pursuit and development of our musical color, we were able to establish the Stray Kids genre and become the team we are today."
With the release of their mini-album ODDINARY, the producer unit brought new elements to the table. As the album captures Stray Kids' signature sound, 3RACHA's involvement added new elements. They set the record apart from previous releases while also continuing to maintain the boy group's essence.
What's Next?
Stray Kids has already cemented themselves as a successful group in the industry. In 2021 alone, they won the survival show Kingdom: Legendary War, reached the ninth spot on Billboard's 25 Best K-Pop Songs of 2021: Critics' Picks with "소리꾼 (Thunderous)", and debuted at 25 on Billboard Heatseekers Albums Charts with their EP Christmas EveL. 3RACHA's participation in their production process is undoubtedly why. As a unit, they have added a more genuine message to their music, using this artform to express their honest thoughts and feelings.
After four years into their careers, Stray Kids' passion for creating remains evident. With the release of ODDINARY and a World Tour around the corner, they still have a long journey ahead. We can't wait to see what the future holds for the group.
Want to read more about Stray Kids? Read about their latest comeback here!