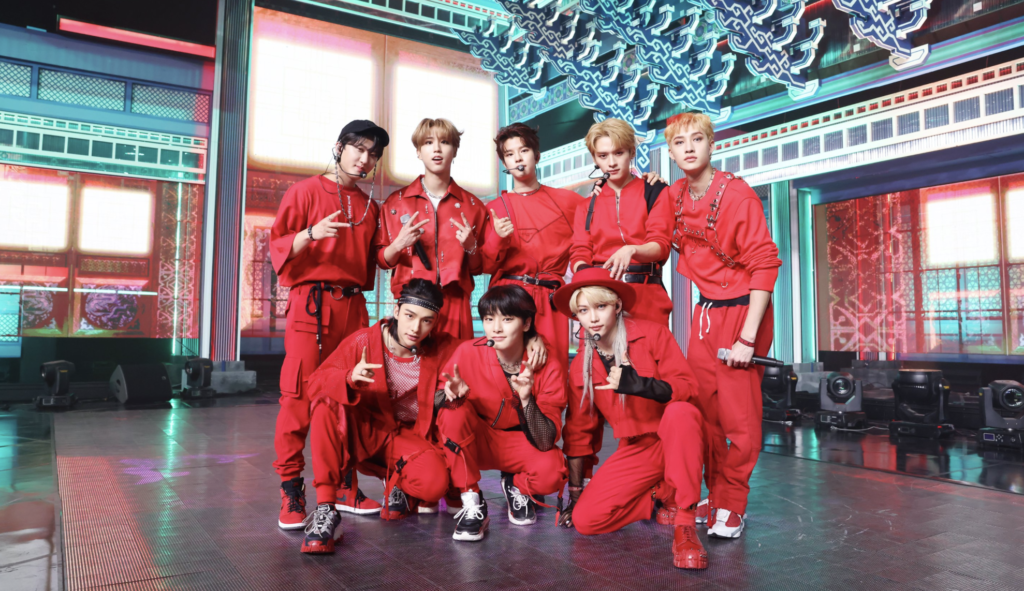 Stray Kids is back with their second full-length album, NOEASY. Released on August 23 at 6 PM KST, the group came together for 14 tracks, including title track "소리꾼 (Thunderous)," three unit tracks, and their single "Wolfgang," from the survival show Kingdom. 
Stray Kids(스트레이 키즈) "소리꾼" M/Vhttps://t.co/Rhf51NtYBO#StrayKids #스트레이키즈#NOEASY#소리꾼 #Thunderous#StrayKidsComeback#YouMakeStrayKidsStay pic.twitter.com/FpUbKsqfH9

— Stray Kids (@Stray_Kids) August 23, 2021
The Thunderous Stray Kids Have Arrived
Alongside the album, Stray Kids released the music video for the title track '소리꾼' (Thunderous). The video opens up with animation side by side, beginning with a sound that builds up and sets the listener up for an adventure.
The animation breaks out to main rapper Changbin's first verse, opening up with the lyrics "so they call me, the one shouting/Changbin, I choose my own path/Attitude tough/Like a runaway train going recklessly down the track."
The strong rap is a perfect introduction to the track, which boasts a similarly raucous sound. As Stray Kids says, they "don't play by the rules"—they do their own thing without care for what others think.
The art and visuals of the music video combine traditional and modern elements. The temple contrasts with luxurious cars as well as the members in flashy modern clothes while surrounded by dancers in hanbok. 
THE CONCEPT,THE MV,THE SET,THE VISUALS,THE STYLE EVERTHING IS A *chef kiss*

SKZ THUNDEROUS COMEBACK@Stray_Kids#ThunderousOutNow#StrayKidsNOEASY#StrayKids_Thunderous#스트레이키즈_소리꾼

— ⌗ pam ♡︎ (@chaeywrinous) August 23, 2021
Behind the Stray Kids Sound
NOEASY is Stray Kids' way to make a statement about their music. When they  introduced the new tracks, members Seungmin and Changbin spoke about the differences between NOEASY and their previous full album, GO LIVE. In GO LIVE, they tried to bring out a new personality as a group, and with NOEASY, they wanted to make their characteristic "Stray Kids" sound more distinctive. "We worked on it while knowing what we are good at, and I think it came out very well," Changbin said.
With the participation of 3RACHA, composed of members Bangchan, Changbin, and Han, in the production of the album, they demonstrate once again the creativity and professionalism of the producing unit.
can u guys believe that these three guys named 3racha who used to upload their songs on soundcould just 4 years ago just sold almost a million copies making their 2nd album the best selling album in jype's history and are the youngest most copyrighted idols on komca? pic.twitter.com/ZEmwZD45NS

— 승모⚡️zZz (@38RACHA) August 22, 2021
NOEASY Dominates the Charts
Upon the album's release, the group trended worldwide on Twitter with several hashtags NOEASY dominated the iTunes charts, with "소리꾼 (Thunderous)" ranking #1 worldwide, and the rest of the album all ranking in the top 20.
Logros de Stray Kids hasta ahora (si re subes las imágenes, da cr por favor ❤️)

WW Apple Music Song Charts
#186 Thunderous (Nuevo)

WW Apple Music Album Chart
#5 NOEASY

WW iTunes Song Chart
-Todas las canciones del álbum entraron al Top 30

WW iTunes Album Chart
#1 NOEASY pic.twitter.com/RYgI0OsUFz

— Stray Kids NOEASY (@StayAllInOne) August 23, 2021
All tracks from "NOEASY" album is charting at TOP 20 Worldwide iTunes Song Chart ?

This why is important to buy all tracks separately, keep buying NOEASY on iTunes stay ?#Thunderous #NOEASY #StrayKids @Stray_Kids pic.twitter.com/yl498xR8aH

— Stray Kids Billboard⚡ (@skz_billboard) August 23, 2021
Fan Reactions
With the new release, Stays could not hold in their excitement and took to Twitter to share their reactions and support.
thunderous m/v is so siick?
i'm literally gonna listen to it on repeat for the whole week
i was expecting crazy comeback and it sure is?#스트레이키즈_소리꾼#StrayKids_Thunderous pic.twitter.com/LW5PVfqnS6

— Marie (@_ziraelle_) August 23, 2021
i just woke up and i have to say this is one of the best comebacks i've ever seen in my freaking life. it's so good like i cant even explain it. #ThunderousOutNow #Thunderous #StrayKidsComeback #StrayKidsNOEASY #StrayKids_Thunderous #스트레이키즈_소리꾼 pic.twitter.com/KplDDXdOEA

— ꒰????????? ????? ?????꒱?? (@straykids_place) August 23, 2021
can you guys believe THEY DID THIS. my jaw dropped on the floor
SKZ THUNDEROUS COMEBACK#ThunderousOutNow#StrayKidsNOEASY#StrayKids_Thunderous#스트레이키즈_소리꾼 @Stray_Kids pic.twitter.com/I5iSHEo7WM

— caty ?⚡️ NOEASY AOTY (@hyunniesjiniret) August 23, 2021
Le MV , leur style , les personnes tout est incroyable ! #StrayKids_Thunderous#StrayKidsComeback #StrayKids      #NOEASY   #YouMakeStrayKidsStay       #Thunderous pic.twitter.com/OPqDJwoheH

— -Emma-? (@Emma19029543) August 23, 2021
HAN JISUNG ME DEJASTE POR LOS SUELOS FLACO pic.twitter.com/xU2q3fgIIJ

— roji ♡'s suni; SKZ CB ? (@heavydirtysungg) August 23, 2021
Stray Kids is set to appear on "Weekly Idol" on August 25, MCOUNTDOWN on August 26, and Music Bank on August 27. There is no doubt that the 4th generation group has grown as artists, and fans can't wait to see what they do next. Listen to NOEASY on Spotify and Apple Music, and follow Stray Kids on Instagram and Twitter for more! 
Craving more new music? Check out EnVi's coverage of 777 (Triple Seven)'s debut single!
Thumbnail courtesy of JYP Entertainment.