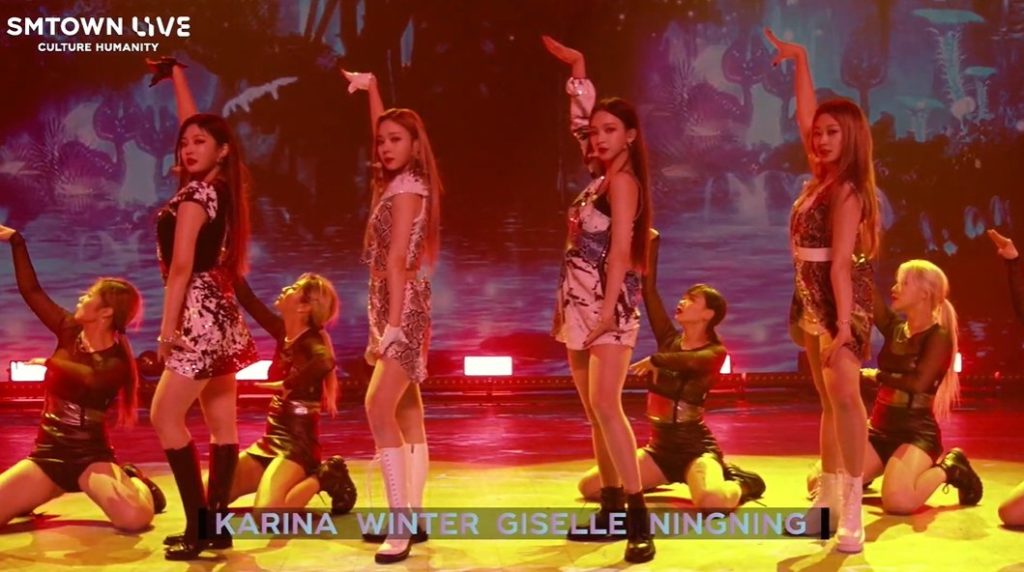 By Annie Bourbonnais | @_whoisannie
SM Entertainment's newest girl group æspa—only two months into their debut—took over the SMTOWN Live: Culture and Humanity stage with a potent performance of their debut single "Black Mamba."
Wearing sparkly, sequined snakeskin outfits, matching their concept, the girls started off with an intro routine, showing everyone they're not coming into the industry to play. Following the "Black Mamba" stage and their iconic drop choreography on the chorus, the VR technology decorated the stage with bioluminescent flowers, mimicking their music video.
The girls then greeted their fans in Korean. Giselle said a few words of encouragement in Japanese, and Ningning in Chinese, as they cheered up fans very exhausted from the pandemic and added, "Have strength!"
"We hope we can become a beloved group in 2021," leader Karina finished off and hoped fans would have fun with the performances by their seniors.
Birthday girl Winter had already graced the stage joining iScreaM's DJ Raiden on his song "Yours," originally sung by EXO's Chanyeol and Lee Hi.
æspa also left a message for the fans together with the other SMTOWN artists at the end of the concert. "We hope that 2021 will only be filled with lots of good news. Happy New Year."
We're excited to see what Aespa has in store for us in 2021!