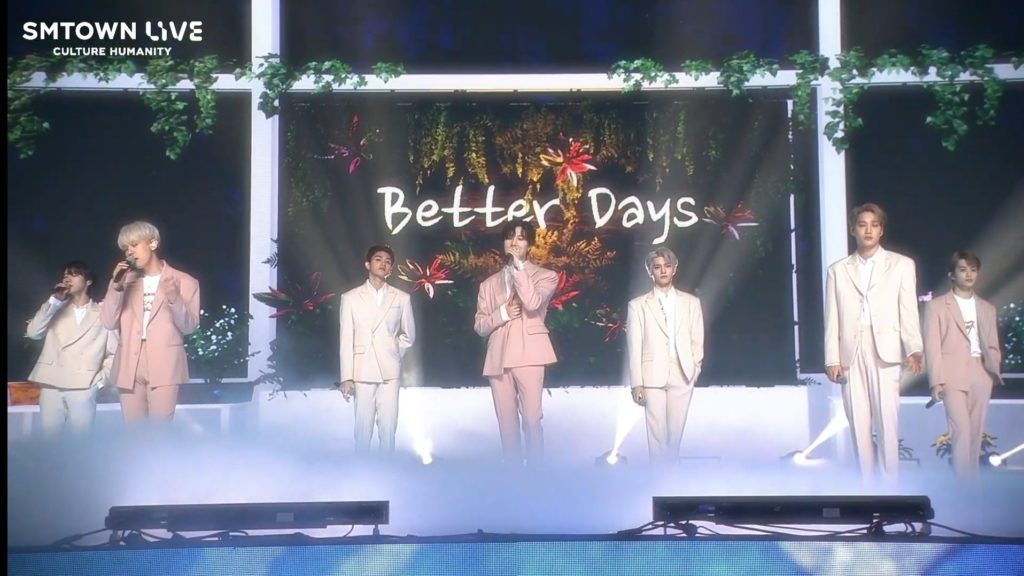 By Veronica Espinal | @minionyuta_
In true SuperM fashion, the seven-member group blew their fans away during the SMTOWN Live: Culture and Humanity concert with a touching and heartfelt performance of their song "Better Days," a song for our times with comforting lyrics that aren't overly cheesy.
"Just gotta hold on, yeah I know that it hurts, but the sun will shine through, there's gon' be better days, around the corner it's true." This past year has been rough for everyone and SuperM was here to let fans know that despite tough times, if we hold on we'll be able to make it through the dark and see better days.
Their stage presence was as enchanting as the song. Looking like princes, the members stood in a forest-like setting, with the words "Better Days," displayed in the background as their sweet vocals blared through. The members themselves wished for the better days, "I hope if we stay careful we'll have a good year," Kai said as one of his wishes for this new year.
Despite the performance being prerecorded, Nctzens shed a few tears when they saw member Taeyong perform alongside his groupmates. Due to a relapse injury, Taeyong has been on hiatus from all schedules to recover.
Fans also wish for better days for 2021:
We wish for SuperM, fans and all SM artists to take care of themselves and have better days in this new year!!