On November 11, 2019, with red lighting and bass blaring, Taeyong confidently commanded the stage with his rap and dance for his solo song "GTA" for the first time. He appeared in a black mask, a glow in the dark t-shirt, and gloves, followed by sirens to open his well-delivered rap.
The song sounded aggressive yet playful, choreographed with a full character arc. Taeyong pretended to fight with his backup dancers, escaped toxic gas where he delivered a unique coughing ad-lib, and in the end, he got caught and carried off the stage. 
He delivered this captivating stage 12 times during the first SuperM Tour, each with subtle differences, yet the same greatness that received praise in several articles. His solo stage made such an impact that he was deemed to find success in America if he were to ever tour with American hip-hop artists. 
The Dream
"GTA" is not the first solo stage Taeyong has ever done. Two years before his official debut as the leader of K-pop group NCT, he performed his solo rap song "Open The Door" during the 2014 SMTOWN in Shanghai. At 19-years-old, Taeyong said his dream in the future is to release his own album. "It might be ten or even 20 years from now, but I'm really looking forward to it."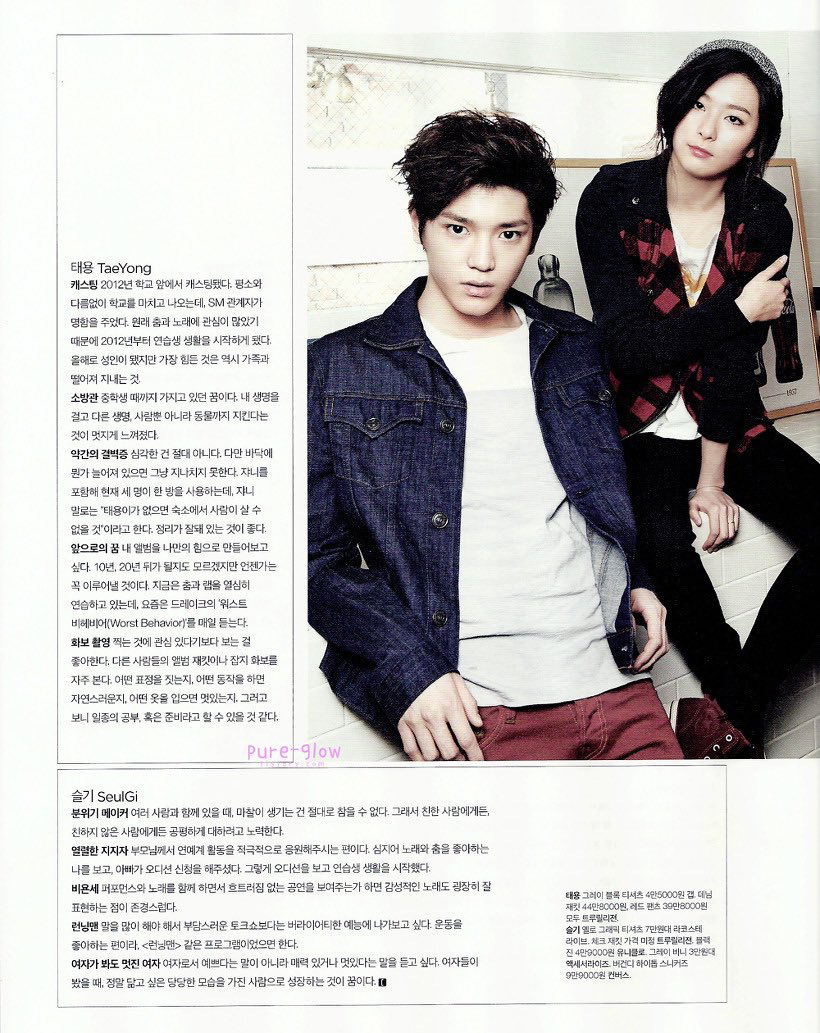 Credit: The Celebrity February issue 2014/SM entertainment, scan by pure-glow.
In 2019, Taeyong released his solo track, "Long Flight," under the SM Station, which gave listeners a chance to experience the rapper's sweet vocals. He publicly showcased his producing skill leading up to the release, which was well-received by the general public and music critics. Popular and respected music critic, Kim Youngdae, complimented Taeyong's ability to naturally tell a story through both rap and vocal delivery. "Long Flight" also ranked number one in 40 countries on K-pop iTunes upon release.
In an interview with Harper's Bazaar, he mentioned how it came down to releasing either sweet, melodic "Long Flight" or rap-song "GTA" as his first single. Ultimately, he went with "Long Flight" and "GTA" became his solo under SuperM. Given the vibe and delivery of those two songs are completely different genres shows how versatile he is as a musician. 
He's also been featured on a number of singles with various artists including Red Velvet, Hitchhiker, Yoo YeongJin, Chungha, and TVXQ's Yunho. He released a single, "Hotel del Luna" with Punch for a Korean drama and featured a rap on international artist, Marteen's, song, "Mood." 
Taeyong continuously teases bits and pieces of songs he's working on through social media or VLives, but fans are still waiting for an official Tolo (Taeyong solo) album release. He's also performed one-off songs at concerts that have still not been released, like "Beautiful" from SMTOWN Osaka 2018.
The Demand 
Fans are excited for the possibility to hear more songs from him and see a new performance. Between December 2020 and January 2021, the "Taeyong Go Solo" topic and hashtag gained more than 60K impact index on Twitter. 
Senior artists and professionals have also expressed how impressed they are with Taeyong's talent—including his rapping, dancing and songwriting. Artists including EXO's Baekhyun and Taeyeon, have expressed interest in collaborating with Taeyong. 
Taeyong is number one in total album sales for NCT 2020 and NCT 127 for the whole of 2020 in China and Thailand. His Spotify had gained more than 500,000 followers, with more than 356,000 monthly listeners—both are the highest number of followers amongst NCT members. He was the first NCT member to chart on the Gaon Social Chart, and the only one to chart twice this year alone where he peaked at number six, higher than the brand NCT itself. 
Before his debut, Taeyong expressed his desire to release a solo album someday—even if it's in 20 years. In an interview from July 2020, he stated he hopes every member of NCT 127 releases a solo album one day as well. 
The Desire
One thing for sure, Taeyong loves making music. He happily teases and shares song snippets. Fans have now heard snippets of 21 songs that Taeyong has in store to release.
Taeyong expressed his love for writing music in a lot of ways. He's mentioned on live videos he finds comfort listening to songs he's written. In his Bazaar interview, he mentioned wants to work on songs like a hideout, a playground, without limits to ideas. We've seen how Taeyong tirelessly works in the studio until early mornings from his 24h relay cam. EXO's Baekhyun has also talked about Taeyong's work ethic, going back into the studios after full work days.
As time goes by, Taeyong's artistic skills, talent, and ability can only improve and mature. Hopefully, he is content and fully enjoys all the work he does until the solo we long for is here.
Taeyong's Instagram is open! Check out how excited NCity was during this momentous event here!