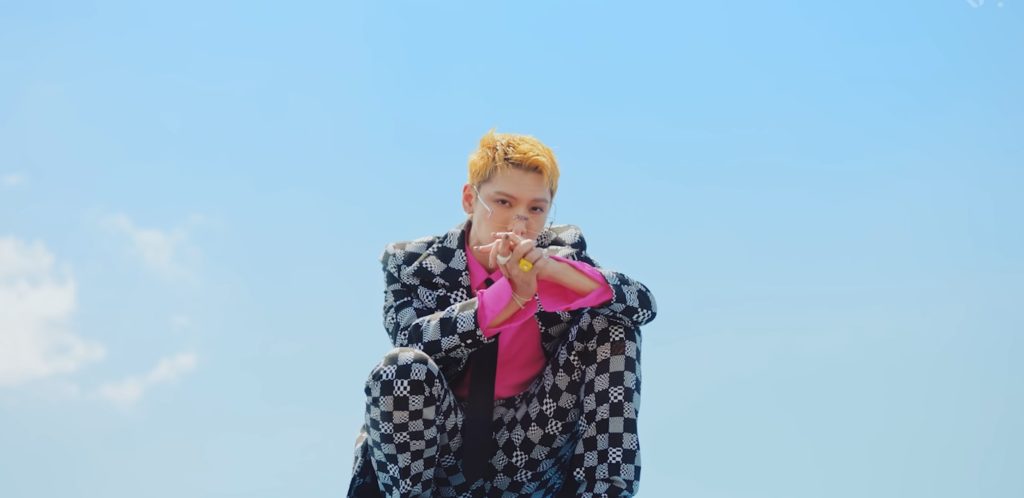 A long-awaited return to SM Station, Ten has finally released his third single, "Paint Me Naked," showcasing his free spirit and a cheerful vibe. The NCT, WayV, and SuperM member took over SM Station once again with the track and a music video released August 10 at 6 PM KST. 
View this post on Instagram
A New Look To Ten
With "Paint Me Naked," Ten takes us on a journey of discovering youthful love, and living life on your own terms. Completely in English, the song is a pop-rock track produced by SQUAR of PixelWave and boasts a catchy melody that will get listeners on their feet in no time. With lyrics like "like a picture, I can see our love running wild" and "nothing else matters, only us right now," Ten expresses the message of a love bound by no limits or expectations. 
Genre-wise, Ten's latest single branches away from his previous solo projects. "Paint Me Naked" is a much more optimistic and light-hearted song, the pop-rock style a new addition to Ten's discography. "Dream In A Dream" is a dreamy synth-based song with strong East Asian musical influences, while "New Heroes" is an energetic electronic dance song with a message of never giving up on what you believe in. At #5 on the iTunes worldwide chart and #4 on QQ's popularity chart, the success of "Paint Me Naked" demonstrates Ten's versatility, and his ability to create in any genre. With every release, Ten reveals more of himself for the world to see, as someone that knows himself and can confidently state who they are. 
Metaphorically, Ten's solo songs have progressed and told the story of his metamorphosis from budding idol to an artist who is fully confident in his skill. He has transformed into his authentic self, unwilling to fit into any boxes.
Paint Me Naked: A Visual Treat
Whether it was Ten dancing in a museum, in the middle of trucks, or even on the street, the music video for "Paint Me Naked" is filled with colors and eye-catching visuals of Ten in various places that convey the song's message of freedom and love. Every shot makes a statement that relates to the song itself. In the museum scenes, Ten is seen splattering paint on the paintings and artwork while singing the lyrics "don't care about what people say." This is very reminiscent of the message he is trying to convey with "Paint Me Naked" too.
Fans were absolutely floored by the music video, sharing their excitement on Twitter. 
Paint Me Naked does everything, weddings, funerals, court hearings, first dates, break ups, bar mitzvahs, sweet sixteens, quinceañeras, bank robberies… pic.twitter.com/eAMYal78NA

— ela (@Iightburn) August 10, 2021
this solo really describes how talented ten is. i have no words?#WayV #TEN #Paint_Me_Naked pic.twitter.com/Oe4I1CfZ7m

— ◡̈ (@jaepeach3s) August 10, 2021
i finally got to watch paint me naked's mv and all i have to say it that it's TOO SHORT…… it was brilliant, so much of ten's personality in it

— Elo ?✨ (๑˃̶͈̀Ⱉ˂̶͈́๑) (@withallstars) August 10, 2021
paint me naked mv is a masterpiece, ten's vocals, amazing dance steps, visual, plus the lyrics. damn that was a whole package

— jenojaem (@nanajae_27) August 10, 2021
The song is so catchy I really liked the aesthetics of the mv and you can tell he had a fun time filming it too ?#PAINT_ME_NAKED pic.twitter.com/KFhcgSVZag

— Selena⁷⁷? (@JEONGJ4EH_) August 10, 2021
take a moment and appreciate how ten showed us so much facial expressions and feels in the mv and was just enjoying and grooving the whole time ?

PAINT ME NAKED IS OUT#PAINT_ME_NAKED pic.twitter.com/dUG6MxuOE1

— pia ? CountToTen (@alwaysforten) August 10, 2021
Ten Lee: The Artist
Ten's artistry is no secret, as his Instagram is filled with him sharing his digital artwork, choreography, and even his writing with fans. In the past week, as Ten's concept photos were being released, he reposted them with additional doodles drawn on them, expressing his personal creativity.
Fans have appreciated his artistry during this project, too, pointing out aspects of the track that they found exciting and inspiring.
PMN's concept is cohesive in a way the entire song reflects the identity Ten has been building as an ARTIST. The free spirited creative misfit human like everyone and their mommas CAN notice Ten's unique imprint on that project ? it's not subtle

— ela (@Iightburn) August 10, 2021
i just think the consistency of ten releasing english singles over the years, with each song having its own distinct sound and personality, just reinforces ten's global appeal and ability to embody concepts excellently

— ? ? #Paint_Me_Naked GA (@midnightneos) August 10, 2021
#Paint_Me_Naked just proved again that Ten is a singular artist. He's carving out his own unique path in this industry as someone you can not predict. He's hard to replicate but completely inspiring. He is himself, he's crazy, he's beautiful and he's just getting started.

— Ten's PMN pusher. Aug 10th 6PM KST (@CuffinTen) August 10, 2021
the way ten made sure to address the style change and that he wants to continue exploring new things he's an individual he's an ARTIST he cannot be boxed in

— sierra qian ? stream paint me naked (@sweetyongf) August 10, 2021
you can really see Ten's influence in every aspect of this release, the song, the choreo, the outfits, the video and teasers… it's so unique and vibrant and FUN. he's an artist down to his soul, i love him#Paint_Me_Naked #TEN pic.twitter.com/LtlOPafCc9

— niru ?? (@the_kpopalypse) August 10, 2021
Fans Take On #PaintWithTen 
Inspired by the idol's own creative nature, his fans, 10vely, took to social media to share their own art, giving the teasers and stills from the MV, their own personal twist. Some creations had already caught Ten's eye just days after the announcement of the release, and he took to Bubble to thank fans, and express how happy it made him to see them being creative.
As more content was dropped leading up to the single's release, it sparked more creativity from fans, who took the opportunity to use #PaintWithTen to promote the single and their artwork.
?Visual Ten?#Ten #TEN_PaintMeNaked_Image #artworkอซทซ #Paint_Me_Naked #PaintWithTEN #TEN_PaintMeNaked_10Aug pic.twitter.com/iBwCXyH6ZU

— โป๊งเหน่ง (@thetinypongneng) August 7, 2021
? Ten is art?ชอบเซตนี้ม้ากมากกกกก คัลเลอร์ฟูลกรุบๆ#Ten #TEN_PaintMeNaked_Image #artworkอซทซ #Paint_Me_Naked #PaintWithTEN #TEN_PaintMeNaked_10Aug pic.twitter.com/D646Rpm76R

— โป๊งเหน่ง (@thetinypongneng) August 8, 2021
TEN SO10 😀#WayV #TEN #텐 #PaintWithTen #Paint_Me_Naked #DesignedByWayZenNi ? pic.twitter.com/2ZAl1xq4SQ

— ˖ ⋆.* shaaᵛ ?NSD-stream pmn! (@yyangchuu) August 5, 2021
Here's my entry for #PaintWithTen ?

I was inspired by everything that reminds me of him and makes me love him ??#TEN #텐 #Paint_Me_Naked #DesignedBy10velys pic.twitter.com/PmBcEN1nZT

— ًjune¹⁰ #Paint_Me_Naked (@yunotens) August 4, 2021
Mr Lee & Sons ?‍⬛?? for today's #PaintWithTEN !#TEN #텐 #TENSMSTATION #Paint_Me_Naked pic.twitter.com/YZjpPT5Cd1

— linda? (@ltkaarina) August 7, 2021
De verdad traté de hacelo bonito <//3 #PaintWithTEN #Paint_Me_Naked #PaintMeNaked_lmageTeaser #DesignedBy10velys pic.twitter.com/jBFuyj4TGX

— Yler (@ntenly_) August 5, 2021
#TEN #텐 #Paint_Me_Naked#WayV #威神V #李永钦 #TEN pic.twitter.com/EZSOYwtJ0Y

— ɪsʟᴀɴᴅ (@bumingdao) August 10, 2021
The idol is set to perform on the music show M COUNTDOWN on August 12, on "Music Bank" on August 13, and "Inkigayo" on August 15. Without a doubt, Ten has grown significantly as an artist that can shine in a group and as a soloist, and we can't wait to see what he does next. 
If you'd like to see more of Ten, make sure to follow his Instagram and listen to "Paint Me Naked" on your favorite platform.
Looking for what else the NCT members are up to? Check out our coverage on the new NCT U unit, featuring Doyoung and Haechan!
Thumbnail courtesy of SM Entertainment.