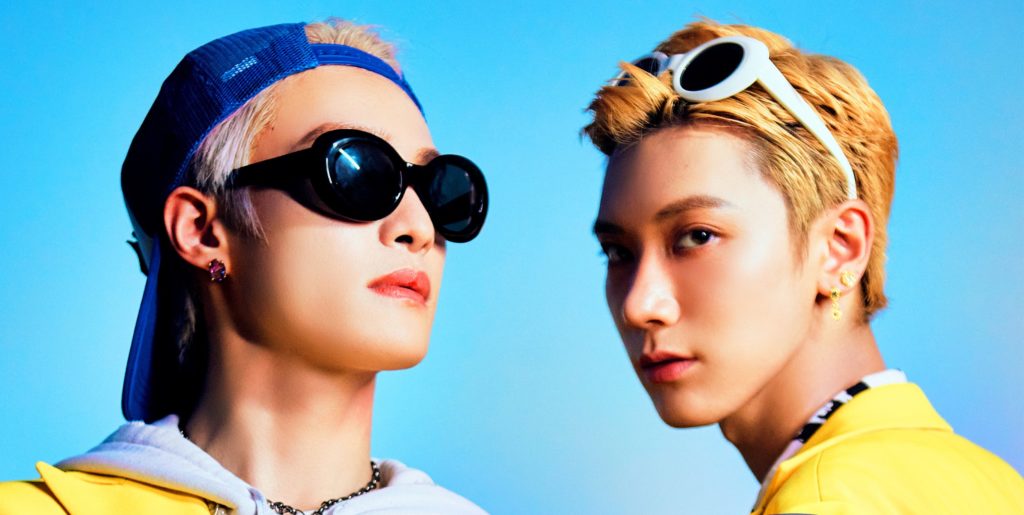 On August 12 at 6 PM KST, SM Entertainment surprised fans with an announcement that WayV members Ten and Yangyang will be making their subunit debut on August 17 at 6 PM KST, with a single titled "Low Low."
WayV-TEN&YANGYANG Single 'Low Low'

2021.08.17 6PM (KST)#WayV #WeiShenV #威神V ⁰#TEN #李永钦 #YANGYANG #刘扬扬 #WayV_TEN_YANGYANG #LowLow pic.twitter.com/ZD2i0xnPOJ

— WayV (@WayV_official) August 12, 2021
"Low Low"
The subunit announcement comes two days after Ten's "Paint Me Naked" solo SM Station release. Prior to this, Ten has been involved with two solo SM Station tracks, "Dream In A Dream" and "New Heroes" in 2017 and 2018 respectively. This isn't Yangyang's first foray out of WayV, either –  in 2020, he featured in IMLAY's "Asteroid." Both Ten and Yangyang are main dancers in WayV, with Ten being main vocalist and Yangyang being main rapper as well. This is the second official subunit debut to come from WayV, after Kun and Xiaojun's single, "Back To You," released on June 16 this year.
The teaser image for the announcement showed Ten and Yangyang donning yellow blazers with vintage-inspired sunglasses against a bright blue background. Sending WayZenNis into a frenzy almost immediately, fans took to Twitter to express their excitement about the announcement.
Fan Reactions
Some fans couldn't believe that a Ten and Yangyang subunit was finally happening.
just woke up to tenyang subunit i'm gonna faint

— ?ᵛ (@wayvmsg) August 12, 2021
We got Ten solo ANd TenYang unit this feels like a dream ?

— brooke ? PAINT ME NAKED AUG 10TH (@broke10vely) August 12, 2021
2021 is really wayv's year

— tenyang subunit (@yaangqi) August 12, 2021
i was napping and put an alarm to not miss ten's performance and it was at the exact same time as the tenyang subunit came out and i never woke up so shook in my life

— blair ♡ paint me naked (@TENand10VELY) August 12, 2021
Some fans were trying to connect the dots to previous spoilers from Ten and Yangyang regarding this project.
so THIS was the spoiler for TENYANG SUB UNIT??!
'Don't give my love on the low'
????

— Jae ?¹⁰ • PAINT ME NAKED OUT NOW (@J10ncityy) August 12, 2021
yangyang saying "i can't give a spoiler" or "you'll be able to see us soon" after kun and xiaojun finished promoting back to you makes so much sense now. it was all for the tenyang subunit.

— priya (@xuxifairie) August 12, 2021
Deconstructing the teaser image, fans were excited about a possible retro/old-school concept.
tenyang going for the late 90s aesthetic im here for it

— rave || jaemin bday bitch (@ctrlhaechan) August 12, 2021
Not me thinking "SHAWTY HAD THEM APPLE BOTTOM JEANS BOOTS WITH THE FUR GOT THE WHOLE CLUB LOOKING AT HER!!" the second I saw tenyang's low low

— !belle | jaemin womb eviction day (@hyucklesparkle) August 12, 2021
Reminiscing on Ten and Yangyang's sweet friendship, WayZenNis were emotional about the two working together in a subunit, and shared their excitement for the upcoming track.
yangyang said he wished to be closer with ten this year, now they do everything together pic.twitter.com/VPWSpD12tq

— tenyang things (@TenyangThings) August 12, 2021
WE'RE GETTING THE SECOND WAYV UNIT!!! yah gurl's excited for tenyang's low low

— ari (@aeriftwyv) August 12, 2021
There's no doubt this multi-talented duo will bring something new to the table, and we can't wait to see what that is! Keep up with WayV on their official Twitter.
As we await Ten and Yangyang's subunit debut, check out our coverage of Kun and Xiaojun's single here!
Thumbnail courtesy of SM Entertainment.