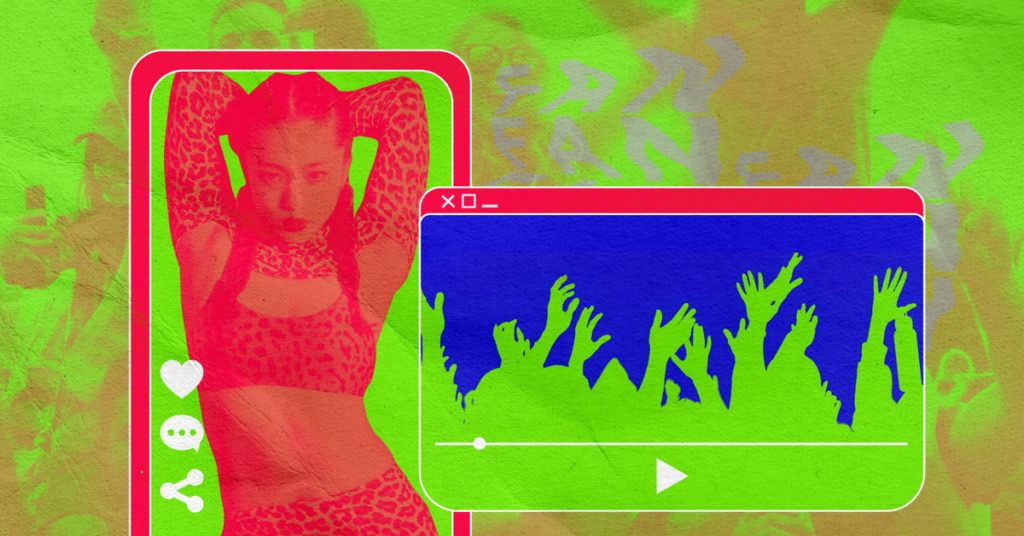 From online fan signs to TikTok challenges, things we are familiar with now as part of the K-pop fan experience might not be available in the past. As K-pop becomes more globalized, entertainment companies and K-pop artists are constantly finding new ways to engage with fans from all around the world.
Whether you are new to K-pop or a longtime fan, your fan experience is likely to evolve over time. Here are some exciting changes in fan experience we have observed that you may have encountered too.
Translated Content
Before the prevalence of content with official translations by Korean entertainment companies, K-pop fans used to take matters into their own hands and translate content themselves. Fans, familiar with the inside jokes and their favorite idols' personalities, use equivalent expressions that are more culturally relevant to help other fans understand the context of what is being said in the language they speak.
For content that does not allow viewers to add their own subtitles, fans have created websites and translation threads to help other fans enjoy the content. Thanks to these fan translators, fans from various countries can enjoy content in other languages despite not being native speakers.
Nowadays, more content comes with official subtitles and translations. There may even be more than one language option to choose from, which makes the content more inclusive and generally enhances the experience for global fans.
Online Concerts & Virtual Fan Signs
In response to the COVID-19 pandemic and the restrictions imposed on face-to-face events, online concerts and virtual fan signs were introduced and quickly popularized in the K-pop scene. These virtual events opened up an alternative way for K-pop artists to stay in touch with fans amidst the pandemic.
Online concert streaming platforms also helped make the virtual experience more than just a screening. For example, Beyond LIVE boasts its augmented reality technology and chat function, making the online concert experience more interactive and personal. These online concerts received positive responses from fans and garnered attention from the media. With the world heading back to some kind of normality, online concerts are unlikely to remain a go-to option for entertainment companies. Still, it could be a good engagement tool for small-scale events.
Virtual fan signs became an important communication method for K-pop artists to interact with fans amidst the pandemic. Xana, one of EnVi's graphics editors, recalled that fan signs used to take place exclusively in Korea and were only face-to-face. Now that online fan signs are available, K-pop idols can meet fans from around the world without traveling.
Some virtual fan signs are organized by online platforms abroad and may cater to local fanbases specifically. Alex, EnVi's Senior Managing Editor, gave examples such as Yizhiyu and Shopee fan signs, which cater more to Chinese and Southeast Asian fans respectively.
Social Media Trends
Is there a chorus that is stuck in your head all day or a dance move you recognize at a glance? Thanks to social media platforms like TikTok and YouTube, K-pop artists now utilize 60-second short clips to promote new songs and make them instantly recognizable. From ZICO's "Any Song" to Jessi's "Zoom" TikTok challenges, K-pop challenges often capture the catchiest part of the melody and the signature dance move. They can be so addictive that fans and non-fans alike chip in with their own interpretations of the challenge.
The nature of the trends can be different for the varying social media platforms. Twitter users are probably familiar with K-pop-related hashtags trending on the explore page. K-pop fans often use hashtag trends to show love and support to their idols, whether it is for a birthday or a comeback. The occasional shoutouts from K-pop artists when they see the trends make fans feel appreciated and contribute to building a stronger connection with the fans.
Diverse Content
Before social media content became popular, appearances on Korean reality TV shows like Weekly Idol and Idol Room were some of the main ways for K-pop artists to promote their comebacks and showcase their many talents.
Nowadays, some K-pop entertainment companies create their own content that spotlights their in-house artists. This content can be used to promote the artists' comebacks or purely for entertainment purposes. YouTube is a popular platform for this content since it is accessible in most countries and helps with broadening engagement. There are even YouTube series hosted by K-pop artists and feature other artists, such as Showterview with Sunmi (2022) hosted by singer Sunmi, and Nothing Much Prepared (2022) hosted by rapper Young Ji.
Some K-pop artists have gotten hands-on with creating content and created their own YouTube channels to interact more closely with fans. From their day-to-day routines to dance or song covers, K-pop artists have more creative freedom over their content and can use them to show their different sides and interests.
Customer Convenience
Purchasing K-pop albums and merchandise was not as convenient in the past. You might have had to walk or drive to the closest record shops and found that the items you were looking for might not even have been in stock. Now that online shopping and worldwide shipping made things more convenient, global fans can pre-order or organize group orders, with their purchases mostly sent to their doorsteps. As a K-pop fan for 10 years, Alex has witnessed Korean entertainment companies introducing more payment and shipping methods for global fans. Some payment platforms included are more popular among their local users, such as GCash for Philippines users.
As K-pop extends its influence to the world, changes were made to incorporate more advanced technology for engaging global fans. Some of these changes to fan culture make you appreciate the convenience, while some changes make you reminisce about the past. Moving forward, we look forward to seeing how K-pop can be made more accessible to the global audience.
Want more Lifestyle content? Check out Three Studying Resources to Help K-pop Fans Pass Class here.