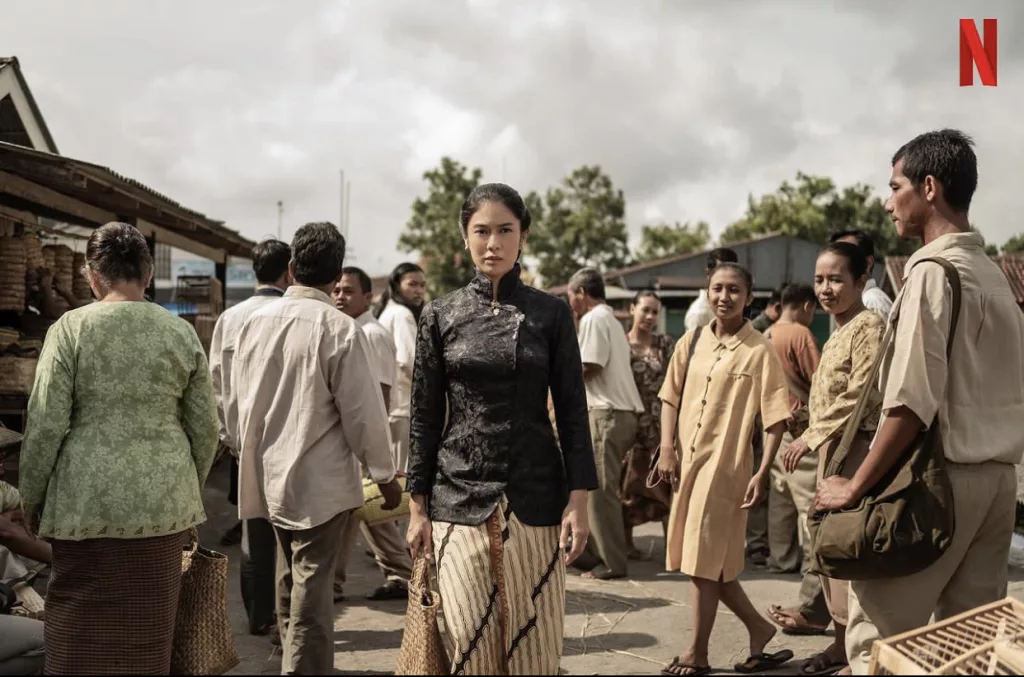 This year, the Busan International Film Festival is highlighting the Indonesian film industry through the special program "Renaissance of Indonesian Cinema", which will exclusively screen Indonesian films and series from the past ten years. This program will hold a screening of six feature-length films, five short films, and one series.
Supported by the Ministry of Education, Culture, Research and Technology, this revival marks a celebration of various works of local filmmakers who have won awards at international film festivals. Indonesia is one of the countries whose film industry has managed to recover quickly after the pandemic. This makes Indonesia a producer as well as a market to be reckoned with in the global film industry.
Gadis Kretek (Cigarette Girl) (2023)
After previous successes with Yuni (2021) and Before, Now, & Then (2022), director Kamila Andini alongside Ifa Isfansyah is now releasing a new Netflix series titled Cigarette Girl. It is an adaptation of Ratih Kumala's novel of the same name published in 2012; the story of Daisyah (Dian Sastrowardoyo), a visionary woman who makes hand-rolled cigarettes. When Daisyah meets Soeraja (Ario Bayu), she gets wrapped up in a love story that is dragged through major events in 1960s Indonesia. 
24 Jam Bersama Gaspar (24 Hours with Gaspar) (2022)
Starring Reza Rahadian, Laura Basuki, Kristo Immanuel, Shenina Cinnamon, Sal Priadi, and Dewi Irawan, 24 Hours with Gaspar follows the story of an amateur detective researching a mass slaughter case involving the government. Directed by Yosep Anggi Noen, the movie is an adaptation of a book by the same name. It has also been selected to compete in the Kim Jiseok Award category at the Busan Film Festival. 
Sara (2023)
Directed by Ismail Basbeth, this film illustrates the conflict of a transgender woman in her family and community. The role of Sara is played by Asha Darra (who was previously known as Oscar Lawalata) as the lead. The premiere at the upcoming Busan International Film Festival marks Ismail Basbeth's return to the South Korean film scene after the screening of The Carousel Never Stops Turning(2017) six years ago through the Kim Jiseok Award program. 
What They Don't Talk About When They Talk About Love (2013)
Director Mouly Surya portrays a story from the lens of two teenage girls with disabilities in an academic institution. The film takes us through the individual journeys of Fitri (Ayushita) and Diana (Karina Salim), as they navigate adulthood, dreams, and their desire to feel and experience love. 
Tales of the Otherwords (2016)
Tales of the Otherworlds revolves around the story of Mbah Sri, a 95-year-old woman and her journey to find the grave of her husband who has been missing since the colonial war. From village to village, mouth to mouth, and story to story, his past becomes obscured with the passage of time. Mbah Sri spends countless days tracing her husband's footsteps so that she can be buried next to him.
Posesif (Possessive) (2017)
Possessive is Edwin's third feature and first foray into the mainstream. It is a preppy school romance, but as the title suggests, takes a rather sinister turn as something rotten blossoms between the young couple. Wrapping this movie with a touch of suspense, Edwin explores how the innocence of first love can lead the parties involved into a dark corner. 
Perempuan Jahanam (Impetigore) (2019)
Impetigore starts off with a tight, suspenseful opening sequence before molding itself into a horror film. It's a story of how Maya (Tara Basro), a toll booth guard, goes to find out about her family's past in a remote village. As the movie progresses, Maya and her best friend Dini (Marissa Anita) encounter various peculiarities in her hometown and uncover her family's dark secrets.  
Where the Wild Frangipanis Grow (2023)
Nirartha Bas Diwangkara, a Bali-based director explores the themes of sexual violence in his third short film. The movie tells the story of Aditya (Agus Wirtama), a personal assistant who houses many financially struggling students, faced by a conflict where he has to choose between his feelings for Chandra (Bryan Ferguson), an innocent new recruit, or his loyalty to Guruji Bagus (Donny Damara), his charismatic spiritual leader.
The program will also screen featured shorts from Basri & Salma in a Never-Ending Comedy (2023) by Khozy Rizal, Dancing Colors (2022) by M. Reza Fahriyansa, Tumpal Tampubolon's 2021 Busan Award-winning The Sea Calls For Me (2021) and Bayu Prihantoro Filemon's Vania on Lima Street (2022).
Want More ACT!ON content? Read all about the the Asian films that screened at the 80th Venice Film Festival here!