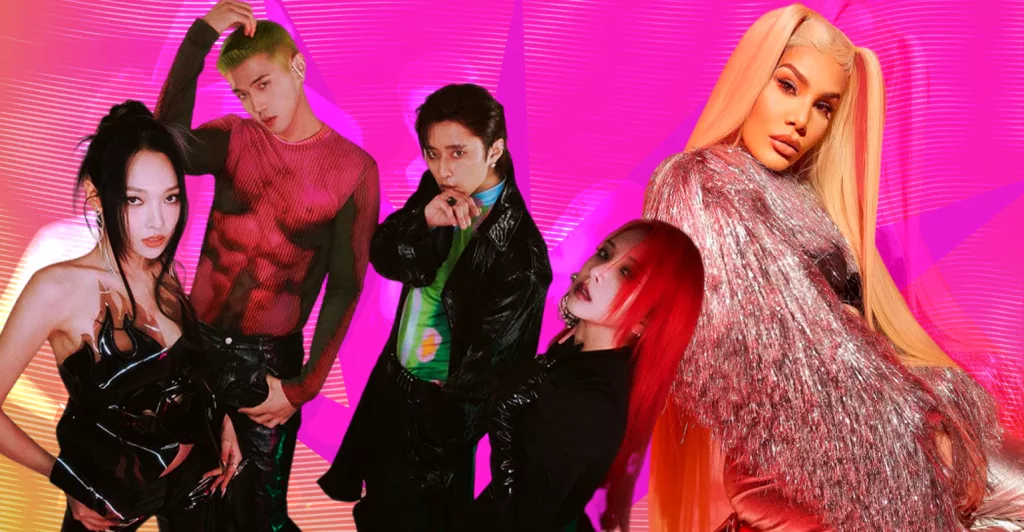 In the ever-changing global music scene, sounds often transcend geographical boundaries and merge as an expression of culture and the exchanges between them. After all, culture is a fusion of different traditions, practices, and actions regarded collectively. The fusion of cultures between music genres such as reggaeton and K-pop is taking the music industry by storm. This blend showcases a variety of talent and inspiration, inviting listeners worldwide to tune in. From reggaeton-inspired beats in bops like LE SSERAFIM's "ANTIFRAGILE" to Latin artist collaborations such as "Give Me More" by VAV featuring De La Ghetto & Play-N-Skillz, this combination has not only given birth to a unique sound captivating people all around the world, but has also shined a light on once underground scenes.
Una Historia Del Ritmo
At the heart of reggaeton is its infectious rhythm. It often features a repetitive drum pattern that gets listeners grooving from the first note. Once upon a time, the now popular genre was regarded amongst Latinos as an underground party genre born in the Caribbean. The roots of this sound actually stem in Panama during the 1980s. Canal workers would test the waters of translating Afro-Caribbean genres such as dancehall, soca, reggae, mixed with American hip-hop, into Spanish. Paired with catchy beats and rhythms that would make anyone want to dance, the juxtaposing lyrics often served as a powerful uncensored discussion about race and class, and the lives many of these musicians faced.
Now, reggaeton has flourished into a globally renowned genre, generating hit after hit. Reggaeton powerhouses such as Ivy Queen and Daddy Yankee put Caribbean Latino culture and locations such as Puerto Rico on the map during the late 1990s and early 2000s. In the recent decade, Puerto Rican artists continually made history with the Latin genre – most memorably Luis Fonsi and Daddy Yankee's "Despacito" marking billions of views, and Bad Bunny being named Spotify's most streamed artist in 2020, with 8.3 billion streams globally. Colombian artists such as J Balvin, Karol G, and Maluma are also influential forces – bringing in achievements like J Blavin's 2017 track "Mi Gente" being the first fully Spanish song to reach No. 1 on Spotify's global chart. Reggaeton has been the fire that music needed, constantly evolving, adapting to a complex world, and inspiring musicians in every corner of the globe.
A K-reggaeton Era
In an era where English is no longer the standard for commercial success, there's no doubt two genres from opposite sides of the world would come together to create a multicultural formula. K-pop, known for its infectious melodies, elaborate choreography, and stunning visuals, has always been open to experimentation. This willingness to evolve has led to the incorporation of reggaeton elements into K-pop. Characterized by its distinctive rhythmic patterns and catchy beats, reggaeton has found a natural home in K-pop as a space that thrives on diversity, converging many genres. The fusion of K-pop's melodic sensibilities with reggaeton's rhythmic intensity has created a captivating hybrid sound that is impossible to ignore.
Leading this movement are musicians like VAV, Chungha, KARD, and Monsta X, who have expertly introduced reggaeton elements into their music. Through their throbbing beats, Latin-inspired dance moves and artist collaborations; songs like "Magnetic" by Monsta X and Sebastián Yatra and "ISLAND" by WINNER demonstrate the genre's impact in K-pop. Other reggaeton-infused songs to recently enter the charts include LE SSERFAIM's "ANTIFRAGILE" and BIBI's "Vengeance".
Latino producers such as Honduran singer-songwriter Isabella Lovestory, Brazilian duo Tropkillaz, and duo Play-N-Skillz are also positively impacting the way K-pop songs are produced, creating versatile, charismatic sounds. Not only have these songs appealed to K-pop aficionados, but they have also drawn the attention of a global audience that might not have otherwise listened to the genre.
Here to Stay
Reggaeton's introduction to K-pop has given the genre fresh vitality and made possible new forms of collaboration and creativity. The enticing fusion of melodies and rhythms has made way for K-pop to continue its international ascension, enthralling audiences worldwide. Reggaeton's influence on K-pop is an illustration of how different genres may combine to produce something absolutely exceptional as the industry develops. Whether you enjoy reggaeton, K-pop, or both, one thing is certain: this combination is here to stay and is sweeping the globe with each contagious beat.
Interested in more EnVi en Español content? Check out how K-pop stars are approaching the Spanish-speaking music market here.