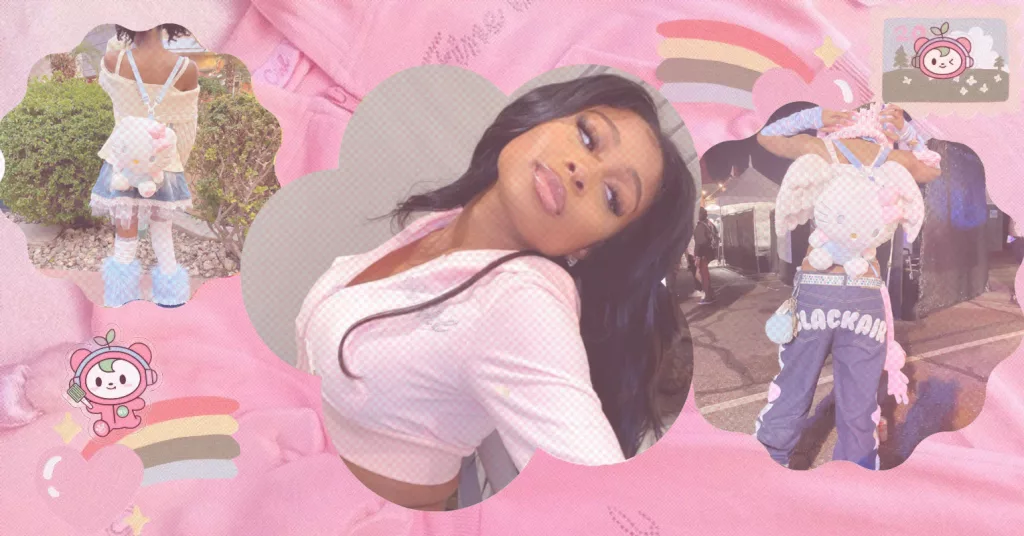 In the last few years, the Sanrio brand has seen a widespread spike in popularity all over the world. Nowadays, if the world's a party, then Sanrio is the theme, and the dress code is either pink, baby blue, or character-based.
The brand's characters serve as physical representations of carefree cuteness that fans of all ages can identify with, allowing them to experiment with style and color through nostalgia in a multitude of mediums. Through their visibility in fashion, digital media, home decor, and stationery, the commodification of the company's more recognizable characters (like Hello Kitty, Cinnamoroll, and Kuromi) exemplifies one of Sanrio's greatest strengths.
According to fashion editor and brand consultant Mayra Peralta, "The Sanrio characters belong to a segment of childhood figures that nearly every Millennial or Gen Z can recognize; hence, it makes sense that the brand is picking up momentum through collaborations with fashion and beauty brands."
In (Sanrio) Character
Social distancing allowed for people across the globe to indulge in their greatest childhood pleasures, including the exploration of the brand's hundreds of characters, theme parks, and past media ventures. Namely, Black women and girls around the world have taken the latest Sanrio wave and made it their own. Black female artists, stylists, content creators, and casual Sanrio fans have flexed their creative muscles in the forms of fan art, hairstyles, makeup, and more. But why is this specific facet of creativity important, and what does it mean for the future of Black female expression? First, let's examine the forms of which Black girls and women have harnessed the Sanrio aesthetic.
Founded in 1960 by Shintaro Tsuji and originally launched in 1973, the Sanrio brand primarily marketed their products to children through the encouragement of values such as friendship, transparency, empathy, and kindness. The brand has gone through a multitude of changes since its inception, including an appeal to older fans, a variety of digital media, and collaborations with other popular brands all over the world.
Peralta adds that "Just this year, Sanrio partnered with Starface to launch a limited-edition collaboration. The items sold out immediately, which is a testament to the power these characters yield and explains why brands continue to tap into nostalgia to appeal to different demographics." Moreover, casual and superfans alike often take to Twitter, Instagram, TikTok, and YouTube to chat about new releases, take character quizzes, or share their latest vlogs taken at Sanrio Puroland.
As a young Black girl living in Brooklyn, New York during the early 2000s to late 2010s, my experience with Sanrio was a double-sided coin. During my pre-teen and post-teen years, Sanrio existed as a popular source of femininity for girls and a comical novelty for boys. Connotations of the possession of Sanrio products ranged from childish to uniquely fashionable. The admiration for the popular brand's many marks was, in a way, neutral. Possessing the ability to actively experiment with duality has benefited the company internationally as well.
The global expansion of the brand drew worldwide attention, with Hello Kitty becoming one of the most recognizable characters in the world. Her face — as well as Pochacco, Charmmy Kitty, and many other Sanrio characters — consists of simple designs and colors on which a person can project their emotions. The minimalist design of each character (especially those without mouths) makes for an easy conversion into one's personal style.
This results in the massive Sanrio sensation that we see today, as people across all ages and races can find and identify with multiple characters. Sanrio's wholesome themes, such as love and compassion, combined with the array of cute characters to admire, are reflected in widespread attachments to certain mascots depending on the country. In contrast to the heavily divisive and complex components of the modern world, these mascots offer a chance for even the most casual of fans to delve into their childhoods.
In Fashion
This phenomenon of favorite Sanrio members is so intense that hardcore fans participate in annual character rankings. The same is true for Black girls, as many have found bonds with characters like Cinnamoroll, My Sweet Piano, and Pompompurin. In recent years, Black girls have come to various social media sites to harness the power of Sanriocore. (Plus, Sanrio's collaborations with celebrities and clothing brands like Forever21, Liz Lisa, and Maison de FLEUR have only added to the influx of Sanrio content across social media.) Instagram users like @brinathedoll, @aliyahsinterlude, and @tinycinni utilize popular Sanrio accessories to complement their outfits for thousands of inspired followers. 
In addition to appreciating the brand, many choose to seek and identify with specific Sanrio characters as a way to support their personal aesthetics. Speaking on the influence of Sanrio in her own fashion, Instagram influencer @tinycinni recalls, "I've always liked Hello Kitty and Cinnamoroll since I was little! I actually would always forget Cinnamoroll's name and had to research it a lot to remember because he was so rare back then!"
Cinnamoroll, who has maintained the number one spot of the Sanrio Character Ranking since 2020, is a popular character for fans to style with, both for his visual appeal and simple colors. When asked about why she uses these characters in her fashion, @tinycinni simply notes, "Adding them to my outfits always made me happy!" Simple happiness in the form of accessorization is one of many sought-after benefits in the overall enjoyment of Sanrio.
In Color
In today's highly creative social media feeds, there is an overwhelming urge for experimentation. Such societal urge, in addition to the isolation period of the pandemic, has led to an increase in content monetization, the exploration of new talents, and a wide variety of new fashion trends often spearheaded by a combination of Black culture and celebrity influences. To accommodate this aesthetic, Black women from all around the globe provide viewers with a front row seat to their experimentation of style.
Speaking from experience, there has always been a confusing correlation between dark skin and bright colors. During my more formative school years, a darker-skinned person deliberately choosing to wear bright or vibrant colors was seen as a sort of self-annihilation and almost always resulted in varying forms of ridicule. Although this was something to be avoided in the pre-social media world, the negative connections between people with darker skin tones and brighter clothing is now almost obsolete, creating a more inclusive styling outlet for everyone by default. Thus, favored influencers like @kittenholic, @isabelleikpeme, and @tianakun can unapologetically thrive and flourish in the color spectrum.
Cute clothing and colors, for example, allow Black women, as well as other Sanrio fans, to easily mold an avenue for themselves to indulge in the fun. Pastel or vibrant colors alone can help one's outfit appeal to the trend, yes. However, the Sanrio factor is just as important for its impact on both the wearer and the audience.
During a segment of Asian Brand Biography's coverage of the brand, Sanrio's product planning department general manager Masahiro Kabashima explained, "They have to be cute. That forms the basis of our design plans. Using [Hello] Kitty's face alone on the designs can also bring a smile to people's faces. It adds to the cute factor." In a world where cuteness is power, hardcore fashion fans — and the occasional Y2K connoisseur — harken back to the days of broad accessorization, fluffy fabrics, and reflective makeup. With this in mind, the use of color, specifically pink and baby blue, have shown to be the more well-received and sought after trend.
In Trends
The "sanrio aesthetic black girl" tag on Tiktok is saturated with Black girls of all shades broadcasting their admiration for the brand's characters primarily through the utilization of pink, purple, and blue. Additionally, style resources like Instagram and Pinterest garner hundreds of results featuring Black girls showcasing Sanrio in a variety of ways. Popular styles such as Gyaru, Hime Gyaru, McBling and Tenshi Kaiwai promote increased usage of pastels, glitter, rhinestones, and graphic clothing to accompany these colors. Not only have Sanrio fans noticed this increase in popularity, but clothing brands — whose pieces are commonly paired with Sanrio items — have too.
The Fine Girl clothing brand, which centers Black women as one of the main forces behind the resurgence of Y2K culture, assists Sanrio fans in formulating an avenue of which to combine trendy fashion and cute accessories. Founders of this well-received brand mentioned, "The main Sanrio product we've seen Black girls style our products with is Hello Kitty. From the plushies, to hair clips, Hello Kitty is a fan favorite amongst our customers… Having brands that actively contribute to the inclusivity of fashion makes room for all people to thrive; most importantly Black people."
Just as the basic design of the characters beckon fans to create or wear new things, the brand's characters' colors are equally as important. The expansive array of colors for each popular icon allows for the exploration of colors in all forms of advertisements and self-discovery. Along with the recent popularity of the color pink through influences such as the new Barbie movie and Sanriocore itself, people have dedicated time and effort towards exploring new ranges of style.
This was especially true during times of isolation, as people were allowed time to ponder and identify beauty trends that suited them to the fullest. As Black women continue to heal from the imposed limitations on our basic cosmetic desires, such as hair color/style and the inclusion of a broader spectrum of fashion trends, Sanrio helps to make it especially easy for Black girls to experiment with outfits and color.
Want more Sanrio content? Check out EnVi's guide to DIY Sanrio-inspired nails here!