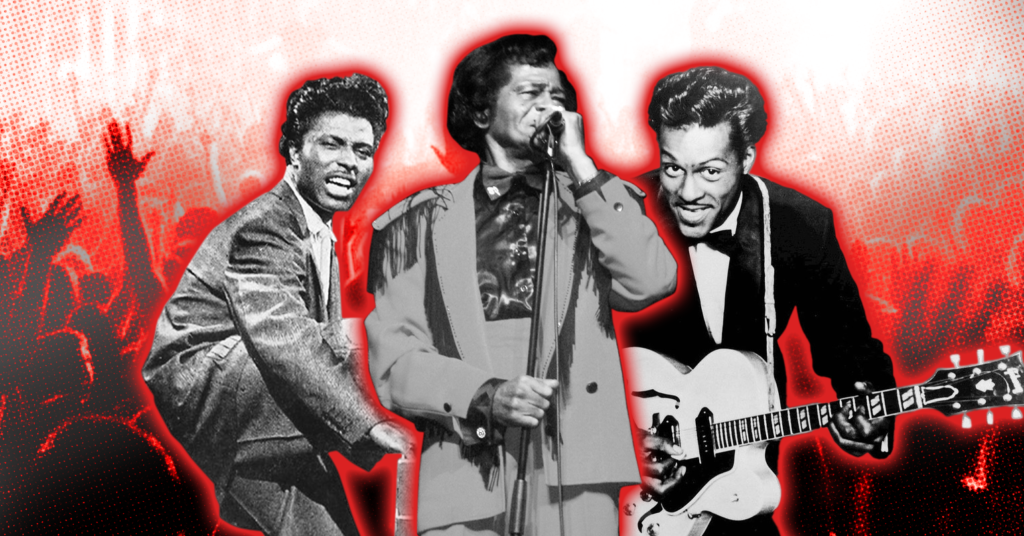 Almost every genre stems from Black roots, and rock and roll is no exception. With the release of Baz Luhrmann's Elvis, the world has resurrected the conversation surrounding the "King of rock and roll," how much credit for his career should solely go to Elvis Presley, and how much should be shared. When it comes to the surge of rock and roll in the 1950s, Black artists are rarely mentioned as the catalyst of the genre, nor are they mentioned as the artists who Presley and other musicians of the era modeled their entire careers after. While this is typically swept under the rug in modern conversations, EnVi shines a light on the few artists that have influenced rock and roll.
Elvis Presley's Rise to Fame
Throughout his career, Presley promoted and performed many covers. Most notably, the release that shifted the entire projection of his career was "Hound Dog." In 1952, blues artist Big Mamma Thorton recorded the song "Hound Dog." Thornton's powerful voice, accompanied by Johnny Otis's big band, was a recipe for a hit. Peaking number 1 on the R&B charts for seven weeks, her original version did well for the time. At this time, R&B charts and radio were only marketed toward Black listeners, meaning that her work could only go so far in the industry.
Four years later, Presley performed his version of the song on the Ed Sullivan Show. Welcomed on stage by the crowd of young fans, he captivated the studio and the millions watching at home. His fashion of non-tailed suits, hair slicked back, and even his "signature" shimmy had America shocked and intrigued. For Black Americans, however, his aura seemed very familiar. Although "Hound Dog" is one of Presley's most famous songs, the original writers always mentioned how they disliked his version. Despite selling ten million copies globally and charting number 1 on the Pop charts and the R&B charts, Thornton and Otis still do not get their credit today. Before Presely's fast track to fame, Otis had half of the publishing rights and ⅓ of the songwriting credits. Sadly, Presley and his team sued Otis for both, leaving Otis with nothing.
With his "good looks" and "charm," Presley skyrocketed into fame, but many noticed a clear reflection of Black culture. Although Presley lived in a majority white town in Mississippi, his family attended the Assembly of God Church. He also frequented Beal St., a hub for Black culture. From the beginning to the end of his career, anything Presley did could be traced back to a Black icon.
Otis Blackwell
Presley is mostly recognizable by his singing voice. Throughout his career, you always hear the constant deep tone and rumbling inflections. This was due to the work of Otis Blackwell. Singer-songwriter and pianist Blackwell is credited as the co-writer of three of Presley's most popular songs, despite having done all the work himself. Blackwell mentioned that he never gave Presley sheet music––he always sent over voice demos for the latter to learn, explaining their identical singing styles. "Don't Be Cruel," the B-side for the single record that featured "Hound Dog," was penned completely by Blackwell. Instead, he was only given half credit––the other half being given undeservingly to Presley himself. Blackwell, though, has gone on record saying that he knew he would have needed to make a deal and that he believed it was a good deal since he ended up getting money. It was not until after Blackwell wrote "All Shook Up," which went on to be Presley's biggest chart record at the time, that the co-writers' deal was scrapped as Blackwell had "proved himself."

James Brown
Known as "the Godfather of Soul," James Brown transformed the entertainment industry with his choreography, fashion, and performance quality. Moves like the "Mashed Potato" and "Camel Walk" became his signature, and variations have been popularized by Michael Jackson, Usher, and others. Although these dances have been staged in the Black community, artists like Brown were not allowed to perform to bigger crowds due to segregation. For white Americans, Presley's Simplified version of the Camel Walk introduced them to a new world. Further into his career, Presley would coin his dance moves as "Rubber Legs' ' and "The Slide," taking away the intricacies and soul that Brown created.
Many remember Brown as one of the best entertainers in the world. It was not only his talent and charm but also his ability to captivate his audience with a story line and clothing. In 1965, during the Teenage Awards Music International, Brown performed "Please, Please, Please." With his heart-wrenching performance of begging his love not to leave, Brown incorporated one of his most famous props, the cape. The Cape Routine became customary for Brown along with the cameo from his cape handler Danny Ray. During the song, Ray would grace the stage, with a cape in hand to console Brown. Adding to the theatrics, Ray would lay the simple cape on Brown's shoulders while he falls to the ground due to the heartbreak. Almost ten years later, Presley recreated that same scene with his "Can't Help Falling in Love" performance during his Aloha from Hawaii concert experience.
The Pioneers of Rock and Roll
Little Richard
Little Richard is acknowledged as one of the founders of rock and roll. His stage persona was flamboyant and gender-defying during an era where being homosexual was widely frowned upon. Despite being an inspiration for some of the biggest musical acts in the world, including Michael Jackson, The Beatles, Queen, and Elton John, Little Richard was not immune to the segregation of the music industry in the 1950s.
He released the song "Tutti Frutti" in October of 1955, but three months later, singer Pat Boone released a cover of the song and out-charted the original. It can seem unfathomable to have two versions of the same song charting simultaneously, with the only difference being who sang it. In the 1950s, during the era of segregation, it was a common tactic to take Black music and make it more palatable for white audiences. Even Little Richard knew that when Pat Boone's version came out and became a hit. "They didn't want me to be in the white guys' way," he recalled during an interview with the Washington Post in November 1984.
As the 1950s came to a close, the rock and roll boom lived on as did the tactic of stealing from Black artists for the gain of the white-dominated music industry. The main difference between the 1960s from the decade prior was that instead of stealing in the form of covers, it was more blatant and masked as inspiration.
Chuck Berry
Chuck Berry's original song "Sweet Little Sixteen" and The Beach Boys' California surf-rock hit "Surfin' USA" are examples of this stealing masked as inspiration. Brian Wilson, the composer for The Beach Boys, claimed that he was inspired by Chuck Berry's listing of American cities in his track. When Brian Wilson did the same with his track, it was supposed to be seen as a tribute. However, it is not the only instance of The Beach Boys taking "inspiration" from Chuck Berry's songs. More instances include "Johnny B. Goode" by Chuck Berry and "Fun, Fun, Fun" by The Beach Boys––both songs having the same chord progressions in their intros.
After a lawsuit for the similarities between "Sweet Little Sixteen" and "Surfin' USA," The Beach Boys gave songwriting credit to Chuck Berry, but that didn't happen until 1966, three years after the song's initial release.
For Future Audiences
When opening conversations of influence, the source of said influence is important to note. To claim influence without credit is both a form of plagiarism and potentially detrimental to the original creator. In the case of Elvis Presley, it is important to note that a lot of his influence came from the Black creators of the time. While it was commonplace for white artists to cover and recreate songs by Black artists to make them more "palpable" for a white audience, that doesn't mean it's okay to sweep the original creators under the rug in a modern era.
Interested in discovering more iconic Black musicians? Read Formation's article on Yoon Mirae here.