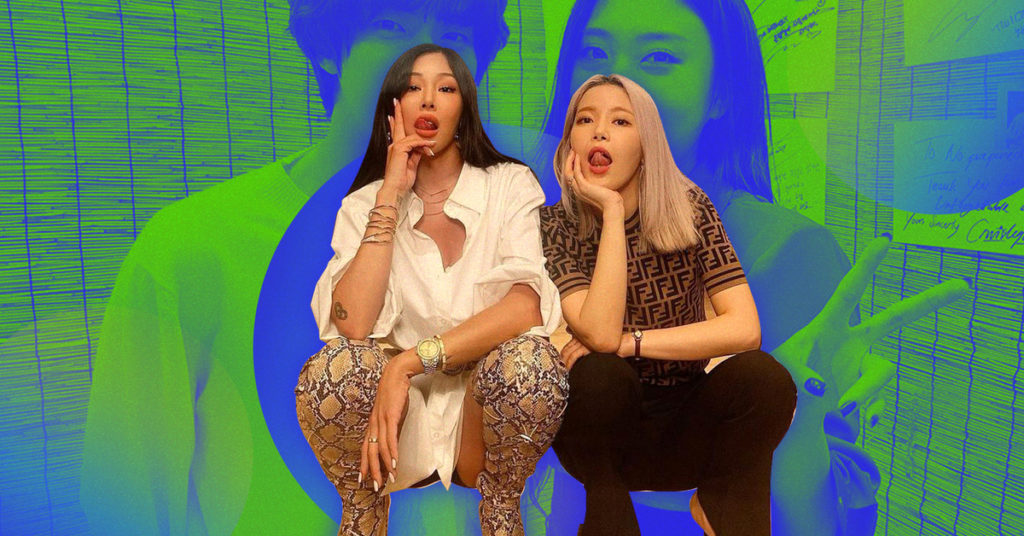 With the growing population of talented K-pop idols, variety shows are the best way to showcase all different talents and reach the audience they seek. From the iconic Weekly Idol to web-based shows hosted by Korean rappers like JESSI and Lee Young Ji, fans are getting to know a more genuine and authentic version of their favorite idols.
The Show That Started It All
If you are familiar with idols such as Apink, BIGBANG, and TWICE, you would've heard of the iconic Doni and Coni duo that hosted the popular variety show Weekly Idol. The show began in 2011 with original hosts, rapper Defconn (Doni) and comedian Jeong Hyeong-don which aimed to allow idols to showcase their hidden talents and wits while providing a platform where fans could connect with idols through the call center. Fans would dial in and record messages with requests in hopes of reaching their idols, which was one of the most popular segments of the show. To many then-new rookie groups, such as Red Velvet, MONSTA X, and NCT, getting invited to be on the show was an exciting achievement in their careers as the show aired on both MBC and reached Japan through satellite TV, giving the chance to rookie idols to impress and gain fans around the world.
By providing idols with both edible prizes and wishlist items, the show created a fun, dynamic atmosphere for idols to have fun while engaging in interviews that were packed with missions such as random play dance, 2x speed dance challenge, and "Grill Idol" which allowed guests to eat grilled pieces of Hanwoo beef if they answered questions correctly. These challenges soon became a part of many other shows featured in Mnet's random play challenge with idols. Furthermore, fans partook in the challenges too in fan events, such as public K-pop dance challenges featured in GoToe's YouTube, with NCT 127 surprising fans in the New York challenge, recording 18 million views today.
Moving Through the Digital World
With an increased international fanbase, the Hallyu wave was moving quickly, requiring hosts to be multilingual to allow global fans to consume content in their native languages. After School Club (ASC), which airs on Arirang TV, hoped to reach an international audience with English-speaking original hosts Eric Nam and Jang Han-byul. ASC paved the way for accessible, live-streamed English-speaking interviews with global fans through Google Hangouts and live-broadcasting on Viki, YouTube, and V-Live. The show became the inspiration for YouTube-based idol variety show content, with Korea-based YouTubers like Edward Avila taking a similar approach by informally interviewing idols and, later, Jessi's Showterview.
Getting Real With JESSI
Known for her authentic, uncensored opinions and incredible charm, as showcased on Unpretty Rapstar, JESSI was the host that would become the bridge between idols and the western audience. The "NUNA"rapper JESSI is famous for her honesty in sharing her stories on reality-variety shows like Running Man and Happy Together. She had a fair share of multilingual struggles on camera, not knowing what certain words and phrases meant, especially in episode 244 of Running Man with comedian Yoo Jae-suk. These challenges turned into advantages for her as she could speak fluently with her audience while mixing Korean and English in her interview with non-English speaking Idols such as Hwasa from MAMAMOO and former Wonder Girls member SUNMI. JESSI's outgoing personality brings the best out of idols as she provides an amusing conversation space for idols to open up to her with their deepest secrets while showcasing their talents.
Young Ji's Jib
21-year-old charismatic female rapper Lee Young Ji is talented with rapping and is often seen dancing with idols like former IZ*ONE member Lee Chaeyeon and former I.O.I, Weki Meki member Choi Yoojung. Young Ji participated in High School Rapper 3, a rap survival show for aspiring rappers between the ages of 15-19. With the help of mentors The Quiett and CODE KUNST, she won the show as the first female of three seasons and debuted with her single, "Dark Room," under the company Mainstream.
While writing songs on the side and actively engaging with fans on social media through TikTok and Instagram's Live function, Young Ji also danced in a guest feature on Street Woman Fighter (2021) with WANT's Mega Crew Mission alongside Yoojung. With a great understanding of the K-pop industry and having many idol friends around the same age, Young Ji creates a fun environment at her house, actively eating and drinking with friends on the YouTube show 차린건 없지만 (No Prepare). With incredible Gen-Z energy and hilarious edits, Young Ji transcends the language barrier with her infectious energy, converting many international K-pop fans into her stans.
On singer Christopher's first visit to Seoul, Young Ji was surprised to see the male singer as a guest on her show. Despite her limited English, she conversed perfectly with Christopher, making amusing comments that livened up the atmosphere, making it feel like a casual gathering with a friend over drinks and food. In the interview, she compliments the Danish singer, "You are a piece of art… Your eyes are like the ocean. With no plastic, zero trash," leaving the singer laughing at a loss for words.
More and More Variety
With more demand for idol appearances on variety shows to allow fans to get to know them better, variety shows have developed from formal settings at TV stations and have moved into informal settings over food and drinks. Nonetheless, variety shows will continue to be a large part of helping K-pop idols reach the audiences they seek and become a prominent part of helping them promote new songs!
Want more K-pop? Check out the Global K-pop Dance Cover Festival here!