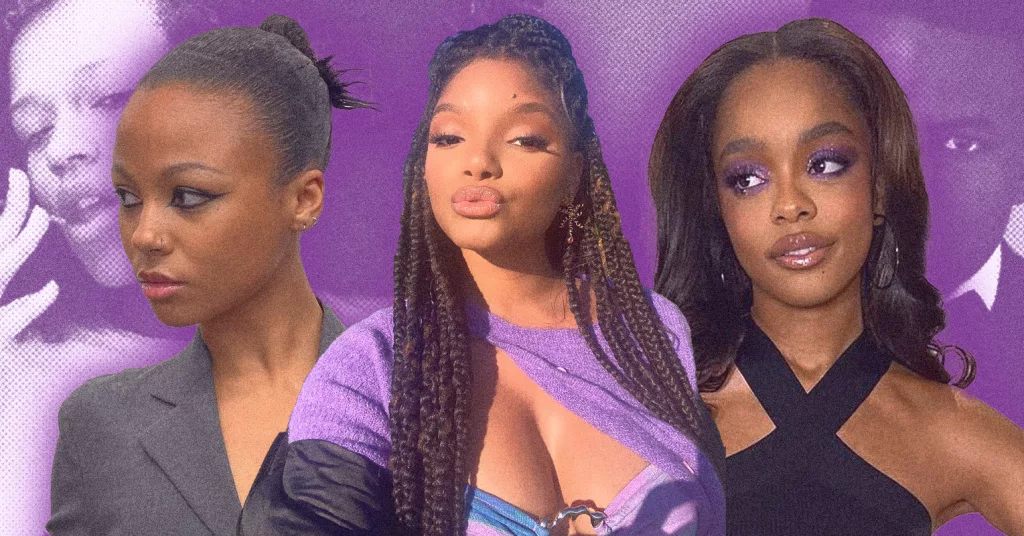 Following the (ongoing) COVID-19 pandemic, more and more moviegoers are returning to theaters to watch new (and pushed back) films released last year. From Marvel hits like Black Panther: Wakanda Forever (2022) and A24's X (2022) and​​ Bodies Bodies Bodies (2022). Black stars such as Angela Bassett, Kid Cudi, and Amadla Stenberg stood out on the big screen in 2022, and 2023 is no exception. Check out EnVi Formation's list of the ten Black actors who will be making waves in the film and TV industry in 2023.
Dominique Thorne
Following her standout performance as Ironheart in Marvel's Black Panther: Wakanda Forever, all eyes have been on the 25-year-old Brooklyn native. Thorne first took an interest in acting during middle school where she participated in a few plays. This influenced her decision to apply and attend a high school specifically for performance arts. Although she had a passion for the arts, once it came time to apply for college, she decided to apply to both performance arts and academic schools but ultimately decided to attend Cornell University to study immigration legislation. Though she focused on studying academics in college, her love for acting remained.
She continued to pursue her love for acting by performing and starring in multiple plays at Cornell. However, a big acting opportunity would completely steer her to seriously pursue a career in acting. After making her film debut in the Academy Award winning film If Beale Street Could Talk (2018) as the snooty and sassy sister of Alonzo "Fonny" Hunt, this experience gave her the push to put more of an effort into her acting career. Her efforts would soon pay off. After graduating from Cornell in May 2019, she went to star in another award-winning film, Judas and the Black Messiah (2021). With a slew of critically-acclaimed films already under her belt and now being a part of the Marvel Cinematic Universe, there's no denying that Dominique Thorne will soon be a household name.
You can next see Thorne star as the titular character in Marvel's Ironheart series premiering this fall on Disney+.
Halle Bailey
No stranger to the entertainment industry, Halle Bailey is one half of the talented sister R&B duo Chloe x Halle. Born in Georgia, Bailey began acting at the age of three. She starred in minor roles for films such as The Fighting Temptations (2003) alongside Beyonce (her first but not last time crossing paths with the Queen herself), Last Holiday (2006), Joyful Noise (2021), and the television show Tyler Perry's House of Payne (2007).
While dabbling in acting, she and her sister, Chloe, practiced learning musical instruments, singing, and songwriting. At the age of 11, Halle and her sister began posting song covers on YouTube. Their covers soon gained traction and went viral multiple times. Their cover of Beyonce's songs, including Pretty Hurts, particularly gained the attention of many celebrities such as Ellen DeGeneres and even Beyonce herself! Queen Bey was so impressed by the talented sisters that she signed them to her record label, Parkwood Entertainment. Soon after, the duo moved to Los Angeles, where their careers continued to grow.
While the sisters began to officially establish themselves as musicians under the name Chloe x Halle after moving to Los Angeles and being mentored by Beyonce, they also continued to work in the acting world. The sisters played twin sisters Jazz and Sky on Freeform's Grown-ish (2018), a spin-off of the hit ABC show black-ish (2014) that follows the life of the family's eldest daughter, Zoey, through college and young adulthood. The sisters wrote the theme song for the show as well. However, after playing alongside her sister on the show for four seasons and releasing the Grammy-nominated album Ungodly Hour as Chloe x Halle, Halle is continuing her acting career solo.
In 2019, it was announced that she landed the role of a lifetime as Ariel in the live action version of the Disney classic The Little Mermaid. Though she received some (racist) backlash upon the casting announcement, she has also received an abundance of love and support from fans and actors alike. Besides, with an angelic voice like Bailey's, there's no denying that she's perfect for this role!
In addition to the release of The Little Mermaid on May 26 this year, Bailey can also be seen in the upcoming musical adaptation of Alice Walker's classic novel The Color Purple. The film is set to release on December 20.
Jonathan Majors
This year, you won't be able to escape the name Jonathan Majors – and for good reason! California-born and Texas-raised, Majors spent his early years living on a military base due to his father's occupation. However, after his father's sudden disappearance and realization of being in a working class family and not getting the same opportunities as others, his life began to change. He began to rebel and faced some major obstacles during his adolescent years, including being bullied, being suspended from school, and living in his car for a year. However, he credits theater as his safe space growing up and the reason why he was able to overcome those obstacles.
This passion for theater led him to attend and receive his BFA from the University of North Carolina School of the Arts. He later went on to get his MFA from the Yale School of Drama, which boasts an impressive alumni roster of award winning actors including Angela Bassett, Lupita Nyong'o, Winston Duke, and Brian Tyree Henry. During his final year at Yale, he went on to be cast in the ABC miniseries When We Rise (2017). Since then, he's gone on to work consistently in Hollywood.
His role as Montogomery Allen in The Last Black Man in San Francisco (2019), which received multiple film critics nominations and awards, is often noted as Majors's breakout role. His other notable works include HBO's Lovecraft County (2020) and Spike Lee's Da 5 Bloods (2020). Now, he is also a part of the Marvel Cinematic Universe, playing the next central villain, Kang the Conqueror.
In 2023, there will be no shortage of Jonathan Majors on your screens. His film Magazine Dreams, the story of the struggles of an amateur bodybuilder, premiered at the Sundance Film Festival on January 20. Marvel's Ant-Man and the Wasp: Quantumania premieres in theaters February 17 and Creed III (also starring Michael B. Jordan) premieres March 3.
Myha'la Herrold
Star of the U.K. show Industry (2020) on HBO, San Jose native Myha'la Herrold has been making a splash on both the big and small screens this past year. From an early age, Herrold always knew she wanted to do musical theater. "I was like, I wanna sing, I wanna be on stage. That's what I'm gonna do," she said in an interview with SSENSE. She went on to study acting and live theater at the prestigious Carnegie Mellon University School of Drama. Prior to graduating in 2018, she participated in shows for multiple theater touring productions, including The Book of Mormon. After graduating from college, she had plans to continue in the theater world. However, everything changed once she auditioned for Industry.
After auditioning and successfully receiving the starring role in Industry, Herrold decided that screen acting was more her speed. Now 26, the young actress is charging her way through the industry (no pun intended). Her performance as Jordan in the Gen-Z horror flick Bodies Bodies Bodies (2021) alongside Amadla Stenberg showcased Herrold's acting chops on the big screen. From dramatic and terrifying scenes to perfectly timed comedic banter, Herrold was a major standout in the film. With the success of Industry (which has been renewed for a third season on HBO) and Bodies Bodies Bodies, we will surely be seeing a lot more of Herrold in the future.
You can next catch Herrold in the Netflix film Leave the World Behind alongside Julia Roberts and Mahershala Ali later this year and Dumb Money starring Nicke Offerman and Paul Dano.
O'Shea Jackson, Jr.
Son of hip-hop legend and multi-hyphenated actor Ice Cube, O'Shea Jackson Jr. will prove once again this year that he is indeed a multifaceted star who continues to rise. Born in Los Angeles, Jackson got involved in music before he started acting. He featured on two of his father's songs in 2010 and then released his own mixtape under the moniker OMG in 2012. Jackson went on to study screenwriting at the University of Southern California, where he developed his love for cinema.
Jackson first gained prominence playing none other than his father in the critically acclaimed N.W.A. biopic, Straight Outta Compton (2015). Soon afterwards, he went on to star opposite Aubrey Plaza in the indie dramady Ingrid Goes West (2017), Just Mercy (2019) with Jamie Foxx and Michael B. Jordan, and most recently in the Star Wars limited series Obi-wan Kenobi (2022) on Disney+.
Jackson can next be seen in Elizabeth Banks' upcoming black comedy Cocaine Bear in theaters on February 24. He will also be starring alongside Camila Mendes and Bad Bunny in American Soles and Gerard Butler in Den of Thieves 2: Pantera, both of which are currently in pre-production.
Marsai Martin
Child prodigy Caila Marsai Martin got her first big acting break in 2013 at only nine years old. She left her hometown in North Texas with her family and moved to Los Angeles after getting casted in the ABC sitcom black-ish. Eight seasons, nine years, and multiple award nominations later, Marsai is a red carpet darling, a philanthropist, and an entrepreneur. At the age of 14, she started her own production company—Genius Productions —and became the youngest person to ever executive produce a major studio film. In addition to producing 2019's Little, Martin also starred in the film alongside the accomplished Regina King and Issa Rae.
Outside of black-ish, Martin also found time to give back to her community. She teamed up with organizations like DoSomething and Color of Change to bring awareness to many issues: diversity in writing rooms, bullying, financial literacy, and women's wellness. Even though she has just turned 18 and finished school, she also found time to do an impressive run of voice acting roles on everything from The Mr. Peabody & Sherman Show (2015) to Paw Patrol (2013) and The Proud Family: Louder & Prouder (2022). In her most recent role, she starred opposite Omari Hardwick and Kelly Rowland in Nickelodeon's Fantasty Football (2022).
Martin has hinted at upcoming projects in previous interviews and on social media, with her production company being attached to multiple big name projects in the making.

Brandon Gilpin
"SHOWTIME!" is the popular catchphrase of rising actor Brandon "Showtime Brando" Gilpin. The 23 year-old has only been acting for a few years but already has a slew of credits on his resume. Born and raised in Amityville, New York, Gilpin is known for having always been an entertainer. He started as an athlete, playing basketball and running track and occasionally making music locally. It wasn't until his first year at the historic HBCU Morehouse College that he got bitten by the acting bug. Working his way up, Gilpin started as a production intern on the BET college series, The Quad (2018). 
Most recognized for his role in STARZ's P-Valley (2020) as the mouthy teen DJ Neva Scared, he can also be found on shows like Grown-ish, Blue Bloods (2010) and Queer as Folk (2020). In 2021, Gilpin made his big screen debut in the Aretha Franklin biopic Respect (2021), starring Jennifer Hudson and Marlon Wayans.
With a slew of upcoming projects in the works for the likes of Hulu and a season 3 of P-Valley announced, you can expect to see Gilpin on screens throughout 2023.
Taylor Russell
28-year-old Canadian actress Taylor Russell didn't take her first acting class until she was 18. After switching from ballet to paint, she finally found her stride in acting. In the ten years since that first acting class, Russell has made a name for herself and racked up an impressive resume. She started off with smaller roles, guesting on the CW and Disney XD shows in addition to a starring role on the Lifetime tv movie The Unauthorized Saved By The Bell Story (2014).
However, it wasn't until Lost In Space (2018) that Rusell had her big break. The Netflix series and her performance in it were both met with critical acclaim. The show and its cast were nominated for Emmys, Saturn awards, and more during its three year run. Russell herself was nominated for Best Supporting Actress in a Streaming Presentation in 2019. From there, it was full steam ahead for her with back-to-back roles in indie films. She starred in lead roles for the Escape Room (2019) movie series, Waves (2019), Words On Bathroom Walls (2020), and Dr. Bird's Advice for Sad Poets (2021).
Carving a new lane for herself, Rusell also made best dressed lists from multiple red carpet and award show appearances. Similar to her peer, Zendaya, Russell's looks became the talk of social media, raising her star profile as people wondered what she would show up in next. Most recently, Russell starred opposite Hollywood leading man Timothee Chalamet in Bones and All (2022), a cannibalistic romance based on the fiction novel of the same name.
Interested in more actors making waves in 2023? Check out our favorite Year of the Rabbit k-drama actors and actresses here!