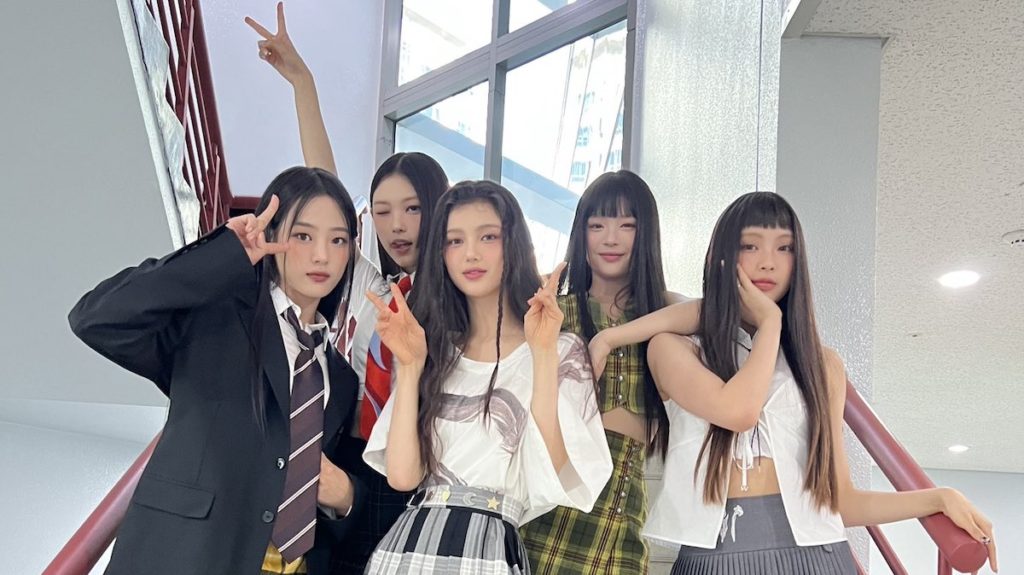 Since their debut in August 2022, K-pop girl group NewJeans have had a whirlwind couple of weeks. They've smashed Spotify records, graced the cover of fashion magazines, and already have a variety show in the works. Now, the super rookie group is ready to show off their style in the next fashion frontier: the airport. On September 30, the five-member group was snapped at Incheon International Airport ahead of their flight to Saudi Arabia for KCON 2022. Unsurprisingly, they were as stunning and trendy as ever.
Fresh and Timeless
NewJeans are newcomers to the scene, but the mastermind behind the group is no stranger to K-pop. As the former visual director at SM Entertainment, Min Hee-jin helped top artists carve out their unique visual niche (think EXO's school uniforms or Girls' Generation's neon skinny jeans). Now, NewJeans have already become a trendsetting force out for everyone's–or at least a few million–hearts. Their name itself is a double entendre that evokes a trailblazing determination ("new genes") while maintaining the timelessness of a classic pair of jeans.
The Looks
True to their name, NewJeans embodied the two-fold allure of their name in their airport fashion debut; a blend of old and new, classic and innovative. To make things even more apt, they all had a pair of jeans on.
Danni – O!Oi Denim Skirt Pants
Danni was seen wrapped up in a chunky Chevron Burberry Sweater with their iconic Icon Stripe Bucket Hat and Horseferry Print Lola Bag to match. For a street-style twist, she wore denim skirt pants from Korean brand, O!Oi
Hyein – Diesel Jeans
Meanwhile, NewJeans' resident maknae, Hyein, took a page from Diesel's pre-fall campaign and went for a simpler look. She paired an eye-catching red top with a pair of their 1969 Bootcut And Flare Jeans. To top it all off, she had on some D-Venus Slingbacks and a Minibag for that extra early-aughts touch.
Minji – CELINE Large Flared Jeans
As NewJeans' oldest member, Minji wasn't afraid to show a more mature look. Her oversized Preppy Jacket took center stage but let the Metalasse Monochrome Bag shine too. Her Kitten Heels elevated the look, but the ensemble still maintained a relaxed feel thanks to —of course— a pair of jeans.
Hanni – CELINE Large Flared Jeans
For an effortless business casual look, Hanni was spotted with CELINE's sold-out Chasseur Jacket in brown. To complete the CELINE girl outfit, she had on a pair of wide-leg jeans and a black Triomphe bag.
Haerin – Cut Off Jeans
Finally, Haerin's CELINE look proved that it's possible to look comfy and polished. The cropped sweatshirt and cut-off denim made for something fresh and youthful while the Box Cuir Triomphe bag gave the fit a layer of sophistication. In the end, the Leo Scratch Sandals brought elements of both luxury and relaxation to the look and tied everything together.
Ready, Jet Set, Go!
The airport look is a K-pop rite of passage. Following an explosive arrival to the scene, NewJeans continued their impressive streak by showing off cool jet-setting looks, true to the group's ethos. Each look, while unique in its own right, came together as a cohesive aesthetic concept. We're excited to see the quintet make their international debut in Saudi Arabia and spread the youthful spirit of NewJeans to the rest of the world.
NewJeans aren't the only fourth generation girl group making waves in the fashion world. LOEWE just appointed NMIXX as brand ambassadors – read the full story here!