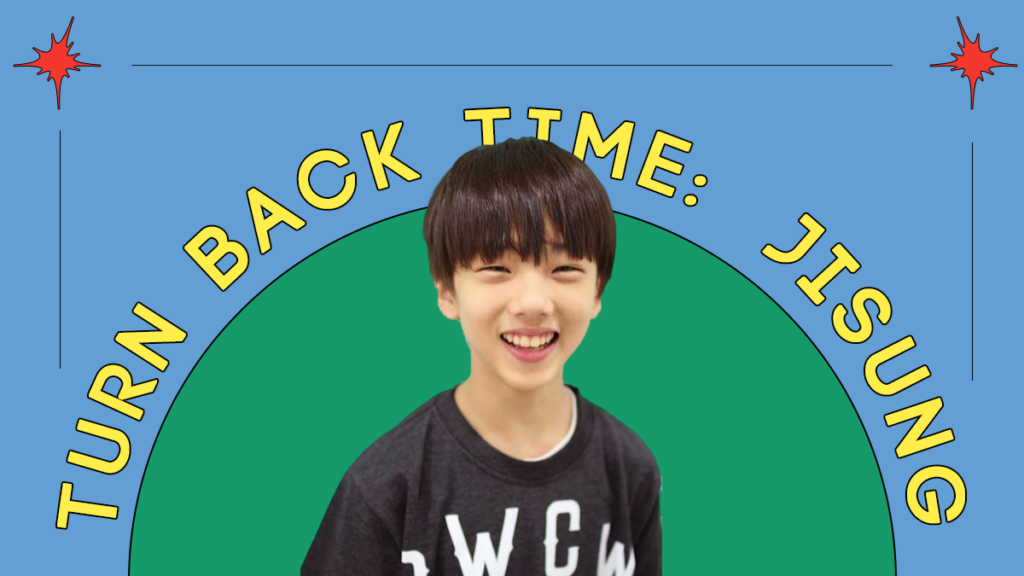 Park Jisung, 19, Seoul, South Korea: The Forever Maknae 
2004-2012: Early Beginnings
They say "it takes a village to raise a child." For Park Jisung in particular he was able to find 22 hyungs that created a nurturing environment that would guide him along the way as the youngest member of NCT. With the love from fans that he's developed a strong relationship with as well, he's transitioned into adulthood effectively. It's astounding seeing him change from a bright eyed timid baby into the confident artist we know now. 
Born in the year 2002, Jisung had an early start in the entertainment industry with his mom as his manager. Jisung began brushing up on his already extensive resume through child acting and modeling. He developed his showmanship through comedic skits on variety shows such as Crisis Escape No. 1 (2005) and the educational TV Kindergarten Funny Funny (1982). He also showed his emotional range as an actor in a few films like the thriller Go, Stop, Murder (2013) and Boys, Be Curious (2012). This was short-lived when Jisung turned his attention back towards dancing. He had originally shown prodigal genius for it – being good enough to perform at the 2004 Summer Olympics in Athens, Greece for their closing ceremony alongside the Popping Hyunjin Kids Dance Crew. It's important to note here that Jisung was barely 3 years old internationally at the time. 
As he grew older we continued to see early on peeks of him in a MCOUNTDOWN dance battle and even as a background dancer in Show Me the Money, Season 1. The first dance style he learned was popping which clearly expedited his career once he perfected it. He was seen polishing his skills with several other talented kids on SBS's Crayons In My Heart, a youth documentary. It was clear dancing was his life's passion and through all these opportunities, they would converge into a single path for his future. 
2013-2015: Destiny's Calling
With an amazing talent for dance, Jisung joined several dancing competitions and showcases — quickly becoming famous amongst the ranks of youth dancers. Destiny called on December 31, 2012 when Jisung crossed paths with a future group mate, Chenle at the International Children's Concert in China to welcome the new year. Jisung represented South Korea by dancing to Psy's "Gangnam Style" which had become a huge hit earlier that year. Not knowing they would be friends in the near future the two were captured hanging out with the other contestants backstage. 
Fast forward a couple months later, the South Korean survival dance show, Dancing 9 (2014) announced they were holding auditions. Being so young and extremely talented, he immediately caught the eye of SM casting directors who happened to be there. At the time he was quite confused and had no idea what entertainment companies were let alone who SM Entertainment was when he was approached. Luckily his mother who was a huge fan of SHINee and TVXQ agreed to let him enter the company at the age of 11. 
At first he was only focused on dancing, to the degree that he remained stagnant in his skills and wasn't improving. Even in a top entertainment agency his idol dreams didn't solidify until he watched EXO's concert performances. On Ep. 7 of Boys Mental Camp Season 2 (2021) he recounted that the energy between EXO and their fans was electrifying like a movie. As each of the lyrics from their songs resonated in his ears, his dream became bigger. He quickly honed his technique and within a few months of joining in December 16, 2013 he was deemed eligible as a new member for the predebut trainee project, SM ROOKIES. This was the public's first glance at Jisung since his days as a child star. At the time many still marveled at how young he was even as a trainee. His early start would set a precedent for the future of the K-Pop training industry as we began to see more and more idol trainees entering their companies at younger ages. When we first met Jisung in 2013 he was a much smaller, shyer child off stage. In SM ROOKIES YouTube content we can see that his demeanor completely changed once he took center stage performing. His captivating stage presence became renowned amongst the company's trainees as they linked him to the likes of his dancing predecessors TVXQ's Yunho, SHINee's Taemin and EXO's Kai. This is understandable as Jisung has often cited the three as his role models since pre-debut. He's explained on several occasions that they are multifaceted all-rounder artists he aspires to be one day. 
SM ROOKIES continued providing numerous opportunities for him to improve and show off his skills. Jisung would make his first variety TV show appearance since he became a trainee on EXO 90:2014 (2014) dancing to a short snippet of EXO's "Growl." He would later cover the song in full with the fellow young members of SM ROOKIES at his first official concert, SMTOWN Live World Tour IV in Seoul on August 15, 2014. 
At the start of the new year, on February 13, 2015 Jisung graduated from the Seoul Mia Elementary School undeterred by his chaotic schedule. He'd try to simultaneously balance his education and work in later years but ultimately would leave middle school due to a 2017 South Korean law passing that no longer exempted idol students from continuous absences. He would complete his schooling by taking the middle school and GED equivalency exam requirements later on. His leave from school might have been necessary as the popularity of the SM ROOKIES were rampant enough that they were given their own concert series called The SMROOKIES Show, touring Korea and Thailand from 2015 into 2016. Jisung stole the hearts of fans with his fun popping dance, especially in their infamous "Under the Sea" cover where he takes center stage in his own solo dance break. 
On July 8, 2015 Jisung became a Mouseketeer cast member of Disney Channel's Mickey Mouse Club in Korea. Here he would continue showing his capabilities as a dancer and improvisation during game show segments. Several seasoned artists would make guest appearances dropping their knowledge and wisdom for these rising stars. Being thrown into show business at a young age this show became the chance for him to enjoy being a kid in a professional setting. They were able to take a break from the rigorous training and even take a relaxing camping trip as a result. Just like the American version that shot Britney Spears, Christina Aguilera, Ryan Reynolds and Justin Timberlake into the limelight, the show allowed the general public to learn their names. 
2016-2018: To The World
He debuted as the main dancer of the third NCT unit, NCT Dream at 14 years old with "Chewing Gum" on August 25, 2016. The teenaged subdivision was all about empowering the youth through their growth period. During this time he not only drew attention with their hoverboard choreography but he monumentally became one of the youngest K-Pop idols to debut. NCT Dream's had an aged based graduation system with all members averaging 15.7 at the time and would stay in the group until they reached adulthood. Their songs represented fresh and youthful feelings in contrast to the older members of NCT who gave off a darker sound. Fans adored the dynamic between the seven members so much that they would famously become the first NCT unit to snag a music show win with their comeback title track, "My First and Last" on Valentine's Day of 2017. Feeling overwhelmed and thankful for all the love, Jisung burst into tears at this amazing feat they had only dreamed of as trainees. As the years continued to pass, fans couldn't help but wish that the seven members could stay together as a fixed unit. 
Despite his experiences in variety he was still a rookie and needed the proper training now freshly debuted. He had the chance to shoot a NCT Life: Entertainment Retreat (2017) with his NCT Dream team to get tutoring of the know-how's from none other than the comedic Leeteuk and Shindong from Super Junior. These efforts were not put to waste and he even found a way to combine it with his love for dance. Utilizing NCT's various platforms he was able to show his dance progress, often posting covers on YouTube such as his 2017 swag filled #LEMONDANCECHALLENGE. The immense reception only made sense that his next move was to exhibit his skills to a broader audience. WHYNOT – The Dancer (2018) was a dance reality show that premiered on May 5, 2018. It showcased idols and famous Korean choreographers collaborating with popular international choreographers. Jisung was able to join as a cast member for three episodes alongside Taemin, Highlight's Gikwang, and Super Junior's Eunhyuck. To be on the same playing field as seasoned veterans famous for their dance skills was a big opportunity for Jisung who was still a rookie artist. Through the show, he was able to refine details in his dance from the minuscule movements to his facial expressions. Also being a minor Jisung had to comply with South Korea's child labor laws that monitored how many hours minors were working. He could often be seen disappearing off-screen from live broadcasts or TV shows as he headed off to bed promptly at 10 PM. 
He would continue making a name for himself in the dancing community by shooting Dancing High (2018) an elimination based variety show for dancers from the ages 10-19. Although his team did not win, the show became a valuable experience, allowing him to sharpen his skills by competing with other talented dancers his age. This show became significant for Jisung who had found it difficult to make friends at school since he couldn't relate to them with their different backgrounds. He found the stage more comfortable than school and luckily through the show was able to find like-minded peers outside of NCT. The synergy between him and Jang Yoonjun for his "Barcode" performance would become one of his most notable stages for the show. 
2019-Present: Ridin' on Success
Jisung and the rest of the members would fill up Mark's absence from the group pursuing a more mature sound with each comeback. Their growth into young men was a natural transition with their rebranded music. Even as their sound transformed it held the boyish charm that made NCT Dream so likeable from the beginning. Following their goodbye concert NCT Dream Show in 2018 the team would hold their first solo concert tour during 2019 titled, The Dream Show. They toured around different countries in Asia performing their hit favorites. 
"When we debuted as teens, a lot of our music was very bright and cheerful, and that went with our age and now we've transitioned through all these phases, and with each of them we were able to show a higher level of maturity,"
– Park Jisung, Teen Vogue, 2021 
The team would prosper in this new direction and hearing the wishes of fans and the members, on April 13, 2020 SM Entertainment decided to scrap the rotational graduation system and reinstated Mark into the group. The great news was shortly followed by their mini-album Reload on April 29, 2020 and helped them become the first NCT unit to reach number 1 on Melon's real-time charts. Reasonably the anticipation was high with Mark's return to the team alongside the release of "Deja Vu" through the NCT 2020 promotions. Jisung's status as the well loved youngest remained even with the introduction of two new members into the NCT verse. In fact, it was a chance for him to show a more mature side, helping the new members adjust and learning from them in return. It was finally years after debuting as NCT Dream that this project group let him re-debut into NCT U with the addictive dance track, "Work It." Unfortunately, Jisung sustained an injury that forced him to sit out most of the time. He'd make it work one way or another to not let down NCTzens or his members. 
"No matter what kind of work it is, I think you can see a distinctive purity in those who have passion. I want to continue taking that purity with me. Even after I become an adult, I want to protect my passion." 
 – Park Jisung, Allure Korea, February 2021 
Now that NCT Dream had become whole again their first full-length album Hot Sauce would shatter records for NCT and SM Entertainment. Released on May 10, 2021, the songs swept the top of the digital streaming charts receiving an all-kill ranking on Melon. They snagged trophy after trophy on music shows totaling eight awards. Jisung became the youngest member of the second K-Pop group in history after global superstar BTS to reach 2 million album sales. The build up of all those years of pouring out sweat, soul, and diligence was finally producing their well deserved results. 
Now in 2021 Jisung has become an official adult. It feels as if it was just yesterday he was squeaking out his well rehearsed introduction for SM ROOKIES and dancing straight into our hearts. NCTzens have been lucky enough to watch the documentation of Jisung's growth before their eyes. He's grown physically to a whopping 180 cm in height and mentally into a fine young man. Despite spending his adolescence in the spotlight he's remained unassuming and levelheaded showing his strong mentality in this business. His wide variety of skills he's demonstrated over the years will only continue to open more doors for whatever direction he chooses to take. He's dedicated his youth to his artistry and we hope his passion continues to burn strongly as he takes us on his ride to the stars. 
Read about Mark's journey in another Turn Back Time feature here.
Thumbnail by Elise