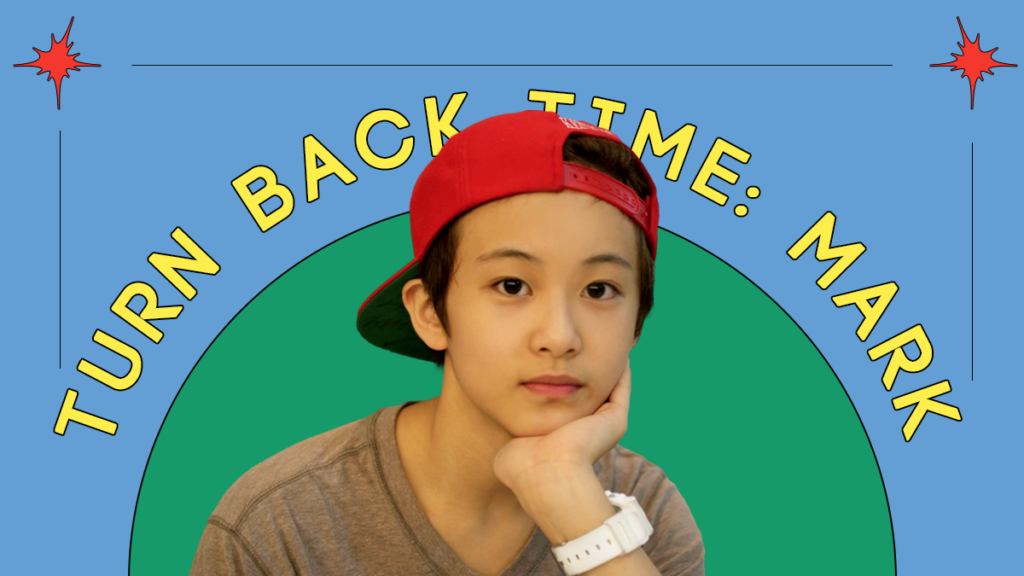 Lee Mark (Minhyung), 21, Toronto, Canada: The Tiger
2010-2012: A Coincidence or Fate?
There's a Korean proverb that says "to catch a tiger, you have to go to the tiger's den," which in the West we may know as "no pain, no gain." It means that without one putting in all their hard work and effort, they'll never reach for what they aspire. In the case of Mark Lee—who is often lovingly compared to a baby tiger by fans—he embodies this to a tee. 
Before he was the superstar idol we know him as today, Mark was just an ordinary student growing up between the towns of Vancouver, Toronto, and New York. As he bounced along the East side of North America, he focused on his studies, citing himself as a studious student. Growing up he was surrounded by music—his father was a music vocal major and his mother had a background in piano and jazz.
Unknowingly, his environment would influence his future path. Even his deep faith in Christianity introduced him to dancing and singing in front of others through church. He noted that although he enjoyed music it had never crossed his mind to pursue it seriously. Instead, he originally dreamed of becoming an author and publishing his own book someday. To this day, he's stayed true to his word and is still writing, and even sharing his poetry on his personal Instagram.
View this post on Instagram
His story officially began in 2012, a monumental year for K-Pop with the steady rise of PSY's "Gangnam Style" all across the globe. Although Mark is now well known for his rapping prowess, he first got into SM Entertainment through his singing abilities. As if by fate, the one day he had a day off from school there was coincidentally a SM Global Audition in Vancouver, Canada—which at the time was rare since K-Pop had not yet become the Hallyu wave we see today.
He auditioned with the song, "Grenade" by Bruno Mars and joined the company that same year heading to Seoul, South Korea, 6,603 miles away from everything he knew. Describing it as his life's first turning point he was more scared and worried than excited living on his own in a strange country. His mother has expressed regrets that she had let him audition at the tender age of 13, since in exchange for the fame he sacrificed indispensable precious youthful memories. However, seeing his growth as an artist has made her reassured he's made the right choice with this once-in-a-lifetime career. 
Mark's goal to become an idol flourished as he drew inspiration from artists he greatly admired. As seen by his audition song selection – Bruno Mars was a huge influence on him. It was after seeing Bruno Mars' performance that he thought for the first time in his life that he wanted to be on stage too. Mark has also often referenced Justin Bieber as an artist he has dreamed of collaborating with since he was little. He explained that he was able to relate with Bieber who started his career at a young age as well. This commonality drew him to look up to Bieber's style of music. 
2013-2015: Welcome to the Show
His training began and within a few months he became a standout trainee. In this time he would meet Mq, his rap teacher who would become a significant person in his career. According to Ep. 7 of Boys Mental Camp Season 2 (2021), Mq is attributed to the discovery of Mark's natural talent and igniting his passion for rap. It came to no surprise on December 16, 2013 when he was quickly introduced to the public for the first time as a prospective trainee-to-debut with SM's predebut project dubbed SM ROOKIES—the project aimed at cultivating the next generation of global artists. Mark in particular drew attention for being foreign to Korea as a Canadian, which appealed to international fans. He became well known for being a part of SM ROOKIES' "foreign swagger" line consisting of fellow members Johnny and Jaehyun who could also communicate in English. Fans were able to get glimpses of his down-to-earth demeanor, his most notable being his music video reaction with Haechan to Red Velvet's debut, "Happiness." 
By 15 he would go on to further develop as an entertainer through several TV broadcast opportunities. He made his first variety show appearance on EXO 90:2014 (2014) dancing short covers and playing games with EXO and fellow SM ROOKIES' members. Mark and the younger SM ROOKIES revealed a quick preview of them dancing to EXO's "Growl" on the show, which they later performed at their first concert on August 15, 2014 at SMTOWN Live World Tour IV in Seoul. This would be Mark's first chance at a live performance before an audience and an opportunity to show off the dance skills he was polishing.
As one of the youngest trainees, he joined alongside his future NCT Dream group mates as cast members for the revived Walt Disney's Mickey Mouse Club in Korea on July 8, 2015. This became a valuable experience for him to become well known to the public, allowing him to exhibit his dance and rap on a regular basis. Here, fans were able to delve in deeper into his personality and talents with various performances, skits, and games. The Mouseketeers' cover of The Little Mermaid's "Under the Sea" currently has 2.9 million views on YouTube, their most-viewed performance from the show online. 
Despite not even debuting yet, the SM ROOKIES formula was working. Their consistent social media posts and large amount of accessible content attracted a steady fan base by 2015. So much so, that the male subunit was granted their own concert series named, the SMROOKIES Show where they toured in Korea and Thailand from 2015-2016. Mark's original rap for their cover of "Under The Sea" blew fans away proving not only his unique rap style, but his abilities as a future lyricist. 
2016: To The World
With the success of SM ROOKIES the next steps for the future of these members were clear. At a press conference, Lee Soo-Man announced a new mega boy group on February 1, 2016 called Neo Culture Technology—whose concept of localization would be the foundation for the company's future. Mark's rap could be heard in the teaser for NCT U's "The 7th Sense" as it introduced the fresh new talent to debut. 
After four long years of training, Mark officially debuted as the youngest member of NCT U at 16 years old with the title track, "The 7th Sense" on April 8, 2016. Right off the bat, his impactful and self-written rap verse drew attention. In fact, this was only the beginning as Mark is currently credited for 40+ songs. It comes as no surprise considering he has always been interested in writing. 
"Drenched in emotions, I think about the rainbow that resembles your smile, That is caught in between the two clouds in my heart." 
— Mark Lee, "Rainbow" 
By July, Mark would be placed in the fixed and second unit of NCT, NCT 127. Before debuting for the second time, he and the members appeared in their first reality TV show series, NCT Life in Bangkok (2016), which followed them to their debut day. Anticipation was high when the fiery title track "Fire Truck" dropped July 7, 2016 and peaked at number two on the Billboard World Album charts.
Barely a month later, NCT Dream was announced to debut with the popping track, "Chewing Gum," and once again, Mark was in the lineup. Grabbing the title of "Pro Debuter" it became a topic of concern for fans who worried the teenager was overworking himself.
Regardless, if he was overwhelmed or not Mark stayed diligent throughout the rest of 2016 without rest. His dedication to his groups bore fruit and by the end of the year he stood proudly on stage collecting the coveted MAMA "Rookie of the Year" award where he thanked his family, fans, and most importantly, God, for taking them all the way.
2017-2018: Steady Climb
With the start of the new year, Mark challenged himself by joining the first season of the survival reality show, High School Rapper (2017). The format of the show followed high school representatives from each of Korea's districts as they battled one another with their rapping abilities. He viewed this as an opportunity to shed prejudice he faced as an "idol rapper," wanting to prove his sincerity towards the craft of rap and hip hop. Mark represented the Gangseo district of Seoul and was able to reach the final round placing seventh overall. 
Throughout the show, he demonstrated his humble mindset and hard working demeanor. Even with his busy schedule between comebacks and schoolwork, he was often seen jotting down ideas and lyrics any chance he got. His fellow NCT members have mentioned themselves that he "practices rap even in the car" and "Mark was considered the most sincere/hard working trainee during our trainee days." His final iconic solo stage, "Drop" with Red Velvet's Seulgi features his honest thoughts of stereotypes and how the grind never stops. 
"They say it's dangerous outside the blanket
But you can't just sleep forever
If you only dream, That's the nightmare
Even when they say the top is near, I can't stop there"
— Mark Lee, "Drop"
Mark thrived at the beginning of 2017 as he snagged the first music show win alongside the NCT Dream members with their upbeat comeback song, "My First and Last." NCT 127's comeback "Cherry Bomb" on June 14, 2017 cemented their popularity and signature "NCT Noise" sound that would be found in ensuing songs later on. Once again, Mark's rap verse was met with high praise from critics and the general public. His powerful rapping style alongside member Taeyong was changing the image of SM's "idol rappers" that were belittled before. He would stand on a joint stage with other "idol rappers" in the industry at the MAMA's award show in Hong Kong by the end of the year confirming this point, rapping alongside GOT7's Jackson, MONSTA X's Jooheon, and Seventeen's Vernon.  
Leading into 2019, Mark was booked and busy with solo endeavors and ambitious projects. He collaborated with the likes of EXO's Xiumin for SM Station's "Young & Free" and Park Jaejung for "Lemonade Love" during July 2017. While juggling long work hours he graduated high school from the School of Performing Arts Seoul majoring in Practical Dance in February 2018. That very same month he would become a regular MC host for Show! Music Core with gugudan's Mina and Ong Seongwoo.
A few months later he joined the cast of the reality-variety show It's Dangerous Beyond the Blankets (2018) and showed how he enjoyed his time as an adorably awkward introvert—a stark contrast to him on stage. Project group, NCT 2018 brought great success to the NCT brand especially with the NCT U Boss subunit which Mark participated in. The dynamic song is one of NCT's most popular songs to date having been covered by a number of idols.
2019-Present: No Better Time than Now
In the midst of this all, Mark's impending graduation from NCT Dream befell him since he would be a legal adult after December 31, 2018. On the final seven-member mini-album, they dedicated a song "Dear DREAM" to say goodbye to Mark and reassure fans everything would be OK. Mark's heartfelt lyrics about his time as a member of NCT Dream touched fans who could feel his bittersweet farewell. 
"This is only one part of something passing
You can write this down, I believe you will pass on, this bookmark
It's more natural if you leave it to the flow
But I don't want this to sound like
We're about to depart
If I ever get lost
I wasn't going to make it obvious
Imma call back
Don't forget the tone I called you
Chant it like we always did
Hope we always feel like" 
Mark's tremendous global popularity as an NCT member made him a perfect fit for the supergroup, SuperM which combined remarkable talents from SM's top boy groups: SHINee, EXO, NCT, and WayV. The group ultimately aimed to broaden the K-Pop genre in the western market. Already being able to connect with international fans and having trendy rap and dance skills made it pretty clear why he was chosen. They debuted with their title track, "Jopping" on October 9, 2019, which has since accumulated 100 million views. They shortly went on a world tour making stops in Europe, Asia, North, and Latin America. He had the crowds going wild performing an unreleased, self-written solo track, "Talk About" at each concert. However, it was Mark's groundbreaking rap verse from the title track "Jopping" that had the entire audience chanting it with him. 
Even as years passed, NCTzens couldn't help but express their displeasure at NCT Dream still being a graduation unit. Growing fond of the original seven members, they couldn't imagine a future without the seven performing together. Realizing the overwhelming popularity of the group, in April 2020 SM Entertainment abolished the graduation system and announced the reinstatement of Mark into the forever fixed unit of NCT Dream. Since coming back to Dream, Mark alongside his members has continuously proven their value together by breaking records left and right. They've become double million sellers with album sales, swept an all-kill on music charts, and rightfully won seven music show awards. 
The contributions Mark has made for NCT are undeniable. Starting from the very beginning he's been a member of the group with good reason. Being immensely talented he's changed the rap game for not only NCT as a group but SM Entertainment as a whole. Both professionals and peers have complimented the all-rounder as "an artist who is known for his overwhelming passion and sincerity." Time and time again fans have seen him continue to transform with each performance. The relatable messages he leaves through his work seek to encourage fellow youths to dream and console them of the struggles of growing up and figuring out who they are. Mark has come a long way to find his forever family and supporters, becoming a special existence to so many. With all that he's been able to achieve by 21, we can only imagine what else is down the road for him. 
Read about Taeyong's journey in the Turn Back Time feature here.
Thumbnail by Elise