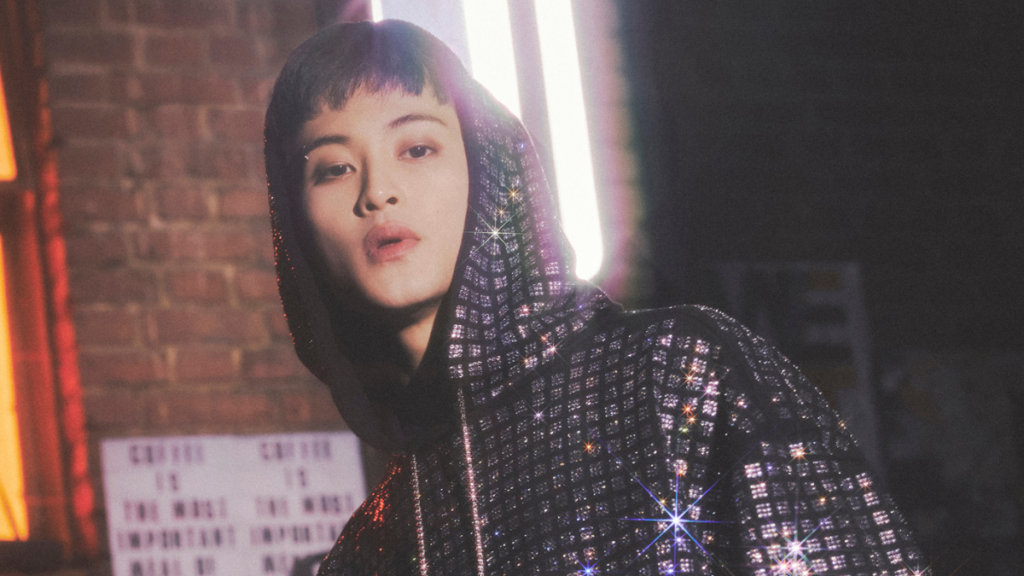 "Molo" is finally here! On February 4 at 6 PM KST, NCT's Twitter account announced the release of Mark's first official solo track, "Child." The track is the first project to be introduced for NCT LAB, a subsection of SM STATION.
Introducing "Child"
After the announcement of his solo, Mark went on Instagram live to discuss all the details of "Child." He explained that "Child" was a song that was made long ago, stating, "it was a song that we were holding, and it was something in our archives." The artist also described the song as a gift for fans. Although Mark said he was nervous about releasing the track, he hoped fans would enjoy it.
The Sound of "Child"
In the same live, Mark described the genre of "Child" as alternative rock, due to the sounds of electric guitar and steady drums throughout the track. The song has a sentimental vibe, as Mark discusses the topic of taking on adult responsibilities, even when you still feel like a child. This personal track opens up about the stressors of being in the spotlight and growing up while not knowing your strengths.
The impactful lyrics were written by Mark, along with songwriters Ron, jane, and dress who also produced the track. "Child" is one of over 50 writing credits Mark has to his name. With lyrics like "I'm alert, it's a curse, yeah, it hurts/I don't know my own strength/There's a lot that I don't know," listeners can resonate with Mark's experiences.
In this project, fans get to see a new side of Mark that showcases his vocals. In the opening lines, he sings "Who do you think you are? /Why are you hanging my heart and shaking it? /It's making me dizzy."
In the chorus, Mark expressed discontent with people wanting him to be a certain way, stating "I'm a child /I can't be the person you want." The question of self-discovery and the pressures of finding who you are is also brought up in the track, as Mark questions "Who am I in others' eyes? / Who am I? / Who I'll be?"
As the song progresses, the second verse showcases a more assertive style that features his signature charismatic rap style. With lyrics like "I pull at the strings when I'm pissed / Only few people know I'm a bit / Twisted but the fittest to the point," Mark demonstrates his dynamic lyricism.
The Visuals
Similar to the lyrics, the music video also had a sentimental feel. The music video featured scenes with hues of red, green, and yellow as Mark took us on his journey of being in the spotlight and the emotions that come with it. Throughout the video, the colors often shift between yellow and red to match the intensity of the lyrics.
The video began with Mark laying on a couch in front of a seemingly abandoned factory. He sports the outfit seen in his teaser photos, a brown jean jacket with a green hoodie underneath and a brown beanie. Next to him sat a gray Jansport backpack, an easter egg that references the black Jansport backpack that he carried during his trainee days and well into his debut.
The final minute of the video evolved into something lighter and more carefree as the lyrics turned more optimistic. One of the final scenes of the video featured Mark in a brightly yellow-lit room, back on the couch, with an array of feathers falling around him. Some fans interpreted this scene as a reference to the "We Go Up" music video, his final comeback with NCT DREAM before graduating from the unit.
Throughout the video, Mark is seen running from masked figures that represent society and those telling him how he should behave in the spotlight. The final scene features him running into the darkness as the lyrics "No I'm saying what's on my mind" ring in the background.
Everlasting Support
Since the announcement of "Child," Mark has not only received support from fans, but from his members, producers, and writers as well. NCT 127 member Doyoung actively showed his support for the project, sharing the teasers on his Instagram story each day. Producers Junny and dress also shared the announcement on their Instagram pages.
Upon its release, NCT members Taeyong, Ten, Kun, Taeil, Xiaojun, Doyoung took to Instagram stories to share their support for "Child," along with commenting on Mark's posts. NCT DREAM members, Haechan, Jeno, Renjun and Jisung shared their support on LYSN's Bubble.
Many industry professionals shared their support for Mark via social media including, his fellow producers, Red Velvet's Yeri, ROMEO's Kangmin, Big Naughty, SM composer mq, and many others.
The Charting of "Child"
"Child" broke records, making it the first song to ever reach the highest number of Unique Listeners within the first hour, on MelOn 2022 thus far. It should also be noted that "Child" hit #1 on MelOn within five minutes of it being released. The track was the third SM song to hit #1 on Bugs Real Time Chart in 2022.
Mark Gives Thanks to His Fans
After the release of "Child," Mark made his way to Instagram Live to talk more about the project and express his gratitude to all of his supporters. He reiterated that the song is a gift for fans that supported him both emotionally and financially throughout his busy schedules in 2021. "I'm just very happy that I got to be able to even release the song," Mark said, "and to have the support coming from you guys." Mark gave a teaser of what we can expect to see from him for the future, saying "I will be more earnest, willing, diligent and more hardworking with my songs that I make on my own…I hope you guys look forward to more of this."
The Emotions From the Release
NCTzens were ecstatic from the release of "Child." Many Markfs (Mark's fans) expressed their support and gratitude for him, and shared their feelings on Twitter. Many explained how they have personally connected to "Child" in terms of how growing up is hard, and what responsibilities come with it.
Where to Keep Up with Mark
To listen to "Child," you can use Spotify to stream the newest track. To stream the video, you can watch it here on YouTube. If you'd like to keep up with Mark and his future activities, make sure you follow him on his Instagram, NCT's Twitter page, and SuperM's Twitter page for all updates!
Interested in more Mark content? Check out our list of his past solo projects and collaborations here!