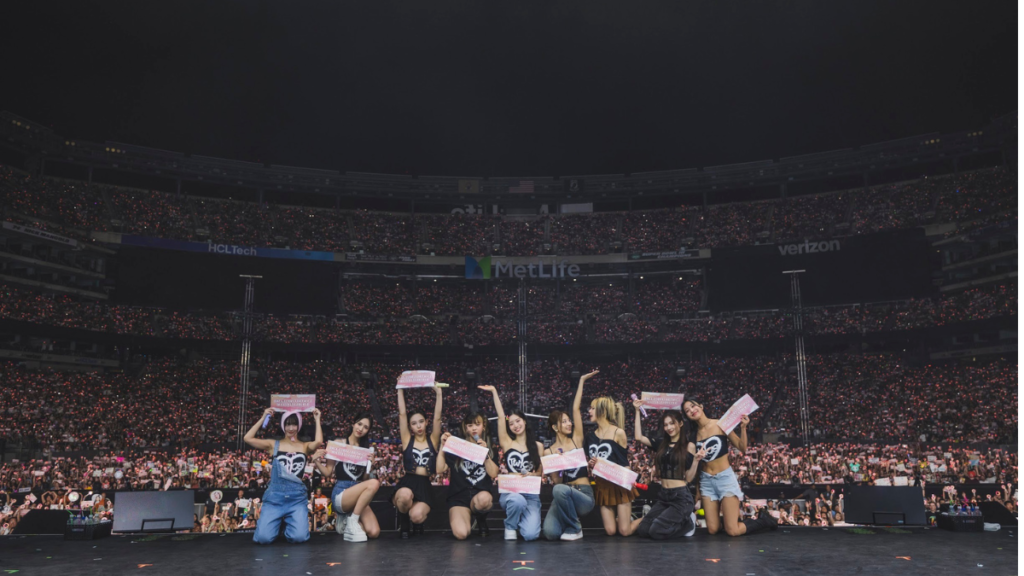 There's not many "firsts" left in K-pop. In an industry where groups consistently amass millions of sales, streams, and YouTube views in mere days, it can be difficult for artists to stand out for breaking records.
But this didn't stop TWICE, the nine member K-pop powerhouse, from adding one more "first" to their decorated careers; Thursday night, TWICE took to the stage of New Jersey's MetLife Stadium in front of over 50,000 fans, as the first K-pop girl group to frontline (and sell out) the venue. Along with being the first girl group to sell out MetLife, they also became the first to perform at and sell out California's SoFi Stadium earlier this month.
Booking such a venue, which is home to both of New York's national football teams and has housed performers like Beyoncé, Taylor Swift, and the Rolling Stones, is only a testament to TWICE's staying power as one of K-pop's biggest acts. And at this show, members Nayeon, Jeongyeon, Momo, Sana, Jihyo, Mina, Dahyun, Chaeyoung, and Tzuyu proved exactly why they have that title.
They built a setlist that transitioned from newer, more mature songs, through solos, live band performances, and the bubblegum-pop classics they built their name on, without ever feeling untrue to the TWICE of the past or present.
Opening the night with the English version of their most recent release "SET ME FREE," the first segment of the show was similarly bold. It showcased the stronger TWICE color fans have grown to love from them, along with their vocal abilities and stage presence. Songs like "I CAN'T STOP ME" and "Brave" gave vocalists Jihyo, Nayeon, and Jeongyeon their time to shine, while Eyes Wide Open b-side "GO HARD" got the crowd amped up with its powerful coordinated dance break.
Fan favorite songs like "CRY FOR ME" and "The Feels" got a live concert makeover, accompanied by a live band rather than a backing track. The rock sound gave 2019's pure pop "FANCY" a new edge, and brought a more human element to the heartfelt "Feel Special." The band gave Jihyo's iconic "Feel Special" bridge complete silence, giving the group's main vocalist and the song's comforting message a well-deserved spotlight. 
As certified veterans of the K-pop scene, recent years have seen TWICE experiment outside of group ventures. Formula of Love in 2021 saw the group's first subunit songs and 2022 had the first solo member debut with Nayeon's IM NAYEON. Later this summer, both Japanese subunit MISAMO and solo member Jihyo will debut. As a well-established group, it makes sense that the members would want to begin to explore their own color as individuals.
Distributed between their group performances on Thursday were solo stages, each showing a member's unique personality and talents. Nayeon performed her song "POP!" with a live band and dance break. Sana and Tzuyu's more pop star sensibilities showed in covers of Dua Lipa's "New Rules" and Charlie Puth's "Done For Me," respectively. Dahyun's gentler disposition shone in a piano cover of Colbie Callait's "Try," where Chaeyong's more alternative inclinations were displayed in a more indie-rock original song called "My Guitar."
Mina made it rain "Mina Money" in her surprisingly sexy cover of Ariana Grande's "7 rings." Jeongyeon's confidence and sense of humor flourished in her cover of Lizzo's "Juice," complete with bright green fur robe and cheeky recorder solo. For two members who have publicly had mental health struggles, it's truly enjoyable to see them so confident and happy on stage, making their performances clear fan favorites. Main dancer Momo's solo was also a show of confidence, channeling Beyoncé's "MOVE" into a powerful dance cover that included a sensual pole dance.
The crowning moment was Jihyo's performance of "Nightmare," a new song from her upcoming solo debut. As the leader of TWICE, Jihyo has seen the group through ups and downs, from their creation on survival show Sixteen (2015) to their stadium shows. If TWICE is a ship, Jihyo is its dedicated captain. To see her at its helm during such a triumphant moment, doing what she does best in an evocative, surprisingly darker and rock-oriented song, feels like a real privilege.
TWICE's older songs had their moment, too, with a perfectly timed montage of "YES or YES," "What Is Love?," "CHEER UP," "LIKEY," "KNOCK KNOCK," "SCIENTIST," and "Heart Shaker." They kept fans' energy high at a point where many might have started feeling the concert fatigue. Not that TWICE's energy was flagging, despite the length of the show or the sweltering 90 degree heat. Summer hits like the breezy "Alcohol-Free" and infectiously fun "Dance The Night Away" brought the end of the show, complemented by live band backing and blasts of confetti, streamers, and fireworks. Perhaps the most impressive part was the final song of the show proper, a dynamic take on 2022's "Talk that Talk" that ended on a lively and satisfyingly in-sync dance break.
Though it wouldn't be a TWICE show without their iconic "encore roulette" wheel, which chooses random songs for their encore sets. After a touching performance of "When We Were Kids," the wheel spun out performances of debut song "Like OOH-AHH," the Dahyun-penned "Scandal," and Latin-infused "FIREWORK." TWICE handled it with ease, singing while interacting with fans, goofing off with each other, and throwing water at a very thirsty audience.
Despite their professional onstage demeanor, their love for their fans, ONCE, was clear. It was clear in the quality of performances, where ONCE could see how much effort TWICE put in to delivering a good show. It was clear in every mention, where they thanked fans for coming, expressed how happy they were to be at MetLife, and wished fans to stay safe and hydrated in the heat. They were smiling, joyful, and interactive the whole time, greeting fans and running from stage end to stage end to see as many as they could. As much as ONCE love TWICE, enough to sell out over 50,000 seats just to see them, the love is obviously returned tenfold.
It was a concert that truly encapsulated the rich history of one of K-pop's greatest acts. It showed TWICE's growth both as a group and as young women. It rounded out their sweeter rookie-era songs with the bolder, more empowered TWICE fans have gotten to know over the last few years.
There were some downsides—some of the song choices were perhaps not the best to really show TWICE's breadth of work, and their equally accomplished Japanese discography was entirely ignored. Granted, with seven full albums, 12 minis, four repackages, and over 150 songs, they can't fit everything in a limited time slot. But the inclusion of the Tinashe-esque sensibilities of "Basics," the sultriness of "HELL IN HEAVEN," or even the stadium-perfect "BLAME IT ON ME" could have elevated the show to a full, well-rounded display of what TWICE is all too capable of. However, with TWICE's clear upward trajectory, it's highly likely they'll be back again, so one can only assume they'll return bigger and better.
TWICE's career is a lot like their on-stage presence: bold, robust, and showing absolutely no signs of slowing down. While this show was record-breaking for them, and for K-pop in general, there's no doubt that it's far from TWICE's last milestone.
TWICE's monumental "Ready to Be" tour continues this September and October across Southeast Asia and Europe. Be sure to follow TWICE on Twitter, Instagram, and YouTube for more updates from their tour!
Want more TWICE? Check out our review of their impressive first quarter of 2023 here!
In the mood for more concert recaps? Take a look at our photos from Day 1 and Day 2 at Governor's Ball.