Ferragamo showed their stunning Spring Summer 2023 collection at Milan Fashion Week on September 24. Black British designer Maximilian Davin made his debut as Ferragamo's new creative director with dazzling, red glitter graphics and a warm-toned collection. Among front-row attendees was TWICE's Chaeyoung, who became the third member of the K-pop girl group attending Fashion Week this season.
Jet-Set Ready
Prior to gracing the VIP section of Ferragamo's collection unveiling, Chaeyoung already received attention when she departed for Italy from Incheon International Airport. Fittingly dressed in head-to-toe Salvatore Ferragamo, the rapper confirmed her attendance at the then-upcoming show. Chaeyoung hit the perfect combination of comfort and style wearing the Gancio S Jacket, straight-leg trousers, and Gancini Mules. With the Trifolio Box Bag on hand, she was ready to fly to Milan.
Walk That Walk
On the day of the show, Chaeyoung was met by a crowd of enthusiastic ONCE—TWICE fans. Despite the less-than-optimal weather, the idol took a moment to greet the crowd of onlookers, who actively showed their support.
Among a star-studded front row, Chaeyoung stood out in a white cropped blazer and mini skirt set from the SS23 collection. Paired with black tights, black heels, and a black purse, Chaeyoung looked like she had walked straight out of a fashion magazine spread. With her bleach-blonde hair and monochrome outfit, she fit right in with the collection's color palette.
Chaeyoung also took the time to rub shoulders with international stars such as Naomi Campbell and American songstress Kelela. After the event, the K-pop star took to social media to share content from the experience, including shots of her outfit, a photo with Maximilian Davin, and some looks from the collection.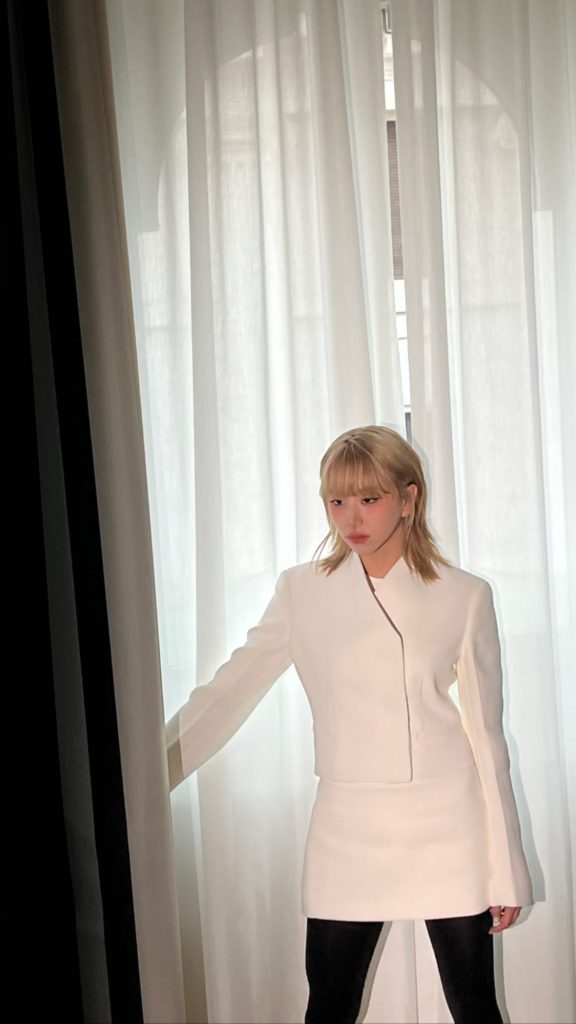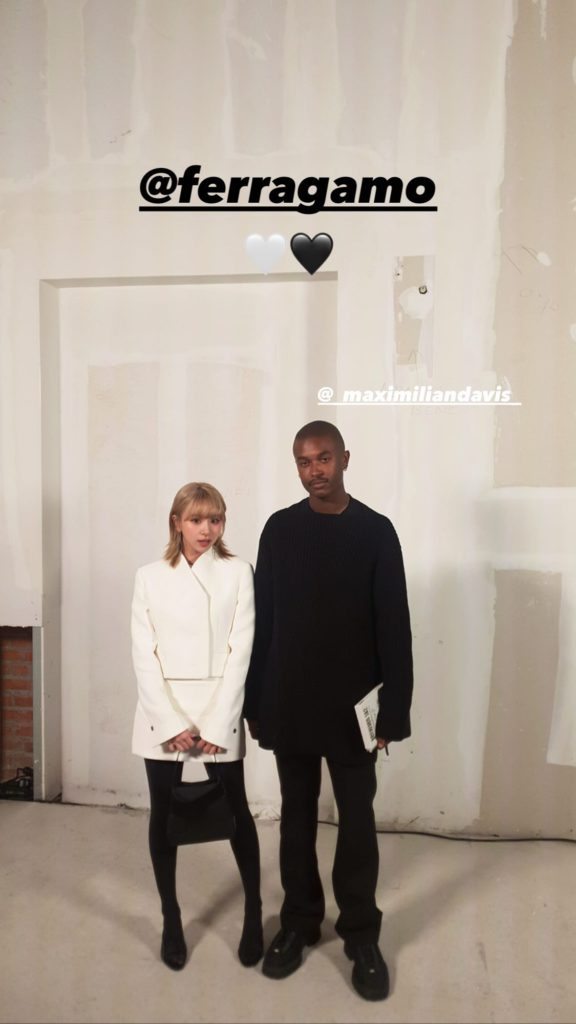 Chaeyoung's attendance at Ferragamo's show marks the third sighting of TWICE members at Fashion Week, following Dahyun at Michael Kors and Sana at Prada. As the K-pop supergroup expands their fashion prowess, we look forward to seeing more of the member's take on Fashion Week style.
Want more of TWICE at Milan Fashion Week? Check out our recap of Prada's "Touch of Crude" show, featuring Sana, here.