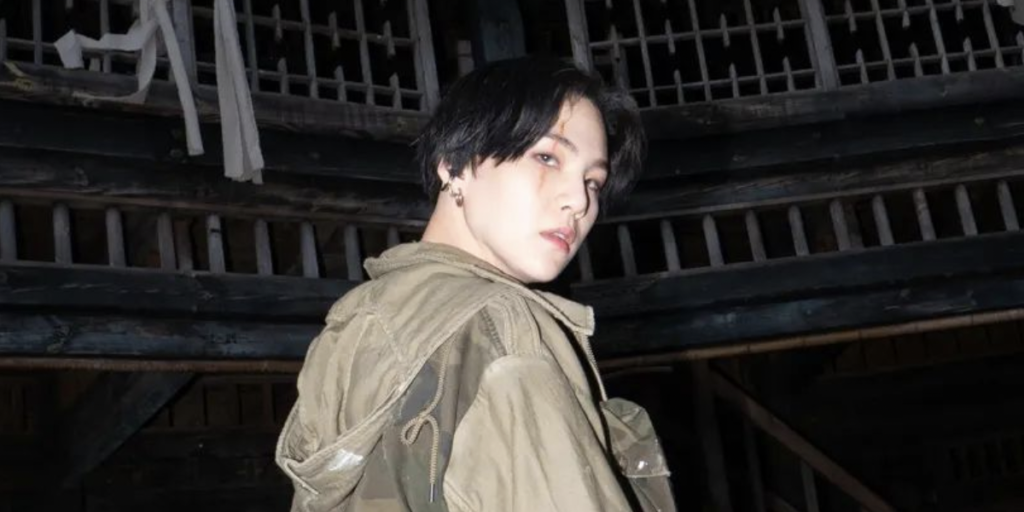 It's been two years since D-2, BTS' SUGA's second mixtape under the name of Agust D. Released on May 22, 2020 on Soundcloud and other streaming platforms, D-2 follows his debut mixtape, the self-titled album Agust D. 
D-2 came as a surprise to the world. After days of mysterious teasers on Twitter, the ten-track album dropped almost four years after Agust D's first mixtape was released. Including genres such as hip-hop, R&B, and pop, D-2 tells SUGA's stories from the four years since Agust D.
To honor its anniversary, let's take a look at the outstanding mixtape that is D-2.
From Agust D To D-2
On August 15, 2016, SUGA dropped his debut self-titled mixtape on SoundCloud under his alter ego Agust D. In the hip-hop album, the rapper opens up about his inner self and feelings and his beginnings as a musician, reflecting on his identity and struggles with mental health. Agust D is raw and vulnerable, with songs that depict the artist's deepest thoughts mixed with a rhythm as intense as their lyrics. 
Almost four years later, SUGA came back with D-2. The mixtape is a continuation of his previous work and exhibits a more mature side of the rapper, touching on subjects such as fame, success, and adulthood. While Agust D is bold and heavy, reminiscent of past stories, D-2, according to SUGA, focuses on the stories of the present. Despite the contrasting styles of the albums, both maintain the introspective vision that characterizes the artist. 
Introducing: D-2
D-2 opens up with "Moonlight," in which SUGA introduces the listener to his inner thoughts on his artistry after releasing his first mixtape. "Three years have passed/ Agust D/ Honestly, I don't know how many songs to put in" he narrates. Written by Agust D and GHSTLOOP, the lyrics have the rapper speaking about the changes in his life. He goes down the memory lane of his career, questioning his abilities as a musician, his growth as an artist, and the pressure that comes with success. 
SUGA uses the word 'moonlight' to reflect on the inevitable shift in his life while the rest of the world remains the same. "That moonlight that shines on me at dawn/ It's still the same as then/ Changes are fated to happen to everyone/ Perhaps it is how we change that is our karma to bear" he raps.
SUGA Doesn't Mind The Haters
The title track "Daechwita" shares SUGA's enormous success as a member of BTS. Using a sample of a Korean traditional genre mixed with wind instruments and percussion, the song is an anthem about culture, fame, and achievement.
The bold lyrics share the fierce mindset of the artist, as SUGA describes his perspective on success and desire to aim for bigger things. They also viciously call out haters, critics, and those who undervalue his and BTS' accomplishments. 
Alongside D-2 came a "Daechwita" music video. Released on YouTube, the video is set in a historical atmosphere, adopting elements from the Joseon dynasty alongside contemporary objects such as cars. The story follows two Agust Ds – the ruthless blonde king and the modern black-haired rebel who resists the king's wishes.
BTS members Jin, Jungkook, and j-hope visited the set to show their support, with the former two even making a special appearance in the video.
Further, D-2 includes tracks like "What Do You Think?" and "Burn It," which features singer MAX. These songs touch on SUGA's massive success as an artist, calling out critics and tabloids and exploring the fears and desires of being an outstanding musician. While "What Do You Think?" explicitly addresses fame and haters, expressing confidence with its raw and ambitious lyrics and melody, "Burn It" explores the pressure and insecurities of achieving success. Although there is a contrast between the two songs, both convey the same intensity, heaviness, and struggles of the rapper, as he opens up about the two sides of his experience. 
Diving Into SUGA's Mindset
Taking another turn into his vision, SUGA dives into the capitalistic society we live in with "Strange," featuring fellow BTS member RM. BTS are not strangers to using their music to raise awareness on social matters: tracks such as "Go Go" and "뱁새 (Silver Spoon)" touch on the materialistic society and struggles of their generation, so it does not come as a surprise that both rappers shared their perspective on our capitalistic society with "Strange." 
With a steady rap and firm instrumental, the lyrics written by Agust D, RM, EL CAPITXN, and GHSTLOOP are skeptical. The rappers express their frustration, opening up about a world with only two viewpoints and questioning the disguised 'hope' offered by the capitalistic system. "Life that we can't refuse/ With dreams as its collateral, the capitalism injects the morphine called hope/ Wealth breeds wealth and tests greed" they rap.
Following "Strange" is "28," featuring Korean singer NiiWHA. True to its title, the R&B track reflects on SUGA's age at the time, conveying the mixed feelings of reaching adulthood. He explores the uncertain emotions of growing up and the fears of not knowing how the future will turn out. Throughout the song, he displays his worries about losing his dream. "Where have the fragments of my dreams gone?" SUGA wonders. 
SUGA also recalls his desire to live without trouble "Living/ Without worries for just a day/ Without concerns for just a day," yet he still wishes to hold on to the same dreams of his youth. "Seems like my heart is broken/ Yeah, now I've become an adult who finds it hard to grasp my dream"
If "28" talks about the uncertainty of adulthood and change, the seventh track of the mixtape, "People," addresses those concerns. With a catchy beat, mellow rap, and low vocals, the song recognizes the inevitability of change in people's lives. SUGA tells the audience that he has changed, just like the world around him. In the song, he offers listeners insight into how we are in constant development, expressing that nothing lasts forever.
In "People," SUGA shares his mindset on the distinct reality he has dived into, the different paths he has chosen, and how living under a spotlight has changed how he sees the world. He explores the difficulties of existing while accepting that everybody leads different lives. "Your ordinary became my special/ Your special became my ordinary/ My ordinary became your special/ My special became your ordinary" he raps.
For BTS' eighth anniversary celebration FESTA, SUGA performed a snippet of the track as a surprise for their fans ARMY.
The Other Side Of D-2
Immediately after "People" comes "Honsool," which translates to English as "drinking alone." When explaining the process behind the album on V-live, SUGA recalled writing the lyrics one night while drinking alone after a long day. The song is intentionally dark and intense, opening with a distorted voice mixed with a low instrumental. In the lyrics, SUGA describes coming home after an exhausting day and getting a drink. He shares the worries and thoughts that appear in those late hours, revealing that although he got everything he wanted, sometimes success turns out to be scary. 
Before the album's close comes "Interlude: Set me free." With a delicate melody combined with bird sounds, the two-minute song is all about SUGA's vocals. All through the track, he repeats the words "Set me free," as he sings about wishing to slip away from the routine and gloomy days while questioning whether that's what he truly wants.
Ending SUGA's journey of self-exploration and success, the final track "Dear my friend," featuring Kim Jong Wan of NELL, differs from the rest of the mixtape. With a ballad tone mixed with piano and drums sounds, the melancholic song tells the story of a lost friendship. SUGA reminisces about time spent together in his hometown Daegu while sharing the ambitions they had at a young age. 
In the lyrics, he recalls his part on the BTS single "Spring Day," questioning how much they have changed, "Was it you who changed? Or was it me? Uh, I hate this flowing time, it's us who changed." The track closes with SUGA wondering what could have happened if things had ended up differently. 
While We Wait…
Aside from breaking records with BTS, SUGA has shown his diverse artistry as a musician and producer with every new release, and D-2 was not an exception. The music video for "Daechwita" currently sits at 367 million views and counting on YouTube, and at the time of the mixtape's release, the track peaked at number 11 on Billboard 200. Additionally, in March 2022, D-2 became the first album by a Korean soloist to hold 500 million streams on the platform Spotify.
With D-2's chapter now closed, it remains unknown whether a new album from the artist will come soon. Nonetheless, it's safe to say that fans cannot wait to see what the future holds for SUGA. For now, we can expect a walk down memory lane with the upcoming BTS anthology album Proof. Until its release on June 10, you can listen to Agust D's discography on Spotify and Apple Music. 
Want to read more about BTS' upcoming comeback? Check out EnVi's article on Proof here!