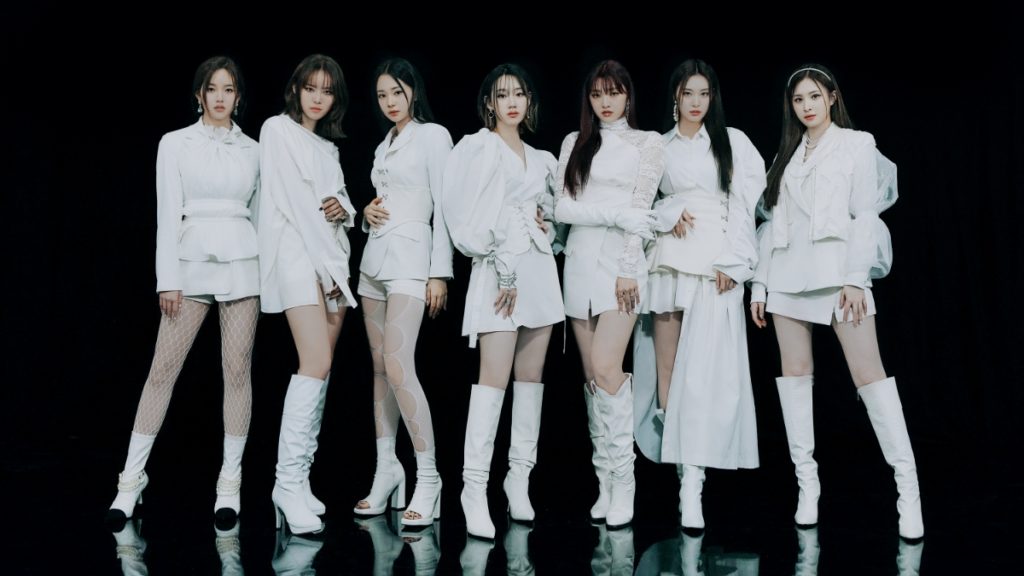 Vibrant and versatile, IST Entertainment's Weeekly bring a fresh flavor to the K-pop industry. Debuting at the height of the COVID-19 pandemic never deterred the girls' fervor. Their unique concepts, exciting performances, and diverse discography make them a K-pop girl group like no other. To celebrate their second anniversary this June 30, we delve into Weeekly's musical eras and what makes them stand out.
Who Are Weeekly?
Weeekly (yes, with three E's) are PlayM Entertainment's (now IST Entertainment) second girl group since 2011. The entertainment company is home to Apink and VICTON, both well-known names in the K-pop industry. The name "Weeekly" pays tribute to the seven days of the week, which the members aim to make new and special every day.
True to their name, Weeekly originally debuted as seven, each girl having her own day and celestial body. Lee Soojin represents the sun and Sunday. Kim Jimin is Monday, representing the moon. Jihan is Tuesday and Mars, Shin Jiyoon is Wednesday and Mercury, and Park Soeun is Thursday and Jupiter. Zoa reps Friday and Venus and Lee Jaehee is associated with Saturday and Saturn. However, earlier this June, Shin Jiyoon stopped her activities in Weeekly, thus leaving the group as six.
The Beginning of the Week
After IST Entertainment's (then Plan A Entertainment) success with Apink, many K-pop fans held high expectations for the company. Conversations surrounding Apink's successor rose in 2019 when Plan A Entertainment and FAVE Entertainment merged as PlayM Entertainment. Trainees from both companies, known as PlayM Girls, went through some lineup changes until 2020, and ended up as seven.
Prior to debuting, the girls have made themselves known with various online content. From singing and dancing covers to vlogs, the septet teased their talent and flair to the world. One of their notable projects was their TAPE series. Fans and potential fans could see the girls train and chill together through recordings from the training room cameras. Finally, on May 11, 2020, PlayM Entertainment announced the name of their new girl group: Weeekly.
PlayM New Artist

Weeekly@_Weeekly#Weeekly #위클리#이수진 #먼데이 #지한 #신지윤#박소은 #조아 #이재희 pic.twitter.com/QiUzVU5NMJ

— IST ent (@ist_ent) May 11, 2020
We Are Weeekly!
Accompanying Weeekly's debut is a series of videos explaining their concept. Dubbed "The Weeekly Story," it explored the girls' lives. While they seemed to be enjoying their own company, their stories were actually connected to each other. For instance, the basketball in Park Soeun's episode was actually Lee Jaehee's, which came from the portal in the latter's episode. Additionally, Zoa was seen planning a trip to Jihan's planet—Mars—and Monday danced in her room to an audience of animal plushies, symbolizing her friends. This connection was further emphasized in a following concept trailer, in which they are seen interacting and having fun together.
"Tag Me @Me," Weeekly's debut title track, cements the group as a girl group with a light, cheerful concept. The song, which is inspired by pop rock, is about celebrating your unique self. With lyrics mentioning being viral on social media and sharing TMIs, the song also reflects the girls' internet-savvy generation. To top it off, "Tag Me" has a memorable choreography. Like the school girls they are, it features sitting on desks and swapping books with each other.
Weeekly debuted a mini album, We are, which has five tracks. Starting off with the cheerful "Weeekly Day," the mini album erupts into three upbeat songs in a row: "Universe," "Tag Me," and "Hello." Wrapping the EP is "Reality," a slower song that highlights the members' voices. Notably, two tracks of the album—"Weeekly Day" and "Reality"—were written by Shin Jiyoon. This wouldn't be her last time contributing to Weeekly's discography, as later, she would write songs for their first comeback.
Everyday Roller Coaster
Three months after their debut, on October 13, Weeekly returned with "Zig Zag" and the mini album We can. Continuing the high teen concept of "Tag Me," the "Zig Zag" music video tells a story of growing pains. Life tends to get more confusing as one grows up, as perfectly described in the song's lyrics. "Zig-zag, sometimes I laugh with excitement, then I get angry again. For some reason, my feelings are zig-zag," the girls sing in the intro. Despite the confusion, however, they want to enjoy their life as much as they can. Mirroring the song's theme, its music video revolves around one of high school's biggest challenges: choosing a school club. Newbie Jihan has to choose from the baking, photography, journalism, fencing, band, or taekwondo clubs. While her decision remains a mystery, she ends up having fun with the other girls anyway.
Just like "Tag Me," "Zig Zag" has a choreography that stands out; the members dance with seven similar-looking boxes. The boxes, which weigh 4.4 kg (around 9.7 pounds) each, are used as a seat, stand, and much more. Once again, Shin Jiyoon also participated in songwriting: she wrote "Weeekly" and "My Earth" for the mini album. The latter is an ode to save the planet and saw several live performances on music shows. To promote the song's message, the members performed with outfits made from eco-friendly materials. Later, they also held a competition for Daileees—their fans—to showcase their environment-conscious actions with the prize of eco-bags.
In their debut year alone, Weeekly bagged several awards. Their first came from the Brand of the Year Awards on September 28, 2020, which named them the year's Rookie Female Idol. Two months later, the septet received awards from the Melon Music Awards (MMA) and Asia Model Awards as Best New Female Artist and New Artist Award respectively. Another Rookie of the Year award came from the Mnet Asia Music Awards (MAMA) 2020. The well-known award show crowned Weeekly as the Best New Female Artist of the year. With these achievements—and more—Weeekly's road to fame had only just begun.
On Our Skateboards Like Dancing
After two releases in a year, Weeekly didn't show signs of stopping. Between their 2020 and 2021 promotions, the girl group had three soundtrack releases. They were "BoomChiKi" for Wannabe Ryan, Monday's solo, "Draw in to you," for When I Was Most Beautiful, and "Wake Up" for Hello, Me!. It was on the third month of the year that the girls released their third mini album. On March 17, 2021, Weeekly returned with "After School." This time, the release focused on the exciting things students do as the final school bell rings. From scheduling their rendezvous to the thrill of having fun with your friends, "After School" perfectly describes the moment. The song's choreography, which makes use of a skateboard, revolving chairs, and a cellphone, only adds to its huge appeal.
"After School" quickly became Weeekly's biggest hit. Currently, the music video has the highest views among other Weeekly title tracks, racking up over 132 million views. It also reached 17 million streams on MelOn, South Korea's largest music streaming platform. Internationally, "After School" made rounds on TikTok and placed 21st in Billboard's World Digital Song Sales chart in the first week of May. These achievements gave Weeekly some recognition, including the Global Hottest Award from The Fact Music Awards and the New Wave Singer Award from Asia Artist Awards.
The mini album itself, We play, has five songs. "After School" is preceded by two songs: the sweet "Yummy!" and the Shin Jiyoon-penned "Lucky." The EP then continues with "Uni," well-known for its often misheard "jump truck" line among fans, and the ballad "Butterfly." In a behind-the-scenes YouTube video, Shin Jiyoon recounted the inspiration and creative process behind "Lucky." "'Lucky' is a song about having a precious friend," she said, gaining inspiration from her own experience. Jiyoon considers friendship as valuable as wealth and fame, and cherishes her friends inside and outside Weeekly. "[The] members help me out so much. They are friends who I can really depend on."
Cosmic Getaway
Not long after "After School," Weeekly returned with Play Game : Holiday on August 4. Now in a different era of their musical lore, the girl group ventured on a journey to unknown, exciting places. "Holiday Party" is the mini album's lead single, an energetic song about having the vacation of your life. With the girls sporting bright hair colors and space-themed holiday activities, the song's music video is equally fun. In the music video, one can also spot some shoutouts to their previous releases. In the beginning, for example, the books The Weeekly Story and Surviving in Mars from their "The Weeekly Story" series can be seen. Like their other music videos, a laptop or PC screen is also present at the end, seemingly from the perspective of someone called "D🪐NA." While the figure and Weeekly haven't interacted before, their messages to each other were now visible on the screen.
Play Game : Holiday is Weeekly's take on a summer album. Starting off with "Weekend," the EP continues with "Check It Out" (which also has a music video directed by the members) and "Holiday Party." "La Luna" is a synth-heavy song with a dreamy vibe, reminiscent of a night brightly lit by the moon. Lastly, "Memories Of Summer Rain" closes the album with its vocal-heavy arrangement and EDM influence. The instrumentals, which imitate raindrops, make the song perfect to listen to amidst the eponymous mellow weather.
At this point of their career, Weeekly have had the chance to showcase their charms in other platforms. In May 2021, they were appointed as the advertising models of Davich, a South Korean optics brand. To celebrate their partnership, the septet also released a song called "7days Tension." Not only endorsements, but the girls have also graced the magazine pages. In June 2020, Weeekly starred in Star1 Magazine, followed by The Star in August and TENSTAR in October. Three members of the group—Lee Soojin, Jihan, and Zoa—also made their GQ Korea debut at the end of the year. In 2021, as part of "After School" promotions, the group had a photoshoot and interview with BNT News, and later 1st Look. These gigs prove that the girl group's fresh charms and undeniable talent are well-loved by many. 
The Awakening
Weeekly started 2022 with a surprise. On February 9, their social media accounts posted a video showing a logo change. In the 17-second clip, the girl group's cartoon-like, youthful logo transforms into one that's more bold and futuristic. After the announcement of their first 2022 comeback, a prologue film was released. The prologue film further proved that there'd been more than meets the eye in Weeekly's previous concepts. Originally guardians of the solar system, the girls had been separated on Earth with no idea who they were. One day, Lee Soojin, the guardian of the sun and their leader, finally remembers her identity. She summons the other girls and they reunite as the celestial forces they had always been.
This sudden concept change became the main topic of the group's comeback documentary film. Released on March 4, it explored the reasons behind their genre shift and behind-the-scenes process. "[We] wanted to show a strong and dignified Weeekly to the public," asserted the members. Play Game : AWAKE clearly demonstrates their intention. With just three songs, it is Weeekly's first release in a single album format. The album's lead single, "Ven para"—Spanish for "come here,"—shows a darker, more fierce side of the group. Not only is it in a minor key, it also features louder raps and hard-hitting choruses. Mirroring the prologue film, the song's music video has mostly bold colors like dark red, navy blue, black, and white. It also shows a more detailed look at the royal hall where the members reunited.
Play Game : AWAKE's two B-sides are in direct contrast to each other. The second track "Solar" has clear EDM & hip-hop influences with its beat drop and falsettos. Meanwhile, "Where Is My Love" pays tribute to '90s R&B with its chill instrumentals. While this change may be surprising to some, Play Game : AWAKE and "Ven para" managed to attract even more people to the group. In its first week alone, the single album reached 80,000 sales, breaking their previous record of 31,000. Additionally, the "Ven para" music video hit 20 million views in just five days on YouTube. Weeekly are veering into new horizons, and the will continue to shake the K-pop industry for many years to come.
Follow Weeekly on Twitter, TikTok, Instagram, and YouTube!
Discover more music from K-pop girl groups and female soloists by reading our coverage of IM NAYEON's self-titled debut album here.