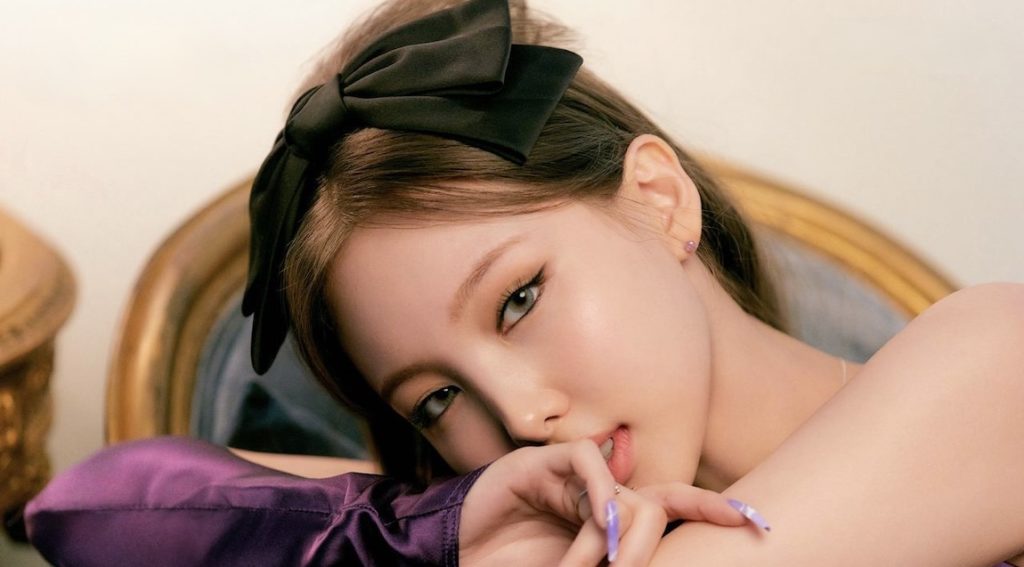 On June 24, 2022, TWICE vocalist Nayeon made her official solo debut with the album IM NAYEON. With seven tracks that exhibit the singer's charming vocals and outstanding performance, the album showcases Nayeon's journey as an artist, diving into emotions such as love, self-exploration, and freedom. In the title of the album, Nayeon not only announces her full name to the audience, but she also takes the opportunity to introduce herself to the world by saying "I am Nayeon."
Introducing: IM NAYEON
IM NAYEON opens with the title track of the album "POP!." Nayeon takes listeners to her world, showcasing a confident side of herself and exploring the idea of not being able to get her out of your mind. "You know? Just remember you are in my hands (Yeah, yeah) / You cannot get away from me" she sings. The bubble pop single is a mix of bass and guitar instrumental, paired with a catchy horn sound, creating intense energy, fit for a summer adventure. With "POP!," Nayeon exhibits her charm, displaying her abilities as a vocalist while playing with the idea that these feelings of longing can pop like a bubble.
Alongside the album came the music video for "POP!." In true Nayeon form, the video shows different versions of the singer, exploring her versatility as a performer. Matching the track's compelling energy, she dives into a wide range of ideas throughout the video: signing albums, dancing at a diner, and later performing on a big stage.
Exploring The Concept Of Love and Freedom
With tracks such as "NO PROBLEM" and "LOVE COUNTDOWN," Nayeon narrates what it feels like to fall deeply in love and wish for that person to stay by your side. The disco-pop track "NO PROBLEM," featuring labelmate Stray Kids rapper, Felix, is a fresh take on what it means to be in love, expressing that love has no boundaries or complications. In the all-English lyrics, the pair sings about the irreplaceable emotions of being in a relationship, confessing that together "there ain't no problem for love."
While "NO PROBLEM" portrays love with an energetic and catchy beat, "LOVE COUNTDOWN" featuring soloist Wonstein, uses a low rhythm mixed with a drum sound to explore the idea of waiting for your lover to be ready to remain next to you. As the song unfolds, Nayeon and Wonstein share their points of view on their relationship, expressing each reason to be together. Once the last chorus comes in, the duo's voices blend beautifully. The singers wonder whether they are ready to be in a relationship, "Tell me, do you wanna be my lover? (Ah, my lover) / Are you ready to be mine? You need to hurry up." Both Nayeon and Wonstein took part in writing the lyrics alongside earattack, Ronnie Icon, Willemijn May, and Eniac.
Following "LOVE COUNTDOWN" is "CANDYFLOSS," which was written by Jade Thirlwall from Little Mix, alongside George Tizzard, Rick Parkhouse, and 심은지 (Sim Eunjee). The track mixes bright pop with an upbeat instrumental, and the energic beat combined with Nayeon's sweet vocal color create a tropical atmosphere. These give listeners a sense of walking down the beach on a summer day. The fresh lyrics allude to the idea of candyfloss melting in your mouth to embody the freedom of a breezy summer.
Diving Into Nayeon's World
The first half of the album explores different views of love and freedom, portraying a confident side of the singer. The second half, however, is all about Nayeon's journey as a musician. She's vulnerable and raw, opening up about her struggles, feelings, and the words she wants to tell herself. 
In "ALL OR NOTHING," Nayeon shares the worries she feels during gloomy and dark days. With a delicate melody and high vocals, the retro-pop track dives into the raw and mellow emotions of feeling stuck without the knowledge of what comes next. "Life can be a mess
I don't know what's next / Hold me tight as if I'm still lost / It's all or nothing, all or nothing," she sings. As the song progresses, Nayeon wonders about her own destination, offering the listener insight into her life. She narrates that those vulnerable emotions are part of the process, concluding that the love she receives is still there to protect her.
If "ALL OR NOTHING" expresses the sensitive side of Nayeon, the sixth track of the album, "HAPPY BIRTHDAY TO YOU," is a letter to herself. The track is an R&B genre with a lo-fi melody and low vocals. Written and produced by e.one, the song recognizes the importance of enjoying your unique birth date. Nayeon sings about letting go of her worries on this special day, telling the listener that each birthday is an opportunity to make new memories. "In each other's memories / Let's engrave it like today / Let's take it out like today, remember today / Happy birthday to you," she sings. 
IM NAYEON closes with a softer tone with the track "SUNSET." With an elegant piano instrumental and calm melody, the melancholic ballad is delicate and highlights Nayeon's honey-like vocals, setting the single apart from the rest of the album. In the lyrics, she addresses the bittersweet feelings of a relationship, using the idea of a colorful sunset to describe that she wants to remember the positive memories from her partner instead of the negative emotions. "Shе's beautiful like sunset / Evеn if you lie, you're disappear / The memories come back at the same moment / I'm afraid of nights / But the sunset is so wonderful," she sings.
What's Next?
From touring the US with TWICE to breaking records alongside her bandmates with their latest group album Formula of Love: O+T=<3, Nayeon has showcased her versatility as an artist with every group release since their 2015 debut. With IM NAYEON, she became the first member to release a solo album, taking the chance to explore a new side of herself as a musician and performer. Although it remains unknown whether another project from Nayeon is coming soon, it's safe to say that fans are eager to see what comes next from the singer.
You can listen to IM NAYEON on Spotify or Apple Music!
Want to read more about K-pop's latest releases? Read all about LOONA's new album here!