In only two-and-a-half years since their debut, VERIVERY have already established themselves as capable and versatile artists. From competing musically to self-producing their own show, their many activities have solidified the meaning uniting the group. VERIVERY's name comes from the Latin word "veri," meaning truth, and is combined with the English word "very."
As they prepared for their August 23 music video drop, "Trigger," EnVi sat down with the seven members to dig deeper into their latest release, their stories, and themselves.
On Zoom, the screen gave way to a flash of light: VERIVERY wore clean, white suits and were all smiles. They sat next to one another in a perfect row: Gyehyeon, Dongheon, Minchan, Yongseung, Kangmin, Yeonho, and Hoyoung. Yet, their intimidating aura was quickly balanced by their enthusiastic warmth—it simply rippled through them.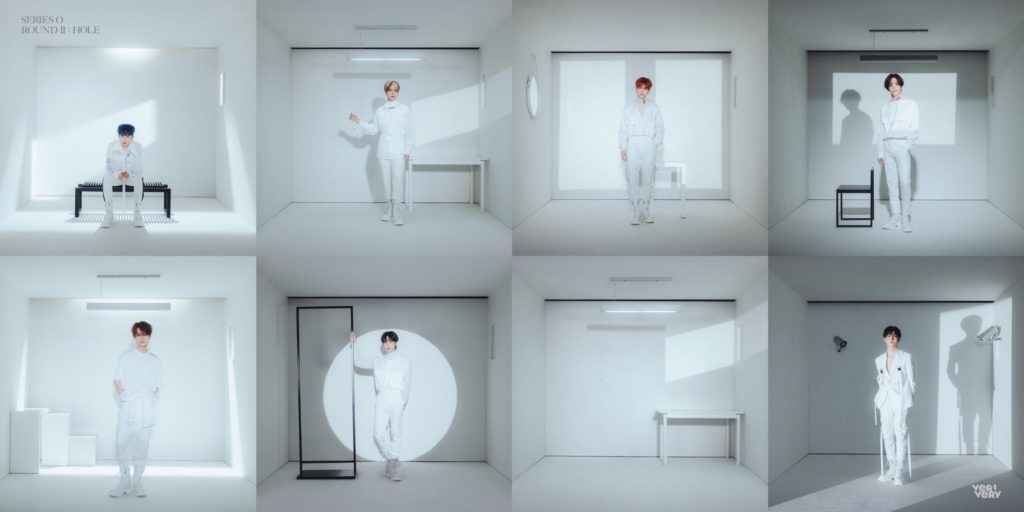 STEPPING INTO THE DARKNESS
"Trigger" is the title song of their latest EP, SERIES 'O' ROUND 2: HOLE. This will be the seven-member group's sixth EP and the sequel to their March release, Series 'O' Round 1: HALL.
For Minchan, this is his first comeback since his hiatus, and he smoothly started off the interview. He explained this album's concept and how, in the last album, VERIVERY was divided by an unknown person who they didn't want to face. This led VERIVERY to become immersed in their own space and darkness, bringing forth HOLE.
This EP has four songs, "Trigger," "Underdog," "Prom," and "Heart Attack," that weave listeners further into their inky universe. Series 'O', is in fact an extension of the FACE it trilogy, which introduced the members by peering into their "countless images within me." Introspective and reflective, VERIVERY have solidified themselves as adept storytellers.
The concept's fixation on 'O' is due to its multiple possible meanings, whether it is eyes, dots, or infinities. In this album series, they are discovering the "dark inner space" they each possess. Their mysterious, yet powerful, presence is made clear. At the same time, there is also a certain lightness.
Whether it is self-producing their own music video or their show, VERIVERY Land, the group makes an effort to take the lead in their activities. This album is no exception. "The music producing team in our members, our four members here—they've been making loads of music, like over 20 things, and they actually put one song," Hoyoung explained in a darling Kiwi accent, as he gestured to Dongheon, Gyehyeon, Yeonho, and Yongseung.
That specific song is "Prom," inspired by American proms and aims to be an uplifting track to transcend our current circumstances. His members whooped as he finished, proud of their collective efforts. Dongheon added on, "even now with COVID, we've seen a lot of videos about proms from foreigners. However, these days, parties, home parties, or even meeting people isn't easy to do, so with that meaning, I hope that fans can have this warm hearted song."
When asked about what else the new album will bring, Yeonho confidently responded, "Until now, we have done many good concepts, but I'm sure this concept is the best because this time fans can expect the visuals of our members." This elicited a chuckle from his members. "And you can also expect hip-hop in the album."
OPENING UP WITH VERIVERY
In addition to working on their own music, VERIVERY often covers different artists, like Olivia Rodrigo, Ariana Grande, Troye Sivan, and Baek Yerin, to name a few. Familiar tunes are refreshed by their voices, but as for VERIVERY's own past song they feel best represents themselves, Hoyoung said, "We want a lot of people to cover our debut song."
They debuted in 2019 with the song "불러줘 (Ring Ring Ring)," and, in Hoyoung's words, "it actually shows who we are like the most, because we're really energetic and bright.'"
Whether it is the playful "Tag Tag Tag" or the haunting "Thunder," this attitude enables VERIVERY to approach and ace any concept with ease. "I think [our] strength as a group is showing a lot of concepts in our album in our love songs, so that wasn't a big issue for us," Hoyoung said.
Known as one of the most synchronized groups today, VERIVERY are constantly working on their performance. However, they do not neglect time for themselves. "We've been spending time on practicing, improving dance or vocal skills. And also, because of COVID-19, we've been staying at home doing a lot of cooking and watching Olympics together. Yeah, that's all we did," Hoyoung nodded, looking towards his members for consensus.
When asked about a specific meal or sport, they took some time to think before Hoyoung responded, "For dinner, Min Chan made seaweed soup, and he puts a lot of meat inside—that's our secret! And for the Olympics, we watch archery. We watch swimming, volleyball, and soccer." Of all these activities, they want to try out archery the most.
As for new or continued hobbies during their downtime, they're truly just like anyone else. "There haven't really been new or different hobbies for me, but I've always been watching a lot of Korean variety shows and dramas," Yeonho said.
"And for me, I've been bowling a lot with Yongseung!" Minchan also added. One thing is for sure: "work hard, play hard" rings true for VERIVERY.
ONWARDS THEY HEAD
So what's next for VERIVERY? Although this year has presented many challenges, they've understood how much their fans have supported them and hope to return that very same energy.
"We had a long break for the first time in our debut, for five months, I think. And, in those times, we want to thank our fans for continuously sending us big love and support, and how they keep waiting for us, for our new album. We want to show good performance for his album and we hope you guys look forward to our new album. I love you guys," Hoyoung told EnVi, and his member quickly echoed his last phrase.
"Thinking about it, even though our fans are far away, because they are always by our side cheering us on, we receive a lot of strength. As much as your support gives us strength, we will return it to you guys unconditionally," Minchan said.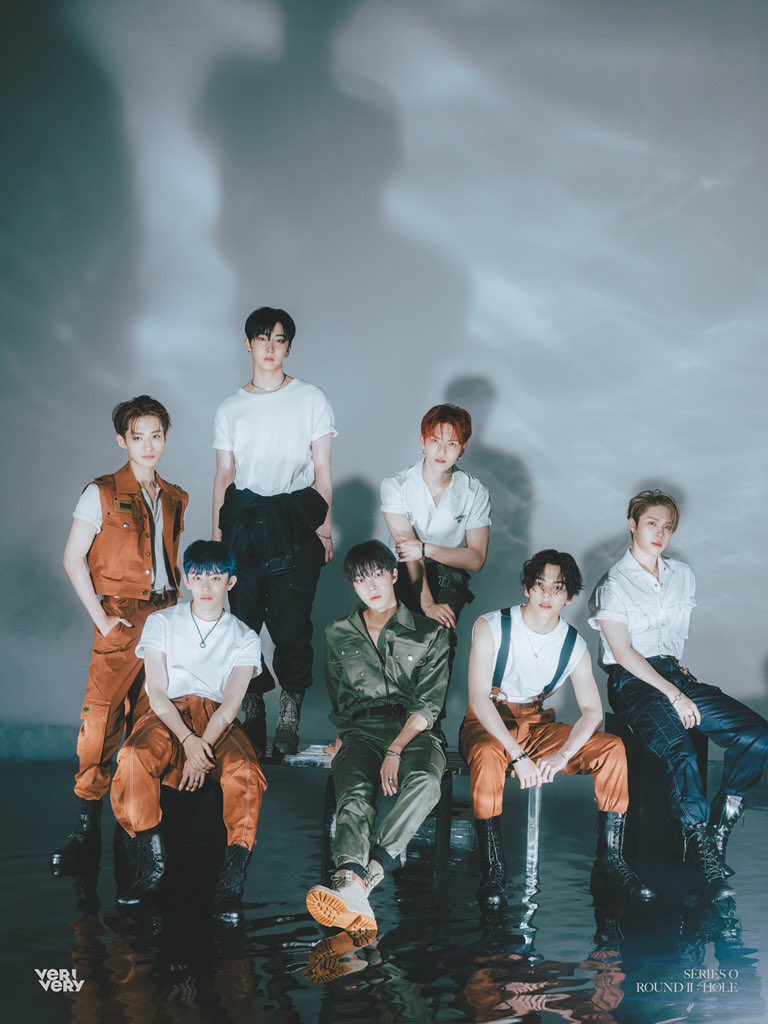 "We hope that the fans can get energy through these hot summer days through this album and 'Trigger,'" Yeonho finished.
As for big goals, VERIVERY wants to sustain the moments their music creates for listeners and themselves. "Especially in New York K-Con, we did a cover of 24K Magic. And when we were performing that song, we had a lot of audience singing along, so that certainly felt like we had actually done something," Hoyoung said, his members nodding in agreement.
Still, VERIVERY remains humble. Their past successes do not eclipse their continued passion, and only further reinforces their dedication to the band and one another.
"I think our goal that we talked about was, like you said earlier, being together for a long time, and also coming first in… anything?" Hoyoung said carefully. "We haven't been first on a music program, so that is our goal." He paused, listening to Dongheon's quip before translating.
"And Dongheon said he wants to be in Billboard's top ten—ah, top 100."
Stream "Trigger" and the EP on Spotify, Apple Music, and Youtube!
Thumbnail courtesy of Mal.