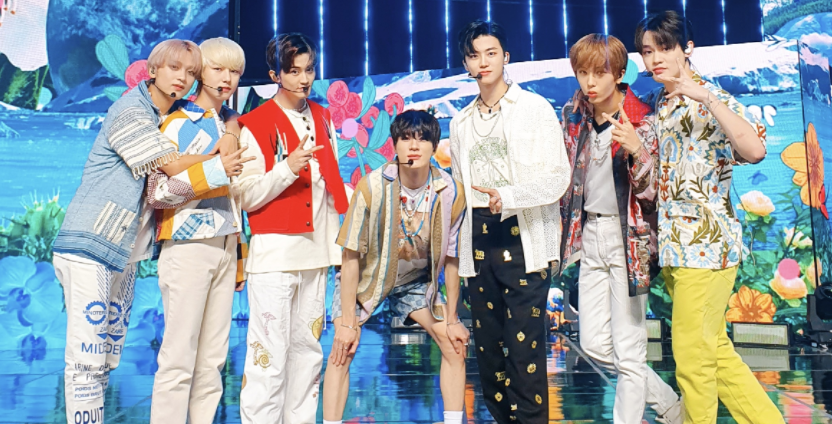 For some, five years may seem like a long time, for others, it passes like nothing. For NCTzens, five years brings on a nostalgic wave of emotions. Fans witnessed NCT DREAM go from bright, young schoolboys with tons of "Chewing Gum" to mature men ready to take on the future. From voice cracks and first wins, to lineup changes and injuries, fans of NCT DREAM have truly stayed with the septet through thick and thin. 
Five years of change came to an end in 2021 after the group had their first comeback to feature their original lineup since 2018. Not only was the release of their first full-length album 맛 (Hot Sauce) symbolic for the subunit's resilience, but it was also a sign of their growth as artists. NCT DREAM sold over three million copies of their full album, and have since broken several records and topped a plethora of charts. On August 25, NCT DREAM took time to commemorate their five years together alongside fans with their summer-themed fanmeeting, "HOT! SUMMER DREAM."
Inviting Fans on An Exclusive Summer Getaway
NCT DREAM opened the "HOT! SUMMER DREAM" fanmeeting with a video, wearing the white and blue suits from teasers posted ahead of the fan meeting. NCT DREAM had teased the summery yet sophisticated theme of the event in short clips where they played music, prepared cake, and popped bottles, inviting fans to enjoy a summer night together. Some of the footage in the teasers were shown during the opening video.
The VCR led into "BOOM" — a song initially performed with NCT DREAM's six-member lineup following Mark's graduation from the group in 2018. The new version of "BOOM" was introduced during their recent album promotions and had modifications to include Mark, who was reinstated in an official announcement last year in April. Later in the fanmeeting, the host Jaejae, an entertainer who has recently become a regular host at NCT events, shared that the song was a fan favorite.
Once the members settled, the fun began. After brief member introductions and a surprise cake for the occasion, the members got the chance to discuss some of their favorite tracks, including "Rainbow," "맛(Hot Sauce)," "Boom," and 2017 FIFA U-20 World Cup track, "Trigger the Fever." 
Chenle was adamant about letting the audience know that his favorite song was "Rainbow." Chenle's unofficial son and leader of the group, Mark, chimed in adding that the song is special since the members helped write the song and Chenle loves it. When NCT DREAM discussed "맛(Hot Sauce)," all seven members expressed their gratitude for fans' support with a heart relay, thanking fans for the 2 million album sale milestone that fans accomplished in 16 days. 
The next segment was the "Memory Drawing Contest." The group created drawings before the live broadcast and shared them with fans on LYSN to vote on. The drawings were judged by NCT DREAM, staff, experts, and NCTzens. While most members chose to draw NCT DREAM before a sea of NCTzens, youngest member Jisung drew a stick figure of himself with protruding arm muscles flexed, illustrating how fans give him energy.
The winner of staff pick and NCTzen pick went to Jaemin, whose drawing showed an airplane in the clouds with three different stages— a representation of their world tour. The expert pick went to Renjun's drawing which featured a three-dimensional stage and dance formation. Jeno joked that the figure whose formation was slightly off in Renjun's drawing represented Chenle, to which the latter laughed. In a comical turn of events, the winner of NCT DREAM pick went to Chenle, who shared he voted for himself in addition to the vote he got from Jisung.
???❤️????#NCTDREAM #NCT#HOT_SUMMER_DREAM pic.twitter.com/yisAaLomOo

— NCT DREAM (@NCTsmtown_DREAM) August 25, 2021
Celebrating With A Game Night
The transition between the listening party and drawing contest and the next part was a short "Rocket" video clip of the group chilling in a water-less pool. Next, the septet performed "Deja Vu"— their first song to feature the original lineup, released during NCT 2020 promotions. Switching from suits to street clothes, NCT DREAM performed the nostalgic track for the first time as seven members, unable to do so in 2020 due to Jisung's injury.
The next segment was called "NCT DREAM Arcade," where the members had to pass three game challenges to get their anniversary gift. The first game was "Photo Relay Game," a guessing game where members had to recall the names of objects in photos. The members breezed through the game for the most part and moved onto the "Playdoh Quiz Relay." Six members had to create an object out of Playdoh and one had to guess what the creation represented. NCT DREAM strategically sent out Haechan, known for his wits, to guess. The group frantically created a whale out of clay and Haechan correctly guessed it represented their b-side track "Dive Into You." The members played an extra round for fun, sending Chenle out to guess and joking that it would be "Rainbow" for him. The last game was the "Hula Hoop Train" where NCT DREAM had to pass three hula hoops through all seven members while holding hands. They accomplished this, receiving the last pieces of the code for the prize box.
The members learned the code was ND825, an abbreviated version of NCT DREAM August 25, their anniversary date. This made Chenle laugh, who had previously joked this was the code at the start of the arcade segment. Inside the prize box were seven backpacks with straps made of Haribo Gummy Bears and bags made of other Korean snacks. The members posed happily with their backpacks adorning silly glasses, animal headbands, and flower crowns.
Bringing the Party To Fans 
NCT DREAM followed up the games with more performances. They performed the songs "ANL" and "Life Is Still Going On" — songs they teased in a special live clip they dropped on August 18— the fifth anniversary of NCT DREAM's debut announcement. NCT DREAM rapper Jeno shared with fans on LYSN's bubble messaging app that the spoiler was the "mood maker" Haechan's idea. NCT DREAM performed "ANL" on white couches with clouds in the background and "Life Is Still Going On" in a summery set with pool chairs, floaties, and virtual fireworks. 
The next video clip was a collection of behind-the-scenes footage of their preparations for the fanmeeting to their track "7 Days," and a performance of their hit song "맛(Hot Sauce)." After changing into new, patterned outfits, NCT DREAM danced to the spicy track surrounded by red lights, virtual palm trees, and a desert scape. 
Goodbye HOT! SUMMER DREAM, Hello Future
Marking the true ending of the "HOT! SUMMER DREAM," NCT DREAM gave fans their final goodbyes, thanking both the members and fans for their five years together. During his farewell, Haechan said, "It's like I've had a DREAM recently and we missed NCTzens. I am sad but grateful for NCTzens' love. Always stay healthy." Sure to lift the mood, Haechan swiftly added, "Let's have a party next time" with fun dance moves.
Following Haechan was Jisung, known for his sensitive nature, who members teased was going to cry. Jisung shared his excitement and nervousness performing "Deja Vu" for the first time. Jaemin reminded fans that August has two important dates: NCT DREAM's anniversary and his birthday. Jaemin also asked fans to remain healthy, not catch a cold, and always take care of themselves, true to his caring personality. After each member said their goodbye, Mark concluded the relay, reminding fans that "this is only the beginning." 
?✨???????✨?#NCTDREAM #NCT#HOT_SUMMER_DREAM pic.twitter.com/NSx6cIOZJy

— NCT DREAM (@NCTsmtown_DREAM) August 25, 2021
As if on cue, NCT DREAM performed their most recent track "Hello Future." The stage had many vivid plants and backgrounds to fit the optimistic song and bright future NCT DREAM aim to have.
While 2021 might not have another NCT DREAM comeback, fans are looking forward to the NCT DREAM's future, ready to see the members shine in their projects moving forward as seven. Their recent accomplishments in just five years are only the beginning and fans are eager to see NCT DREAM grow in the coming years.
Want more NCT DREAM news? Check out our piece on their short live clip.
Thumbnail Courtesy of SM Entertainment