K-pop boy group DRIPPIN are back with their third mini album, Villain, and title track of the same name. The septet's return comes seven months after the bright single album, Free Pass. Transforming from a boyish image to bad boys, the new release sees them use superpowers to take on enemies and boldly declare their affection. With Villain, the group hopes to rise to new challenges in their sound and performances.
In an exclusive Zoom interview with EnVi, DRIPPIN sat down to discuss superpowers, taking on a darker concept, and how they have been preparing for the release.
On Superpowers and Villains
Hyeop, Yunseong, Changuk, Dongyun, Minseo, Junho, and Alex were all dressed in all-black leather and ripped jeans during the interview. The group, who debuted in 2020, consists of seven members. Six of them were participants in the Produce X 101 competition reality show. Their 2020 debut mini album, Boyager, was followed by A Better Tomorrow, the single album Free Pass, and their non-album single, "Vertigo" in 2021.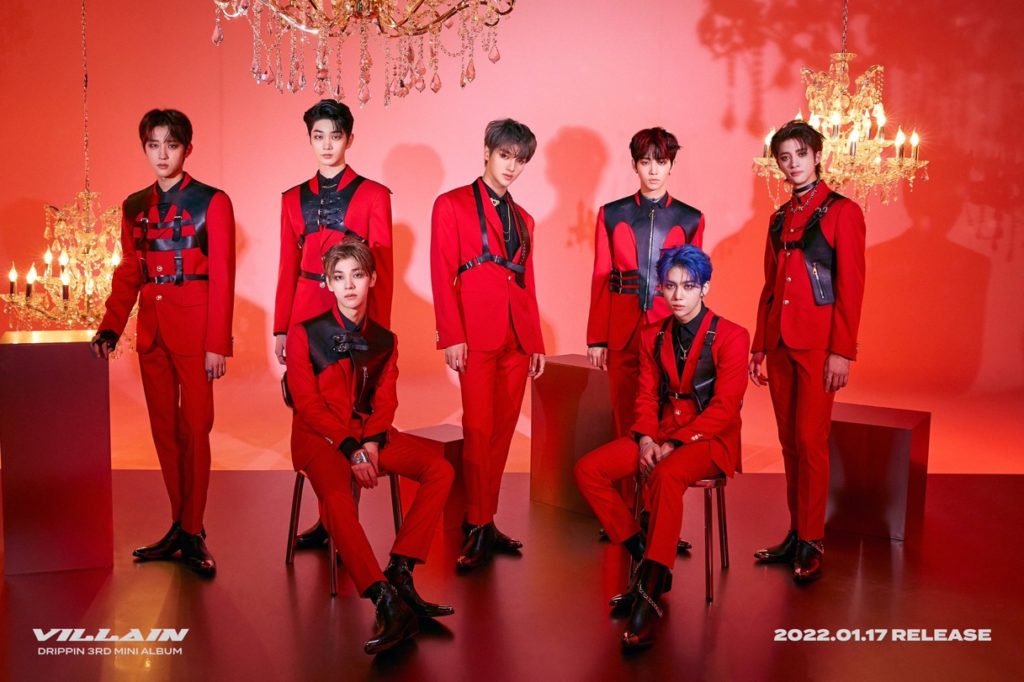 The conversation opened on the topic of villains and superpowers. For Minseo, his favorite villain came from his recent visit to the movie theater. "My favorite is the villain who uses electricity in Spiderman. The blue bald guy," he said, smiling, as he described Electro from Spider-Man: No Way Home.
When it comes to DRIPPIN's ideal superpowers, members were inspired by the individual member prolog clips, which set the story in the lead-up to the "Villain" music video. For Changuk, his ideal power would be time control, like his character. "I have the superpower of controlling gravity in the video." Dongyun answered, "I want to have that superpower." Hyeop gestured to Minseo, as he described how he would love to have his groupmate's power to control the weather depending on his mood.
Why So Serious?
The countdown to the comeback started in December, with an eerie teaser featuring ominous music and the messages "YOU ARE HACKED" and "WHY SO SERIOUS." According to the members, the title of the most serious member goes to Changuk. "Often, he's quiet," said Minseo, laughing as he turned to his groupmate. Donghyun added, "When it comes to giving feedback, he's very realistic." The members chuckled. As for the funniest in the group, it's leader Yunseong, who is good at doing impressions. When the youngest, Alex, turned towards him, Yunseong laughed, as if there were a private joke between them. "He adapts to make other people enjoy themselves," explained Hyeop.
New Frontiers
While DRIPPIN have not been able to meet international fans in person, they hosted their own "World Tour," in a YouTube series, where they learned about customs and cuisine in India and Indonesia. Minseo's most memorable discovery was coriander. "We don't really get to try those traditional foods [often]," he explained.
With "Villain," DRIPPIN are excited to meet fans new and old and show a side they have never seen before. "Fans usually think of us as quite cute," Dongyun told EnVi, "but I want to make them think, 'Oh, we can pull off this darker concept as well.'" Changuk described the new concept as a "180 flip" compared to the last mini-album, A Better Tomorrow, and was excited to see how fans would react. They anticipate this era marking a major step and transformation in their careers.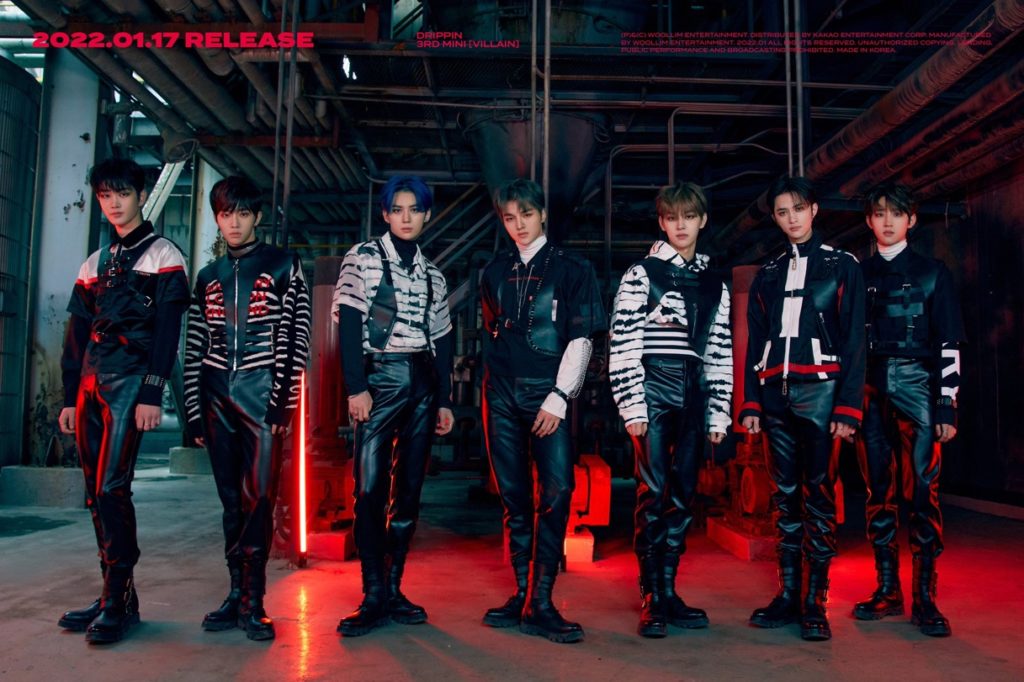 Villain Origin Stories
The "Villain" music video takes viewers on a thrilling adventure, as we see DRIPPIN bravely take on masked enemies with their abilities to control the weather, stop time, and talk to animals. The high-energy visuals flash between city skylines, fight scenes and smooth group choreography. Accompanied by a funky groove, the flirtatious lyrics tell the tale of an addictive romance. "I'm the villain villain villain / Baby I got the power / You're so dazzling it blinds me /I'll set your heart on fire again today," they sing during the chorus.
For the music video, they hope fans will enjoy the superpowers and storyline. "Rather than picking one scene," said Yunseong, "I want the fans to pay attention to the superpower that each member has." Hyeop added, "It will also be enjoyable when watching the music video if fans analyze the story and what kind of story is behind the music video."
The members also had a lot of fun behind the scenes. Junho shared a story of the special effects he had while filming the prolog, for his character's ability to control fire. "They actually had fire on the filming site," he told EnVi. "It was actually hotter than I thought. I was pretending it wasn't hot when I was acting."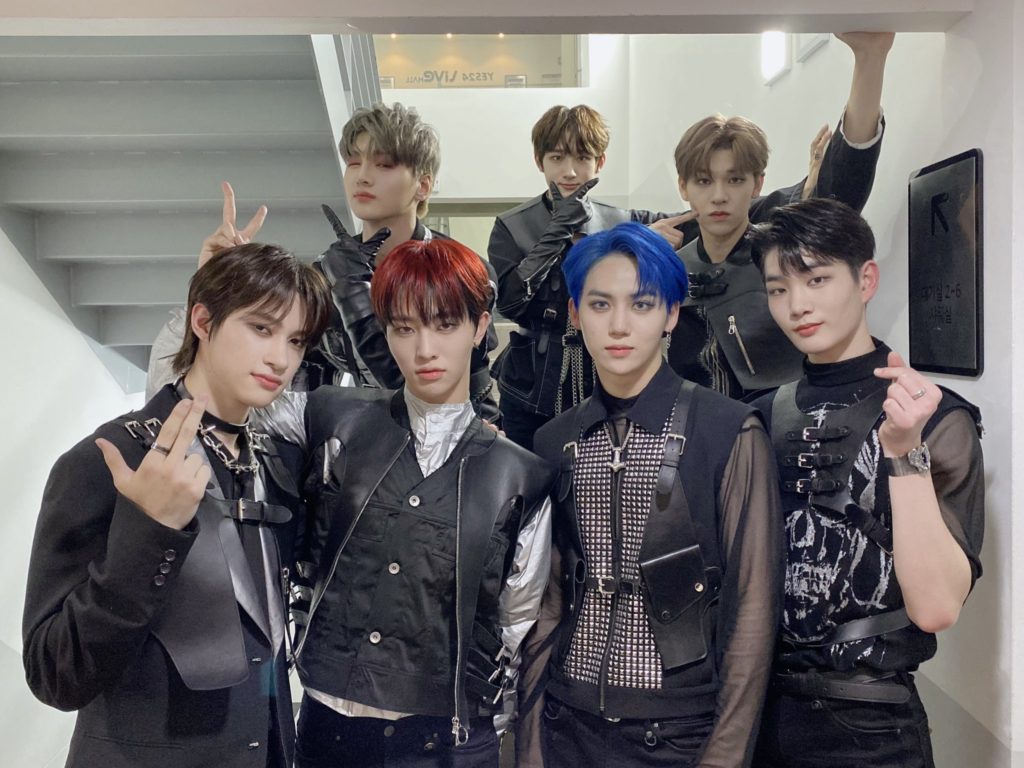 When it comes to the performance aspects of the comeback showcase, they revealed fans can look forward to the killing point. "In the choreography, we have a joker pose. That's the killing point," Changuk told EnVi, and was joined by other members in demonstrating with hand gestures. They also hope fans will enjoy the styling in the Villain era. "As we are wearing very cool clothes on the stage, I can't wait to see when we are dressed in cool clothing," Minseo excitedly shared.
DRIPPIN were also eager to share their favorite tracks of the album. Minseo's choice was "Delusion." "I'll never lose you in my heart" is repeated throughout the yearning love song. "I like the melody," he explained, "it really sticks out in your brain." The track explores a new sound for the group. "This is our first time doing a very atmospheric song," he added. Dongyun chose the final track, "Remember," as his favorite song from the mini-album. The tropical dance song captures the feeling of summertime adventures, as they repeat "remember, remember this love" throughout the track. "It's a really nice song to listen to when you're taking a drive or just going on a ride," he elaborated.
A Message for DREAMIN
As the interview drew to a close, DRIPPIN shared a message for DREAMIN, their fandom. "We hope everyone will really enjoy all the work we've put into this," shared Junho, "and will enjoy the style of music DRIPPIN is showing." They also hope fans will enjoy all the special projects they have planned surrounding the release. "I love you!" the members said in unison, as a closing message for their fans.
You can listen to DRIPPIN's third mini-album, Villain, on Spotify, Apple Music, and other streaming platforms. Remember to check out the "Villain" music video on YouTubeas well!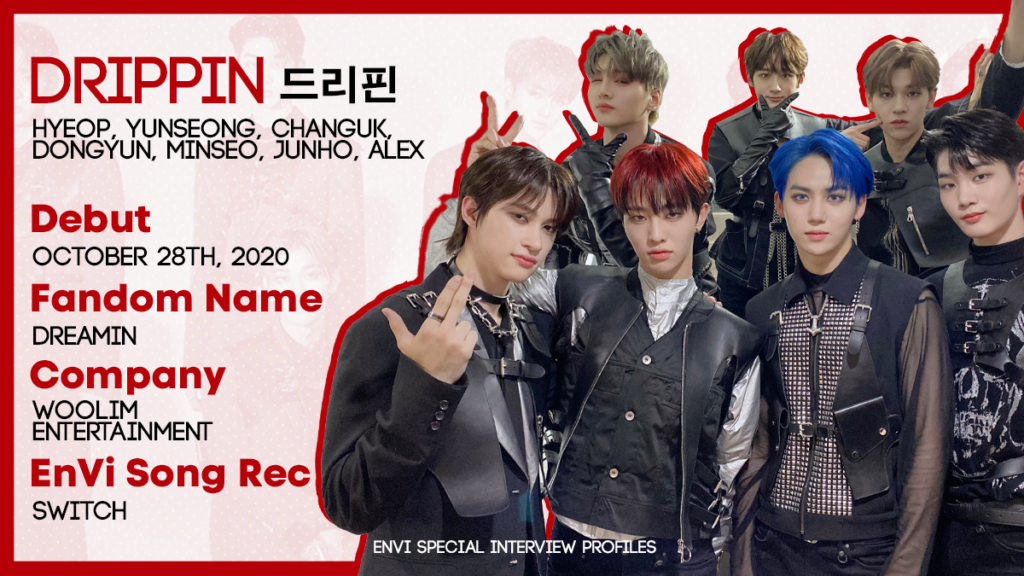 Want to get the inside scoop on your favorite artists? Check out our interview with the girl group NATURE here!
Global PR and Marketing by MJ TONZ Entertainment. Graphics by Rebeca. Translated by Jin.