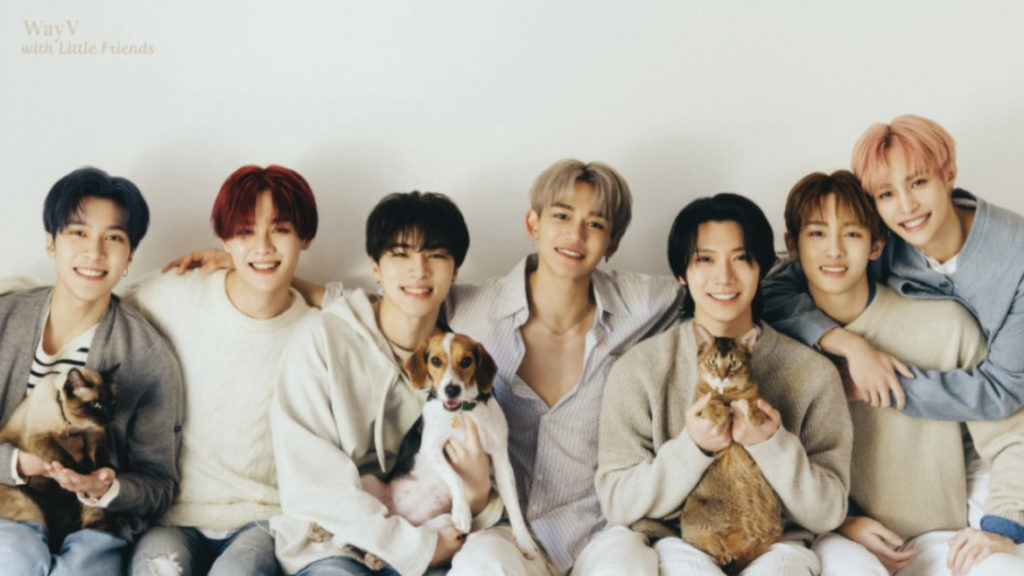 WayV may have moved out of their old dorm, but the members are domestic as ever. On June 9, the group released a teaser for "Our Home: WayV with Little Friends," their upcoming merch line. The stars? WayV's pets: Louis, a Siamese cat; Leon, an Abyssinian cat; and Bella, a Beagle.
The teaser, edited like the opening credits to a sitcom, shows the WayV members taking family portraits with their furry children. Bella gets doted on by members Lucas and Xiaojun, Louis hides from the photographers, and Leon wears matching glasses with cat parent, Ten. 
WayV 'Our Home : WayV with Little Friends' TEASER#WayV #WeiShenV #威神V pic.twitter.com/NyclPv0rS1

— WayV (@WayV_official) June 9, 2021
ten and leon SO CUTE IM GONNA CRY ? pic.twitter.com/bqc4bEWnwR

— ten pabo | pmnaked | low low (@tenpabo143) June 9, 2021
bella has the best dads pic.twitter.com/tVlaKlDQnX

— lucas pics #JALAPEÑO ?❤️‍? (@archivelucas) June 9, 2021
Little Drawings of Little Friends
The merch line, available for preorder on June 9 at 3 PM KST, comprises of T-shirts, a hardcover photobook (reminiscent of a family photo album), photocards, and more. A few of the items are printed with minimalist designs of the animals. Other pieces from the line, including keychains and a sticker set, use doodles hand-drawn by the members. 
each wayv member drew the 3 pets <3 pic.twitter.com/AuNFQPfhb5

— ً (@qiansceo) June 9, 2021
og wayv pet parents drew the keychains themselves thats so facking cute……. pic.twitter.com/Hr4Xa1o2jW

— ً (@lcsmark) June 9, 2021
NCT's Newest Members
Given NCT's concept, fans of the ever-expanding boy group were quick to joke about the 'debut' of the WayV pet line. Since the introduction of vocalist Chenle's dog Daegal in 2020, NCTzens have been making playful speculations about the formation of a fifth NCT subunit: NCT P, comprised solely of members' pets (of which there are many). 
Daegal dancing to Kick It

Louis dancing to 90s Love

Nct pets when? pic.twitter.com/NggcYCkcaQ

— ²⁶G (@dojaez) January 15, 2021
Some even went so far as to theorize about the role of Bella, Leon, and Louis in the SMCU. As SM's "Culture Universe," the SMCU plays off the idea of the Marvel Cinematic Universe, linking SM's artists through interconnected storylines.   
in the smcu i'd imagine leon/louis/bella as those pet companions who turn out to be sages in disguise or have alternate forms as gigantic majestic beasts if anyone so much as messes with their human(s)

— sum ? SHOP OPEN! (@scr0nchy) June 9, 2021
Who's Next?
After news of WayV's merch line dropped, fans began speculating which pets would be next. Previously, SM artists Sehun and Taeyeon have collaborated with Korean fashion brand SPAO to bring their own pet-themed clothing lines to life.
"my faves did this" "my faves did that" but did your faves made a merch for their babies slash pets?? because sehun and wayv DID THAT ? how to be vivi, bella, louis, and leon HOW pic.twitter.com/00oGIa9op9

— ???? ♡ stream dftf (@huniehyunie) June 9, 2021
Are we gonna expect daegal and taeyong's fish merch soon? https://t.co/OOQgeiMDzs

— Nanabati | buying ban? (@jaejaemilkeu) June 9, 2021
"OT10" 
WayV family ot10? pic.twitter.com/eqIDqYfRph

— bewith10 (@vventisette_) June 9, 2021
Since their February comeback, WayV members Lucas and Winwin have been participating in individual schedules in China. For many WayZenNi, it was heartwarming to see the entire WayV family—fondly referred to as "OT10," with the inclusion of the three pets—together again, even if just in this brief teaser. 
Want more WayV? Read our review of their latest album, Kick Back, here.
Thumbnail Courtesy of SM Entertainment