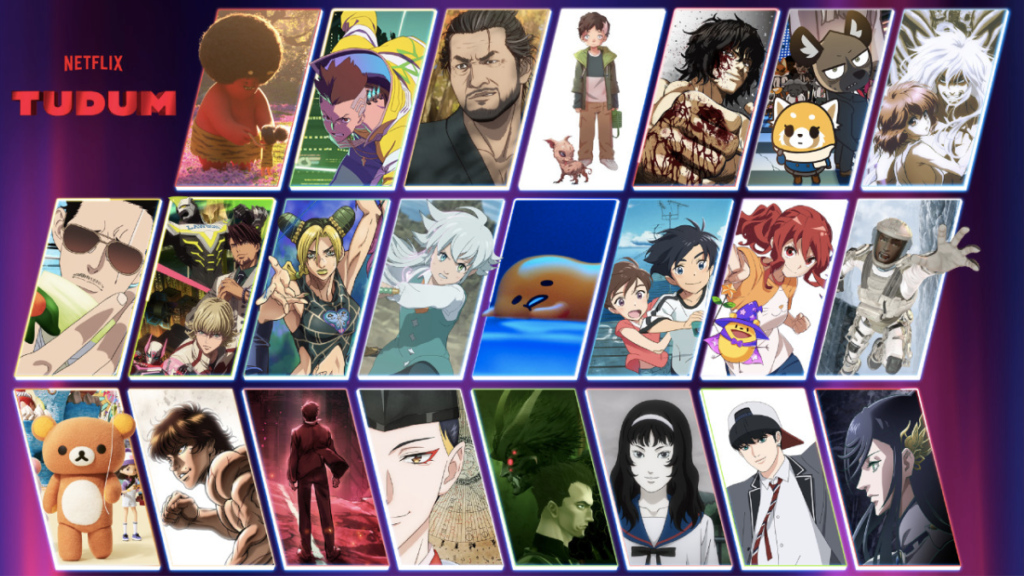 What is Netflix TUDUM?
Netflix TUDUM is Netflix's official companion site that focuses on fandom-centric content—exclusive sneak peeks, interviews, panels, and behind-the-scenes clips. TUDUM, whose name imitates the iconic Netflix intro, opened up a massive world of popular fan favorites to anticipated releases. Hosting the TUDUM: A Netflix Global Fan Event's virtual livestream, TUDUM celebrated international titles and entertainment visionaries. Streamed from September 23-25, 2022, the three-day livestream covered six regions—South Korea, India, North America, Europe, South America, and Japan. Adding more titles to the To Watch list, TUDUM did not disappoint in its latest reveal.
TUDUM Japan
Participating in TUDUM: A Netflix Global Fan Event, TUDUM Japan was the finale of the six regional events. Streamed on September 25, 2022, TUDUM Japan's three-hour livestream featured irresistible titles and figures that showcased Japan's high-impact forces, anime, and live action. Tearing up the virtual stage as international viewers tuned in from all over the world, TUDUM Japan covered every type of fan—music lovers, anime watchers, and live action viewers. With a grand reveal of Japan's international outreach, TUDUM Japan provided an insider's look into the latest Japanese content.
Opening Number: Hiroyuki Sawano Special Music Stage
Hiroyuki Sawano, Japanese composer and producer best known for his work in Attack on Titan, Blue Exorcist, Kill la Kill, and The Seven Deadly Sins, opened TUDUM Japan with a two-part special orchestral stage. Performing "Bubble" from Bubble and "Perfect Time" from The Seven Deadly Sins, Sawano set the tone as the pianist of each song. "Bubble" started off with an echoing piano that resonated throughout the brightly lit yet faded room, reflecting the post-apocalyptic eeriness of uninhabitable Tokyo in Bubble. Featured vocalists, Laco and mpi, shared the spotlight in "Perfect Time" as they sang the battle song of Meliodas, the main character of The Seven Deadly Sins. Playing a rock-inspired fiddle tune that screamed combat-ready, the orchestra charged the room with energy. With a passionate start to TUDUM Japan, Sawano musically led the way into the next fan-favorite segment, anime.
Anime Spotlight
TUDUM Japan featured a variety of clips from newly released anime works to upcoming releases. With various genres covering thriller, action, romance, comedy, drama, and fantasy, TUDUM Japan featured over twenty animated titles. With sneak peeks that leaped from one world to another, these stories brought back familiar faces alongside new ones.
Junji Ito Maniac: Japanese Tales of the Macabre
Known for his graphic horror art style and popular series Tomie, mangaka Junji Ito has officially stepped into the realm of anime with an upcoming release. Based on the popular manga series of the same name, Junji Ito Maniac: Japanese Tales of the Macabre, the upcoming anime adaptation features twenty stories from the collection. Netflix also shared four stories that are soon to be adapted—The Hanging Balloons, Tomie, The Room With Four Walls, and Intruder. Junji Ito Maniac: Japanese Tales of the Macabre will be streamed exclusively on Netflix starting from January 19, 2023, as horror and Ito fans unite to witness horror coming to life. 
Tiger & Bunny 2 Part 2
In a world where superhero status is based on how many civilians you can save, the numbers game is ingrained into the superhero system. Superhero and superhero-in-training reluctantly team up in Tiger & Bunny, fighting off villains to rack up points for celebrity status. Sequel to the original Tiger & Bunny released in 2011, Tiger & Bunny 2 Part 1 released thirteen episodes on April 8, 2022. Following up on the story in Season 2 Part 1, Part 2 is set to release the last twelve episodes on October 7, 2022. Part 2 concludes the second season of the intricate relationship between mentor and rookie and the non-glamorous life of a superhero. Fan favorite duo Wild Tiger and Barnaby Brooks Jr. make a comeback with a focus on "what it means to be a hero."
Gudetama: An Eggcellent Adventure
"Life is about being swept along." Swept along on an escapade, Gudetama, the famous lazy egg, makes its acting debut in a live action film. Plunged deep into the dangers of living outside of the refrigerator, Gudetama's chick sibling, Shakipiyo, insists on finding their mother. After all, they had to come from somewhere. It's just about finding the right hen. Featuring popular actors, Akiyoshi Nakao, Serena Motola, and Sarutoki Minagawa, Gudetama: An Eggcellent Adventure offers a light-hearted story that premieres on December 13, 2022.
The Way of the Househusband Season 2
With a deep-set face, tattoo-covered body, a scar running down one eye, and permanently tinted sunglasses, Tatsu looks like the typical yakuza boss. Well, he was a yakuza boss until he retired and decided to live his best life as a househusband. Who says the yakuza can't cook? Cooking bento boxes with cute animals and cleaning up the house with the latest Roomba for his working career wife, Tatsu promised to leave the yakuza life behind. He can't help that the yakuza life seems to follow him. After the success of Season 1, which premiered from April to October 2021, The Way of the Househusband Season 2 is set to premiere in January 2023. 
Lookism
Popular LINE Manga and Naver Webtoon series, Lookism, has been confirmed to have an anime adaptation by Studio Mir and is set to premiere on November 4, 2022. Embodying the concept of pretty privilege, Lookism follows Daniel Park in an overnight transformation into a hotter version of himself. Problems arise when he has to live a double life, switching between his unpopular body and his popular body. Getting treatment that vastly differs per body, Park's high school life just got more complicated as he tries to navigate his new lives. Already gaining interest amongst webtoon readers and K-pop fans, ATEEZ, popular K-pop boy group, have been confirmed to sing the OST of the upcoming anime.
Japan Live Action Lineup
Alice in Borderland Season 2
Hit survival drama, Alice in Borderland, has made international waves as it made Netflix's Top 10 list in 70 countries. With "more action… [and a] kind of immersion [that makes] it different than season one," Director Shinsuke Sato seems to suggest a more intense game and thrilling tone in Alice in Borderland Season 2. Playing protagonist Ryōhei Arisu, actor Kento Yamazaki also notes the "large-scale" scenes that Alice in Borderland brings in its newest season. Alongside fans, he looks forward to the final production set to premiere on December 22, 2022. Players, trapped in a game arena, are forced to partake in a game of life or death where a deck of cards determines your chances. With different sets of games attached to certain cards, losing a game in Alice in Borderland means elimination. A fast track to certain death. Let's see who can make it out alive. 
LiSA Another Great Day
LiSA, a singer-songwriter known for her songs in hit anime such as Demon Slayer and My Hero Academia, recently celebrated her tenth anniversary in 2021. In a documentary film that promises to "capture the true face of LiSA" outside of her celebrity personality, LiSA Another Great Day centers on her behind-the-scenes life. Focusing on the human behind the mic who struggles like the rest of us, the documentary reveals a side of LiSA that doesn't have her mic in hand. In a mixture of interviews and vlogging, LiSA Another Great Day reveals the day-to-day agenda behind a true fan favorite. 
For more TUDUM Japan content, check out their Youtube channel.
Interested in more ACT!ON content? Read our breakdown of Studio Ghibli merchandise here!