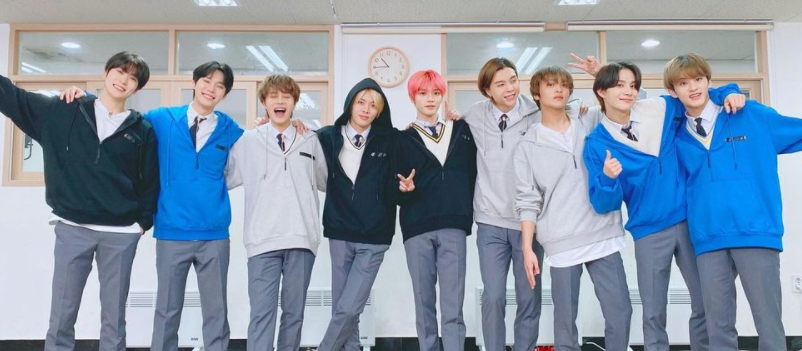 In time for the start of the 2021 school year, SM Entertainment boy group NCT 127 launched their own school-themed project called "Neo Culture Institute of Technology (NCIT)," marking the start of a new comeback era. The nine-member boy group had their last Korean comeback last year in March with their million-selling album Neozone and hit song "Kick It." 2021 marks their fifth year as a unit, and now the birth of their third full-length album.
Opening the Neo Culture Institute of Technology
The first teasers came out on August 20 at 8:35 AM KST, when NCT 127 changed the layout of their official Instagram account to reflect the NCIT theme, which draws inspiration from Massachusetts Institute of Technology (MIT). In a similar fashion to NCT Dream's "Cafe 7 Dream" and Red Velvet's "Queens Mystic General Store," NCT 127 changed their profile picture to their college-inspired font logo as well as their highlights with school-related emojis. Their biography was changed to "NCDC: NCIT Coding Crew ?NEO Culture Institute of Technology," indicating that the members are computing experts— ironic considering NCT 127's infamous yet comical struggles with technology.
210820 – The official NCT 127 have updated their layout including their bio, story highlights, and profile picture. #JOHNNY #쟈니 #ジャニー #NCT127 pic.twitter.com/CC7in1u3Ag

— johnny pics¹²⁷ (@suhjohnnypic) August 19, 2021
The NCT 127 Instagram account also posted stories, showing off their trip to school, their class schedule, and photos of the NCT 127 members at the institute. The account surprised fans by sharing NCT 127 member Jungwoo's personal Instagram. The NCT 127 account also unveiled Haechan's new Instagram by following him. In true neo fashion, both Jungwoo and Haechan surpassed 1 million followers in less than five hours after their accounts went public.
NEO CULTURE INSTITUTE OF TECHNOLOGY ?? on the way to school ??? NCT 127 going back to school concept ? ?? pic.twitter.com/UKQfoXjEBT

— Me! ? ㅁㄷ (@meblue06) August 19, 2021
NCT 127 As College Students
The NCT 127 members subsequently began changing their Instagram profile pictures and biographies to follow the theme of this week's promotional content. Each member shared their graduation year in their biography as well as their concentration.
nct 127 and their matching ig bios pic.twitter.com/YZp7aIDe06

— ⁷ᵈ (@jchngmins) August 20, 2021
Fans were quick to pick up on the changes, and thus NCity erupted into flames. 
Excitement for the Drop
After the surprise, NCTzens responded to the sudden influx of content with enthusiasm and anticipation for what is to come. 
OMG NCT 127 HAS FINALLY CHANGED THEIR LAYOUT ON IG ??? THEY ARE REALLY COMING BACK FOR REAL pic.twitter.com/Or6fHDZU7P

— lyn ᵔᴥᵔ (@haechanprints) August 19, 2021
the whole ncity right now celebrating for nct 127 layout on insta, jungwoo and haechan's ig acc pic.twitter.com/0vMrNFUXwU

— rhiz ? (@taeyongbaek) August 20, 2021
IMAGINE 127 DROPS CLOTHING MERCH WITH THE NCIT LOGO ON IT LIKE THOSE SUPER CUTE COLLEGE SWEATERS??? PLZ SM IM BEGGING pic.twitter.com/Xoba3Eu1ND

— chi ! ?? (@bffyuno) August 19, 2021
Theories
Fans were quick to put on their detective hats and share theories. 
during the fanmeeting for 127's 5th anniversary, they gave a spoilers about the title – english title, 3 characters/letters, ends in 3. haechan also said something among the lines of "they are very stuck/close together"

so op is suspecting the title song will be called "sticker" https://t.co/AIYtGFEmwj

— ? (@plantsprout) August 20, 2021
"what if æ gets hacked?" i'm looking at this lil coding crew ?? pic.twitter.com/50DEhAsIOF

— #ERROR127 Jazz⁷⁷₁₂₇ (@jaesleftdimple) August 20, 2021
i just got goosebumps wtf the guy behind the computer giving cues to ningning is literally doing some coding shit pic.twitter.com/bozasoJl2Y

— bie ? (@yunotized) August 20, 2021
A Humorous Response
Others took this drop as a chance to create memes and share jokes. 
''NCT 127 CHANGED THEIR LAYOUT"
"JUNGWOO AND HAECHAN INSTAGRAM"

NCTZENS WHO JUST WOKE UP:pic.twitter.com/ysX3fcd8f5

— ysa ! NCIT (@R3NHYUCKHEl) August 20, 2021
guys look who they brought out for the freshers event at ncit pic.twitter.com/2VMrc9dMFU

— sihle: the reup (@fruitsmags) August 19, 2021
Did the Y cost money pic.twitter.com/YiM34to3l0

— Pentatonix's #1 Hater (@SONATlNE) August 19, 2021
just moved into my dorm at the neo culture institute of technology, what the hell is this ? pic.twitter.com/FXAFpbOn9S

— chi ! ?? (@bffyuno) August 20, 2021
"Guys please finish your part of the project by Wednesday so I have enough time to go through it and submit it on Friday thank you and happy holidays xx" pic.twitter.com/UDxtumTXzm

— V?127 ARE BACK (@longfIighty) August 20, 2021
2021, The Year of NCT 
While the group NCT 127 has been dormant for a good portion of the year, that does not mean that they have been inactive. In February, the group released their second Japanese EP, Loveholic. In March, NCT 127 made it to the United States television with a feature on Daily Show with Trevor Noah Presents: Remotely Educational. Fast forward to June, NCT 127 dropped their "Save" collaboration song with Samsung and Amoeba Culture. NCT 127 also modeled in magazines such as Elle Men Japan and Men's Non-no, and recorded Analog Trip Season 2 and NCT Life in Gapyeong.
In between group activities and brand gigs, the members have had individual projects in dramas, modeling, and more. Taeyong opened his SoundCloud in April. Doyoung made his acting debut in The Curious Stalker and starred in the musical "Marie Antoinette." Mark and Haechan promoted their first full-length album with NCT Dream, becoming triple million sellers with 맛(Hot Sauce) and breaking YouTube records. Taeil shared a duet with the singer Moon Soojin and worked on a collaboration project to honor the legendary singer Kim Min-ki. Taeil also became a Guinness World Record holder, becoming the fastest account on Instagram to hit 1 million followers. 
This year Yuta became a permanent DJ for his radio show YUTA at Home and joined a campaign for Vogue Japan. Jaehyun retired from his role as an Inkigayo host; however, he has been in the public eye for being a guest at Prada's Spring/Summer 2022 collection showcase. Johnny has been consistently creating content for his YouTube series Johnny's Communication Center. In June, Johnny also joined the Live Together campaign to combat the surge of Asian hate crimes. In early August, Jungwoo became a host for the Korean music show Music Core. 
There are still four more months left of 2021 and this list is not even a comprehensive list of everything NCT 127 members have done. If there was a phrase to capture NCT 127's year, it would be "booked and busy."
Anticipation for the September Comeback
While not much is known about the content that is to come with this coding and university concept, NCT 127 will surely raise hype for their upcoming September comeback. This comeback is their third full-length album in Korean. 
On August 24 at 8 PM KST, NCT 127 will be hosting a Vlive broadcast, where they will be revealing album details and answering fan questions regarding the upcoming comeback. Fans can submit questions on Naver. 
Want more NCT 127 news? Check out our piece on their 5th anniversary here.