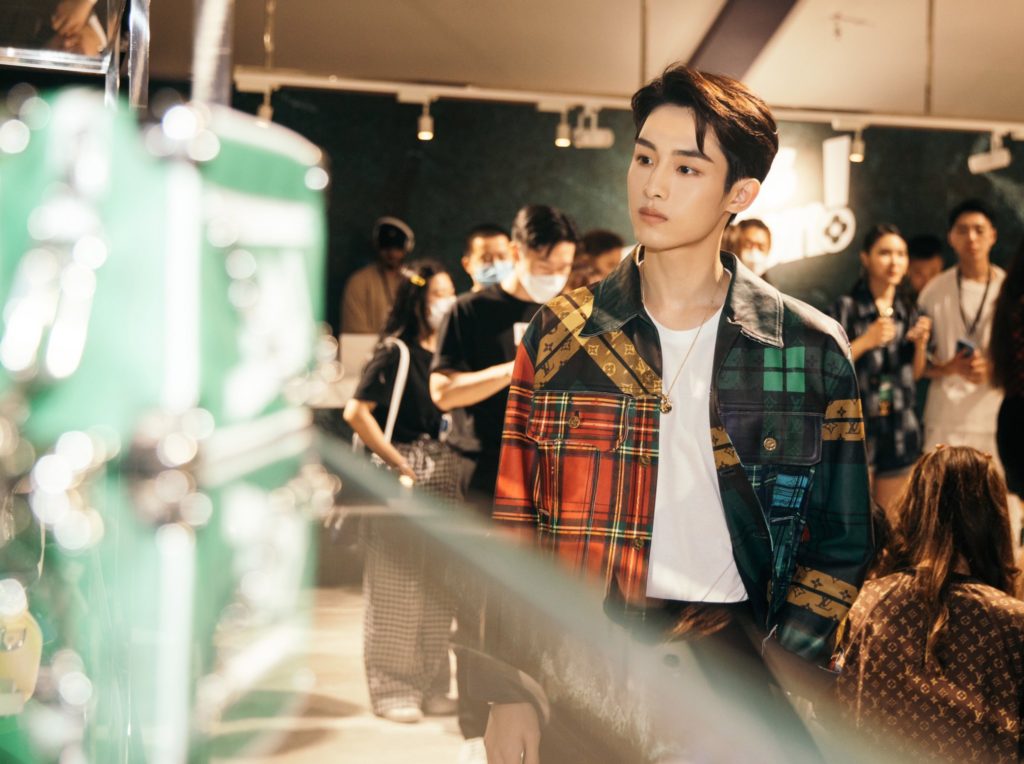 As part of the "Zoooom with Friends" series, Louis Vuitton opened up a limited-time space in Shanghai. Located in the Jing An Kerry Centre, the pop-up store was inaugurated on July 8, with the presence of Chinese stars including Kris Wu, official brand ambassador, and NCT/WayV's WinWin.
腾讯时尚 Update with #WINWIN#WINWINxLouisVuitton pic.twitter.com/mqkWggx3H7

— ً (@wwgalIery) July 9, 2021
Louis Vuitton's "Ebonics"
Last January, Virgil Abloh, Artistic Director of Louis Vuitton's menswear, presented the Fall/Winter 2021 collection "Ebonics." Through a fashion film shot in the Swiss Alps and Paris, the designer explored societal norms and "unconscious biases." Additionally, Abloh paid homage to his Ghanian roots by introducing African-inspired draped wraps and kilts. The result was a selection of Ready-To-Wear where culture and art blended to showcase the refined, but contemporary style of a global citizen. "There are a lot of stories mixing cultures," Abloh said to Vogue back then. "And from that, a new language will be created."
View this post on Instagram
Zoooom With Friends Returns To China
With the Fall/Winter 2021 collection hitting the stores this week, Louis Vuitton has taken "Ebonics" on a tour. On July 7, the French house revealed a fashion runway video starring BTS and filmed in Seoul. A day later, the brand opened a pop-up store in Shanghai to display limited-edition garments, leather goods, and accessories that will be available for two weeks, starting July 9.
WinWin in Attendance
The exclusive opening of Louis Vuitton's pop-up space counted with the presence of Chinese superstars. Actors like Dylan Wang and Liu Haoran, the singer Justin Huang, and the multi-hyphenate Kris Wu showed up for the occasion. Wu, who is the official ambassador of the fashion powerhouse, also posed for promotional stills where he modeled the label's most recent collection.
Brand ambassador @KrisWu wearing 2021 FW collection 💚#KrisWu #WuYiFan #吴亦凡#KrisWuLouisVuitton #KrisWuLVmenFW21 #LVMenFW21 pic.twitter.com/3MQi3ZTv0U

— Ann Sin (@AnnSinSR) July 8, 2021
In addition, NCT's and WayV's member, WinWin, joined the fashionable group of celebrities in attendance. Wearing exclusive items straight from Louis Vuitton's runway, the singer stole the spotlight at his arrival and caused a frenzy when he took to social media to thank the French fashion house for the invitation. "Experienced brand new fashion and all new fall-winter series. Thanks LV," he wrote on Instagram. 
View this post on Instagram
Furthermore, the international star posted a series of pictures on his official Weibo account, where he was seen exploring the store and posing next to an art installation.
[OFFICIAL] 210708 Winwin's Weibo Update#威神V #董思成 #WayV #DongSicheng #Winwin #윈윈 #ウィンウィン #WINWINxLOUISVUITTON

©️威神V_董思成_WINWIN 🦊 pic.twitter.com/UcRakTstQu

— Winwin Philippines (@winwin_ph) July 8, 2021
#WINWINxLouisVuitton
WinWin's appearance at the store opening gathered positive reactions from fans, who shared their excitement on social platforms. Receiving compliments left and right for the stylish outfit and his unedited pictures, WinWin quickly became a trending topic in different countries. 
‼️ WINWIN HOTSEARCH ON WEIBO ENTERTAINMENT LIST

The hashtag #董思成生图# (Dong Sicheng unedited/raw pictures) is currently trending at number 29 on Weibo Entertainment List 🥳🎉

Please interact and post with the hashtag to help it rank higher and possibly become a hotsearch!!! pic.twitter.com/ZVljLtuUzr

— Little Flower 🌼 (@DongsichengVN) July 8, 2021
Winwin effortlessly killing it with such a minimalistic outfit. His power 🙌#WINWINxLouisVuitton #WINWIN #윈윈 #董思成 pic.twitter.com/Fld4gRQDwL

— stream glitch mode 🕹🎮 (@nctnoiseaddict) July 8, 2021
thanks, @LouisVuitton for having #WINWIN at your event! hope to see more of our winwin sporting LV in the future! #WINWINxLouisVuitton #윈윈 pic.twitter.com/74f8qsFY2D

— •• (@yaungqi) July 8, 2021
he's literally so beautiful like he's so gorgeous, stunning, unique, ethereal, he literally looks like a piece of art, one of gods masterpieces and I COULD GO ON#WINWINxLouisVuitton #윈윈 pic.twitter.com/k1U8rOhPCt

— •• (@yaungqi) July 8, 2021
#WINWINxLouisVuitton takes over SEA pic.twitter.com/YAyTj7gptI

— Mira (@aralicka) July 8, 2021
yes exactly #HelloFuture1stWin #WINWINxLouisVuitton pic.twitter.com/Jhj6puc9tK

— •• (@yaungqi) July 8, 2021
With the massive media coverage, WinWin also captured the attention of the Creative Director of Louis Vuitton's menswear. Virgil Abloh shared pictures of the NCT member on his personal Instagram account.
[210709] Louis Vuitton's artistic director Virgil Abloh reposted Winwin's interview clips from yesterday on his story! #WINWIN #董思成 #WINWINxLOUISVUITTON #윈윈 pic.twitter.com/f5l8MIrZEL

— ☁️ (@winwincIoud) July 9, 2021
WinWin, A Regular At Fashion Events
Just like other members of his groups, WinWin is a regular at fashion events. Last month, he was spotted at the opening of Maison Margiela's exhibition "The Memory of Ephemeral Space" along with his fellow groupmate, Lucas. The pair had previously attended the "GQ Connect Muse Night" party that took place last April, at the Modern Art Museum in Shanghai. 
Winwin for Maison Margiela pic.twitter.com/9CgSGUsy3J

— ً (@winwinhour) June 9, 2021
[ENG TRANS] 210609 #WINWIN & #LUCAS Weibo Update

Winwin
"Thank you Maison Margiela for the invite! Wonderful beyond imagination"

Lucas
"Thank you Maison Margiela for the invite, sharing my photos with everyone haha 😄"#董思成 #黄旭熙#WayV #WeiShenV #威神V pic.twitter.com/A4WAPjLlyL

— WayV Subs & Translations (@WayVSubs2019) June 9, 2021
[📸] #WayV — @WayV_official

Lucas y Winwin para Connect U de GQ.

🔗 https://t.co/PIXji903qb
🔗 https://t.co/2kz39KDmJ3#Lucas #Winwin #黄旭熙 #董思成 pic.twitter.com/PFm9WCGfFM

— Czennies Puerto Rico 🇵🇷 (@czenniespr) April 9, 2021
As the members of NCT and WayV continue to receive love calls from luxury brands, there is no doubt that WinWin will grace more fashion events in the near future. In the meantime, you can read our coverage of Gucci Aria in Shanghai, with Lucas in attendance.
Thumbnail courtesy of WinWin's Weibo