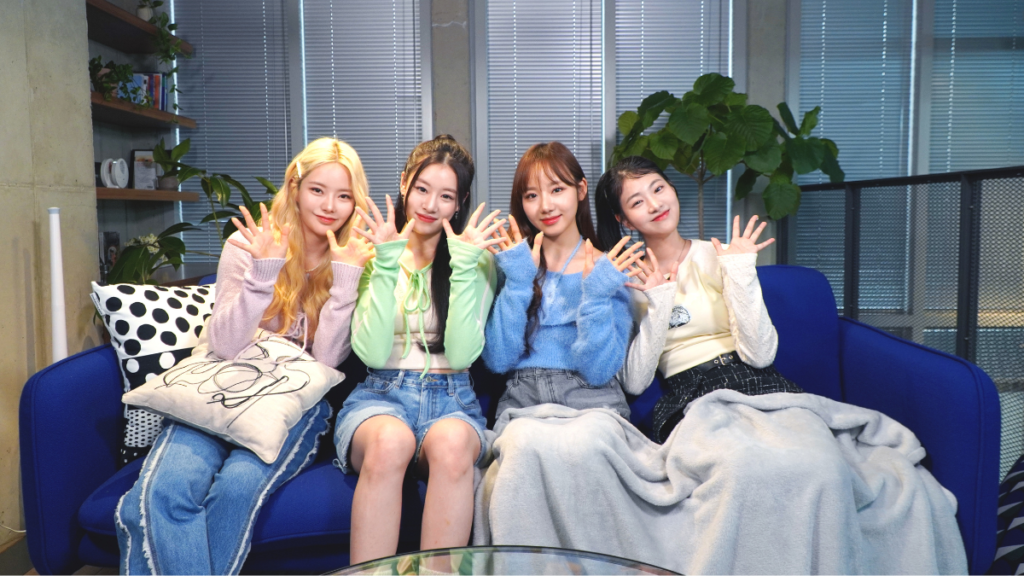 Having made it to the Billboard chart with a co-penned song, "Cupid," FIFTY FIFTY have achieved notable feats that speak beyond their rookie status. And the quartet — composed of Saena, Aran, Keena, and Sio — knows how to make a statement. As member Sio puts it, "I don't think we need Cupid in our lives!" — a sentiment true to their most recent release.
In a set of girl-next-door pastel outfits, FIFTY FIFTY address each question from the press with eager looks. With conviction in their words, from small talk about their personal tastes to delving into their creative process, it's hard to believe that the group is less than five months old.
In a roundtable interview with the press, EnVi got to hear the rising girl group's views on their growing popularity, aspirations, personal tastes, and the challenges they've conquered so far.
Humble Beginnings, Big Achievements
FIFTY FIFTY have surpassed expectations of a group coming from humble beginnings. Despite hailing from a company outside the biggest K-pop agencies, the "Cupid" singers have gained critical acclaim from listeners all over the world. As of the third week of March, "Cupid" has also peaked at #91 on the global Spotify chart with 1.4 million streams. But just a week prior to this latest achievement, the English version of the song ("Cupid – Twin ver.") charted at Number 8 on the Billboard World Digital Song Sales. On the recognition, Saena commented: "While we were browsing the news about [charting on] Billboard, we were very surprised and couldn't believe it. As much as we were surprised, we felt a sense of responsibility and motivation to do better."
Before all this fame, what were the hitmakers' first impressions of the song? "When I first heard the track, I was hooked on the chorus melody, so I kept humming that part over and over," Saena explains, humming the lyrics "cupid" and "stupid" as she crosses her hands on her chest. "It was a song I wanted to keep on listening to. Like 'Higher,' it's a song easy to listen to. It's a chill, comfortable track that makes me happy when I listen to it." Sio also confesses that it was love at first listen. "Rather than feeling anxious and worried with pressure, we just focused on how we can perfect our performance with this track while preparing for this comeback."
Behind the Scenes of "Cupid"
On the scenes behind recording "Cupid," FIFTY FIFTY detail certain challenges, such as recording an English song as an all-Korean girl group. In notably perfect English, Aran describes in confidence: "I wanna try to express or share our thoughts and our messages from our music to a lot of people around the world, so we tried to release the English version. That was really difficult for us because English is not our mother language, so it was hard to express some points that are different in Korean. Some accents or the vibe of English words were difficult for us, but we did well!"
Sio further delves into the same sentiment in English, "The Korean version was pretty smooth, but the English version was definitely challenging for me," before switching to Korean via translator, "We had to focus on pronunciation and accent, and I had to think of the meaning behind the lyrics and put the emotions into it so finding the balance between those two challenges was difficult for me."
Speaking of lyrics, the other members look fondly at Keena, who is credited as one of the songwriters of "Cupid." With a shy smile, the rapper goes over her process in detail: "I was jumping around different topics to find the best lyrics that fit our song. I was making a lot of edits, writing many different topics, and received lots of constructive feedback from our company's staff; that really helped me to think about the song again and go in the right direction while writing the lyrics."
There is excitement in the air at the question of more songwriting opportunities in the future. Aran gushes in English, "Of course, we hope so! All members hope to write some lyrics together. It's such an honor to us that we can write lyrics in our own songs. That's cool! I wanna try that — if I have a chance!"
From songwriting and even to choreography, the group's feedback has played a role in their craft since debut. The group worked with Minny Park from renowned dance studio 1MILLION for their debut song "Higher." Saena commends the choreographer, noting that Park incorporated the group's opinions into the choreography process. "It's such an honor to work with such a great choreographer and she took a lot of our opinions while working with us, so I thought that's how we worked together to create a great performance at the end of the day."
Individual Charms
In a sea of competitive girl group debuts and releases, what makes FIFTY FIFTY stand out? Saena cites their distinctive vocal colors as their biggest strength. She also notes that their individual charms form an explosive synergy when they're together as one team. The members have proven this vocal prowess in multiple performances — a notable example being their it's Live appearance, where they sang their debut song "Higher." Despite this past experience with a live band, Sio exclaims that they would also want to try band music for future comebacks. "Personally, it'd be cool for us to try band music if we all learn instruments."
As much as they take pride in their individual vocal colors, the girls of FIFTY FIFTY also make their individual personalities stand out through personal takes on love — of all forms. Aran tackles the impact of love in the difficulties of life with a pragmatic but hopeful approach. "Honestly, I don't think love has a direct impact on solving a difficult situation. However, without love, nothing can be solved. I believe we always find a way and answer to something because love exists everywhere, even in the smallest parts."
In relation to their hit title track, who plays Cupid in the group if they had to choose? Astounded by the question, the members lean backward and chuckle. But Sio confidently leans forward to answer as the members laugh and cheer in agreement, "We're a group of independent members, so I don't think we need Cupid in our lives! In fact, all four of us are Cupids of our own."
On Recommendations and Inspirations
Besides all the talk on their music, FIFTY FIFTY also share their personal tastes in rom-com films and favorite groups. With all smiles and a thumbs up, Saena recommends the movie About Time (2013), while Keena's recommendation of the K-drama Descendants of The Sun (2016) earns "oohs" and giggles from the others. On the other hand, Aran confesses she's not into rom-com dramas but prefers Japanese dramas instead. Sio, in English, echoes a similar taste: "Honestly, I don't like rom-com genres, because I like some action like Avengers. But if I have to choose one, I'd choose — it's not a comedy, but I choose Sekakoi (2022), a Japanese movie."
As juniors to many legendary figures in the industry, FIFTY FIFTY also discuss their musical inspirations. Keena first cites Girls' Generation: "We all grew up listening to their music, and they're such a respectable and iconic girl group." Aran also recounts a personal anecdote about the legendary girl group. "When I was five years old at the hair salon drying my hair, I heard 'Gee.'" The members interject with a mini sing-along to the addictive "Gee" chorus as Aran continues, "I sang along and searched the song a lot, and that's the first impression of K-pop to me."
Sio, on the other hand, is a self-proclaimed "Disney girl" who drew musical inspiration from The Lion King (1994) and The Little Mermaid (1989). But when it comes to K-pop, her introduction came from 2NE1. "One day, my mom played the music video of 'I LOVE YOU' by 2NE1, and I remember it was my first exposure to K-pop. I think that's why I listened to 2NE1's music a lot growing up and was inspired by them." Lastly, Saena deviates from the second-gen girl group shoutouts — mentioning BLACKPINK. "They have a lot of energy and strong, powerful energy, and various charms, and their own hip-hop color; I like it."
Moving Forward with Hunnies
Even if you didn't ask about their fandom itself, FIFTY FIFTY are quick to acknowledge their fans. To the question of what brings a smile to the members' faces despite life's challenges, Sio instantly answers in a singsong tone, "Hunnies!" — their official fandom name. As if energized by the mere mention of their fans, the members chuckle, forming hearts with their hands in agreement. Saena likewise continues the singsong energy by citing their "members" and "family" as the group follows along in cheerful laughter.
Having achieved recognition from fans all around the world, the question of FIFTY FIFTY's overseas schedules is inevitable. Sio makes a call-out gesture with her hands, "Boss! Boss!," earning laughter from the other members. Aran, with her recognizable eye smile, excitedly echoes the same request: "We want to! We really hope to go abroad for our concerts or fan meetings if we have a chance, but maybe our company is hearing [this]!" The members chuckle as they look into a distance behind the camera as if to communicate with staff members.
While overseas schedules are still up in the air for now, the girls share some words for their international hunnies. Saena hopes to return the support by challenging more genres. "Since we're very sincere about music, we hope to approach all listeners and our international fans with our sincere hearts. We're aiming to show various genres that are different from 'Higher' and 'Cupid,' and to present various charms through each member's uniqueness. I hope you look forward to us more!"
Can't get enough of FIFTY FIFTY? Read about our breakdown of their latest comeback with "Cupid."