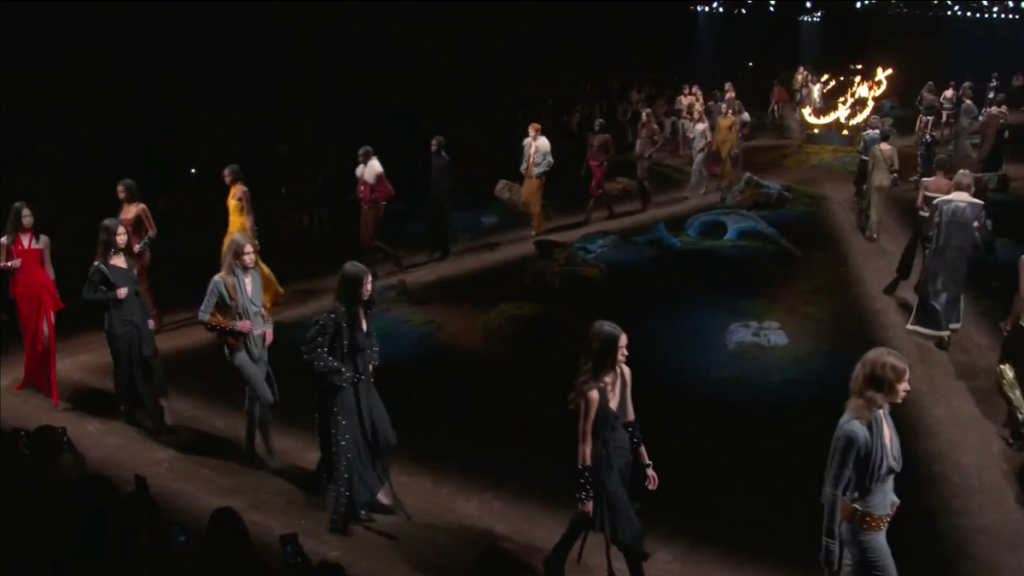 On February 23, Blumarine presented its Fall Winter 2023 Collection at Milan Fashion Week. Five months after the release of "Underwater," the brand's aquatic-themed collection, Blumarine returned to the runway to showcase a series of looks that brought the heat, and channeled Joan d'Arc.
The Collection
Nicola Brognano, Blumarine's creative director, has resurrected the brand since taking the helm in late 2019. Over the past three years, Brognano has redefined modern trends through his revival of retro fashion. This collection is no different, with metallics, knitwear, and leather dominating the runway — not to mention, the brand's burning "B" logo centerpiece.
Metallics opened the show and were present throughout, with form-fitting pieces showing Brognano's take on one of 2023's most popular trends so far — yes, metallics are thriving. Fur-lined hems, aviator jackets, and cardigans tied the collection back to the colder seasons. In contrast to "Underwater," which emulated water with its flowing hemlines, this collection shifts the spotlight to skin-hugging items. A few trailing skirts and ruffled dress contours, as well as cargo-style bottoms, recalled previous Blumarine's 2022 releases.
The FW23 collection presents a moodier color palette that matches Brognano's main inspiration: Luc Besson's The Messenger: The Story of Joan of Arc (1999). Relying on darker hues to tell the story, the designer interlaced metallics, black, and gray with shocks of red and orange in monochromatic, floor-length dresses, jackets, and accessories.
Meanwhile, chokers, metal embellishments, and an abundance of buckles added the Y2K flair the brand is so well-known for. Drawing inspiration from a medieval icon is a new, sharp route for Blumarine to transit. However, Brognano's exploration of darker themes brought an unexpected and welcomed twist to a brand that despite heavily relying on the 2000s aesthetics, still can offer novelty every season.
Want to keep up with Milan Fashion Week? Read everything about Diesel's FW23 collection here!