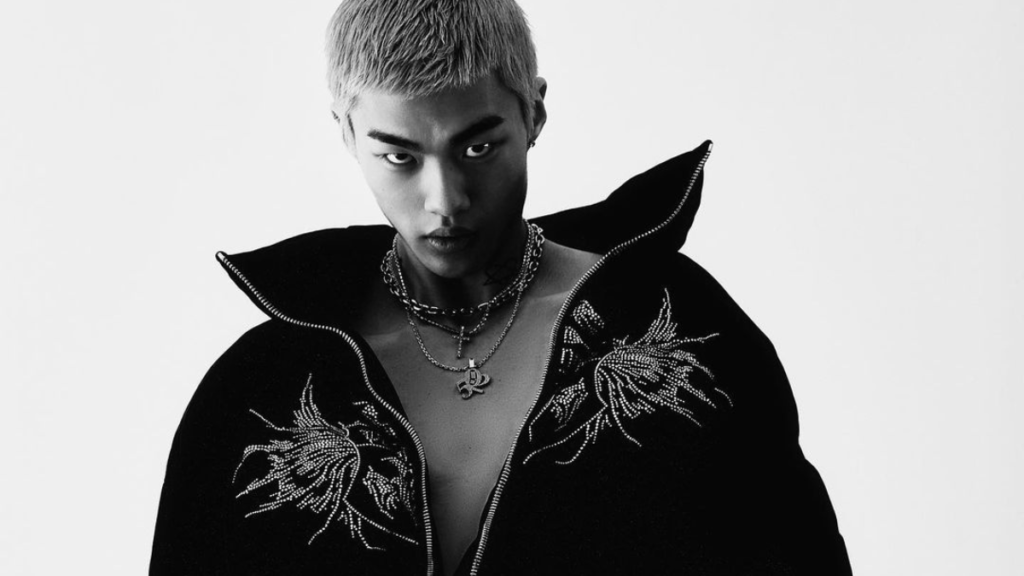 Bursting into the K-Hip-Hop scene with his vibrant and fresh energy, 21-year-old rapper Wondior talked to EnVi through email about his inspirations, his upbringing, and the making of his debut EP.
Wondior–a play on his real name Seo Dong Won and his favorite fashion brand, Dior–was born and raised in Korea, and briefly in Guam, which helped develop his love for music from a young age. He started making music as young as 14. "I always loved music and when I was young, I loved to perform on small stages in school. I think every time I was in Guam, I felt like it made me want to pursue my dream of doing music more," he said. "The vibe, the music taste out there, and my friends. It made me want to make music that would make people feel happy and hyped up."
The Creation of See Me Up
After working mainly on demos and exploring different styles, Wondior released his debut EP, See Me Up, on May 1, under label 502, with 4 tracks. It opens up with "Ghost," an eerie intro with complex atmospheric sounds. "I made about two versions and we had to get a good mix and obviously if you listen to the beat, the verse, and the hook, the mixing process was pretty hard and complex."
The second track, "Colors," however, was the easiest to write, according to the artist. Produced by labelmate and friend Xave, it shows Wondior's fresh and positive attitude.
"Xave made the beat when I was sleeping. I woke up, thought the beat was fire, recorded my hook and verse in a few minutes and that was it. That's how easy it was for me."
Working with a friend on his EP was pointed out by Wondior as one of his best moments of 2021. "Me and Xave were just always having fun making beats and recording. We both gave each other suggestions on changes to make the songs better and better. So with that process, we became even closer to each other as both friends and as artists."
When asked about a lyric that might represent him the best, Wondior pointed out the second verse of the song. "I fell in love with these colors / 항상 챙겨 (I'm takin care) all of my brothers / There's no shit that ain't gone bother / Imma paint this world with colors / 부정적인 생각은 꺼져 (Fuck the negativity)."
"That section really represents my mindset. I ain't into negativity. I just want to maintain a good, healthy, positive mindset all day. It really shows a lot about me, I guess."
The third track "Feel Alive" features Nafla, one of the most prominent names of K-Hip Hop today. "He's a big inspiration to me. Nafla is known as one of the greatest rappers in Korea. My friends love him, and I do too. It was a great moment when I first heard Nafla's verse because like I used to look up to him and now we're making music together. How crazy is that!"
The EP closes off with the chill "ATV," a solid wrap up of Wondior's debut, featuring an essential contemporary hip-hop vibe.
Inspiration from All Around
The rapper is open to trying new styles and not limiting himself in his expression. "People might think that because I do hip-hop, I might not make love songs or more emotionally toned songs. I want to express myself through music with whatever I might be feeling at that moment. I want to try more R&B-styled songs as well as some more dancing [or] party styles."
He's also not afraid of getting inspiration from unexpected places. "People might not know but I'm pretty influenced by Jazz music, Jamaican dancehall, and Chamoro sounds found in Guam. I really enjoy and find a lot of inspiration from these genres," he pointed out. "In terms of artists, I can say Pia Mia can really represent Guam through her music and also within her career. She's such a powerful artist who gives me a lot of motivation."
As for the future, Wondior wants to be free to express himself and his vibe through his music. "I want my listeners to share some of the same feelings I had while writing my songs. Listeners can expect lots of different genres and sounds from me in my future tracks!"
You can listen to See Me Up on Spotify and Apple Music and follow Wondior on Instagram.