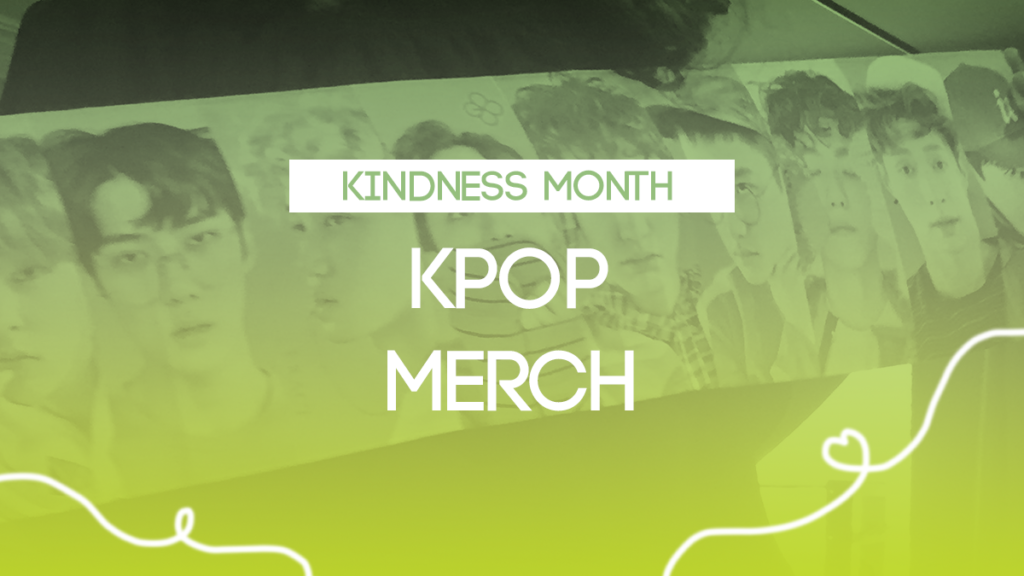 November 13 was World Kindness Day, but here at EnVi we are celebrating it all month. We rounded up a few experiences of gift-giving with K-pop merchandise. Something small as a keychain or as big as a light stick, no matter the size or value, getting an item relating to your favorite group could always put a smile on our faces. Here are some stories from our readers of how they share their love through K-pop merchandise.
Exo's The War
"A girl was doing an EXO album giveaway but it got overwhelming as people weren't following her directions, so she ended up closing it. There were quite a few people asking afterward so I was kinda worried it might be a bit much for her so I messaged asking if she was okay and not to worry as it will all blow over.
We talked for a little while to calm her down and she ended up offering me the album as thanks. I had already pre-ordered all the versions but I ended up keeping the one she sent and giving the one I ordered to my friend's sister, who couldn't really afford to buy one but it's always stuck in my mind.
I hope she's doing well today. I still keep the note she sent in my photocard binder to remind me of that nice interaction."
Red Velvet Lightstick
"My best friend, Ariana, has given me so many gifts throughout our years of friendship. All of which are amazing and memorable. Our friendship is not defined by the amount or value of physical gifts that we give each other, it's defined by the support and love we give and receive daily. I would not be who I am today without her. She has shown me so much kindness and love, she has built me up with words and actions of a magnitude that I just can't describe really.
I thank God for allowing us to have a friendship built on love, and for giving us an opportunity to share once-in-a-lifetime experiences. One of them being our first girl group K-pop concert! We were able to see Red Velvet perform in 2019 for RedMare. We had such an amazing time at the concert, but I was going through difficult times personally the day before.
The smile on my face and the immense joy I felt when Ariana surprised me with the Red Velvet light-stick before the concert is something I will always remember, for it brightened my day up and made me forget everything that was troubling me.
Pretty much everything on my bookshelf, and so many more photocards, posters, etc. that are not shown, is a gift from my best friend, Ariana. I don't know what I did to deserve an Angel like her in my life, but I am so thankful.
Everything that she does comes from her heart and I truly admire her for that. She is just as kind and caring to her small fish as she is to her family. She doesn't take anything for granted and realizes not only the importance of our lives, but the importance of how we affect each other. She is one of the only people I know that perform small or big acts of kindness every day without expecting something in return."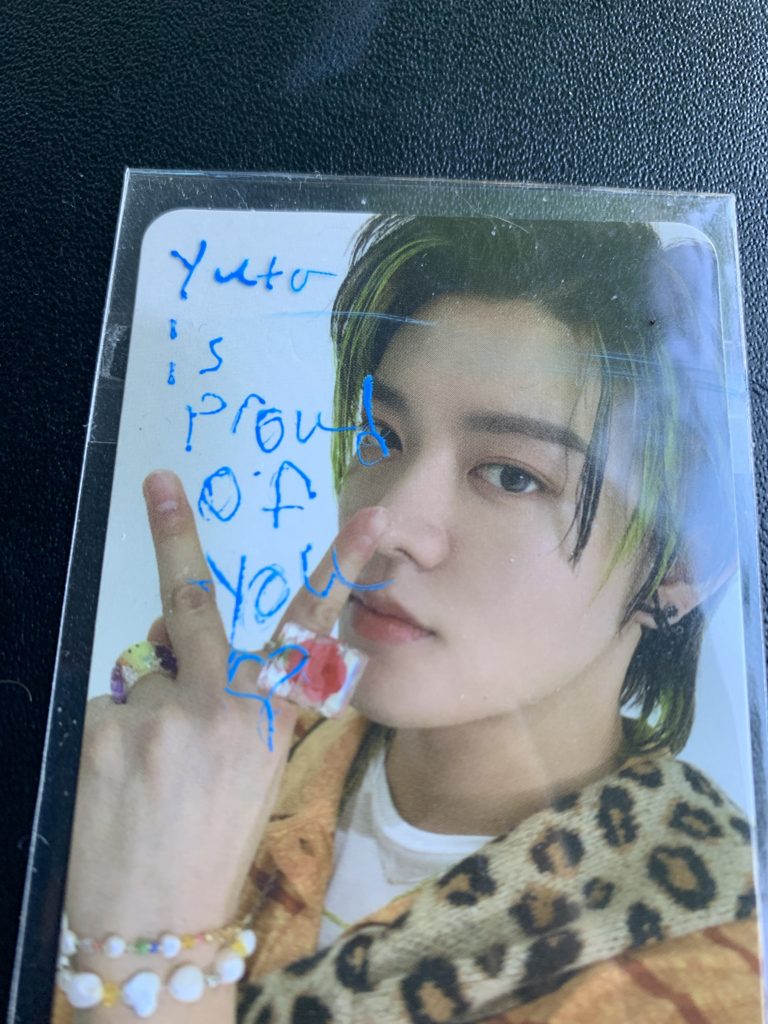 NCT Yuta Resonance Photocard
Anonymous
"I really wanted a Yuta photocard because he's my bias and I was in a serious depression all year. I could write an entire novel, but Yuta saved me while at my darkest points. He's so humble, kind, brave, intelligent, and so much more. Anyway, to prevent me from gushing over this man, I found a resonance photocard that someone was selling alone with a keychain they made. It was pretty cheap so I knew I had to get it. Unfortunately around this time, my homophobic parents kicked me out and I ended up in hospital for a broken limb. I felt so bad and was able to contact the seller. I was willing to still pay, but they offered to send it for free.
They also sent a very kind letter that made me feel very loved. Yuta helped me accept myself as a Japanese gay man in the US and I keep the card with me for good luck."

Exo "Lucky One" Banner
Anonymous
"Although I'm not the biggest K-pop fan anymore, I will never forget when one of my friends surprised me with a "Lucky One" banner. I was a casual listener but as soon as EX'ACT released, I was totally in love with everything about K-pop. I wasn't expecting anything really for my birthday but when I opened the package I was really shocked. Everytime I look at the banner I always smile."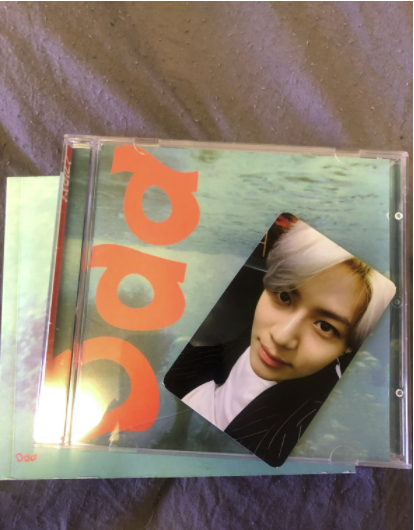 Shinee Odd
Anonymous
"For my 18th birthday, my friend gifted me with Shinee's Odd album. I was too scared to ask my parents for a K-pop album because I didn't think they would get it for me. At the time, my friend was the only person that knew I liked K-pop because I knew she wouldn't judge me. She wasn't the biggest fan of K-pop so I was super shocked when she gave me Shinee's album. For months I told her I listened to the album on repeat, especially the songs "Trigger" and "An Ode to You". I particularly mentioned that I was very fond of Jinki's pink hair as well."
If it's giving a gift, or sending a nice message to a friend, this Kindness Month, let people know how much you love and appreciate your favorite K-pop items. Thank you so much to everyone who shared their stories!
Want more heartwarming stories from EnVi? Click here!
Thumbnail courtesy of Niamh.