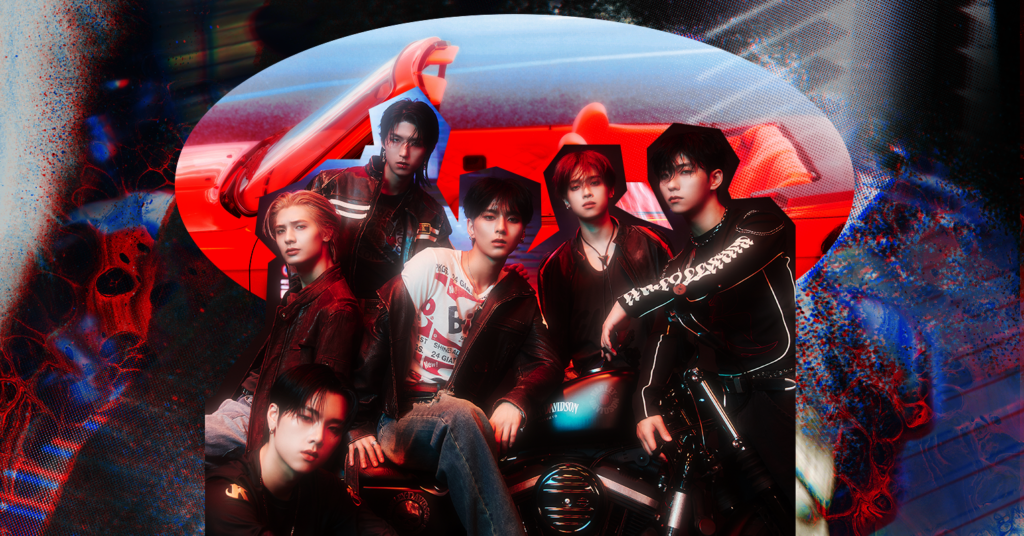 This month, Korean rock band Xdinary Heroes embark on their first European tour. Under JYP Entertainment's sub-label, Studio J, the band's name is an abbreviation of "Extra Ordinary Heroes," meaning that anyone can be a hero. Following the footsteps of other bands in the industry, such as DAY6, CNBlue, and FTIsland, Xdinary Heroes are very hands-on, from contributing to their song making process to playing their own instruments. For both new and old rock lovers, they embody the classic teen rock band aesthetic — think ripped jeans, thick eyeliner, and heavy silver hardware. But, with every release, they've committed to showing audiences a different dimension of themselves. Those who have seen them perform will surely notice the synergy across the six members, Gun-il, Jungsu, Gaon, O.de, Jun Han, and Jooyeon, as something to behold.
A few days after their performance at the Korea On Stage event in London, EnVi sat down with the band in a Zoom video interview. Especially since they're inspired by UK rock bands, such as The Beatles, Oasis, and Queen – and just performed "We Will Rock You" in their first performance in London – it's a very fitting start for this unique band. They already started their tour in Paris and London, but will soon perform in Milan, Frankfurt, Warsaw, and Madrid.
Xdinary Heroes Are Not Afraid to Get a Little Edgy
The way Xdinary Heroes push the limits on authority in their music is refreshing, from video concepts depicting the group as everything from birthday party clowns to runaway criminals each breaking out of the confines of their environment. In real life though, they're just your everyday music lovers.
Gun-il, the drummer and the oldest, took the lead in the interview, but all the members were enthused to speak about their music and what they've done so far.
Jungsu, the keyboardist and main vocalist, said that this year has really allowed the band to show listeners the whole range of their music. "I think we're showing more and more of our own music. In the future, we're going to show even more powerful sound-based tracks," he promised.
Their latest release, "Break the Brake," is filled with powerful guitar and bass riffs and it leaves no room for questions about what they can do. In a way, they are more an anti-hero than a traditional hero – but that twist is a characteristic of the rebellious and counter-culture attitude that makes rock so fun. The cherry on top is that their fans are called Villains because, without them, the band could not exist as heroes.
Xdinary Heroes debuted in 2021 with "Happy Death Day," but from the jump they have delivered hardcore sound and skillful shredding on their guitars – not your typical K-pop release.
A Look Into Their Lyrics and Creative Process
Earlier this year, they also dropped the super '80s-styled "Freakin' Bad." Smack dab in the middle of the song is Jun Han's powerful guitar solo that builds its way to the climax where it explodes into the addictive chorus chants that make up the song's title: "Freakin' bad, bad."
"Freakin' Bad," like each one of their tracks, is a welcome display of their raw talent and adolescent defiance, but this song in particular is only augmented by its mischievous word play that channels pop icon Britney Spears. Towards the song's end, they sneak in the verse, "If you seek it, why owe you?" which can also be heard as "F-U-C-K Y-O-U."
Members O.de, who is in charge of the synthesizer; Jun Han, the guitarist; and Jooyeon, the vocalist and bassist all contributed to the song, but the creative line could not really be traced back to any single member, O.de shared.
"That phrase was something that came from all of us. I'm so thankful that many Villains and also the listener loved it!" O.de said.
For "Break the Brake," all the members ended up contributing to the song. Gun-il said it is actually a very collaborative and democratic process to make sure everyone is proud of the final product.
"We all participate in every single process, especially in melody-making and lyric-writing. We write our melodies together and choose the best melodies. We also exchange ideas for the title and lyrics until we get to an agreement," Gun-il said.
As for how disagreements get resolved, the answer was simple. "We vote," Gun-il said simply.
From Being Rock Fans To Rock Musicians
Since they have so many live stages ahead of them, EnVi had to find out what sparked the band's passion for music and how they've improved their performances since their debut.
For Gun-il, he fell in love with drums when he saw his friend playing the instrument at his local church. He started playing drums to his favorite rock songs, and it landed him in Xdinary Heroes, where he has been able to grow by playing for crowds and seeing other bands' drummers perform.
Gaon, Jun Han, and Jungsu all chimed in to say that practice – especially the boring stuff – has been really key to their improvement. Finding a role model and listening to a lot of different music also helps them to keep motivated.
"Repeating and practicing is the best method to improve your playing skills," said Gaon.
"Practicing the boring stuff, like chromatic scales, really helps you to improve," said Gun-il.
But, as for onstage performances, the real secret is just confidence and really knowing what you're focusing on delivering in that moment.
"Having confidence. I think that's the biggest thing you can give," said Gun-il, translating for Jungsu. 
"Believe in yourself," another member added. "Enjoying the moment," another chattered.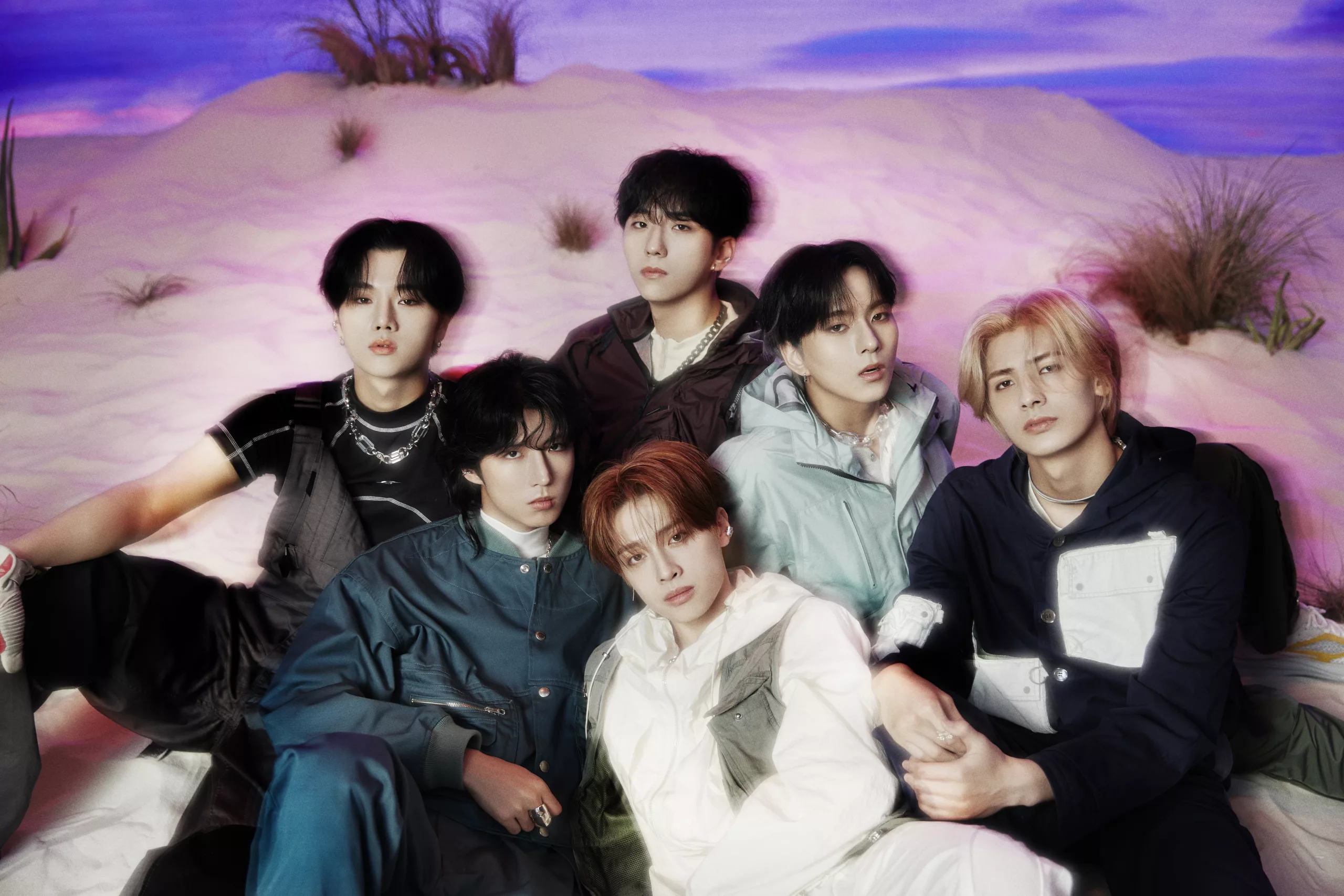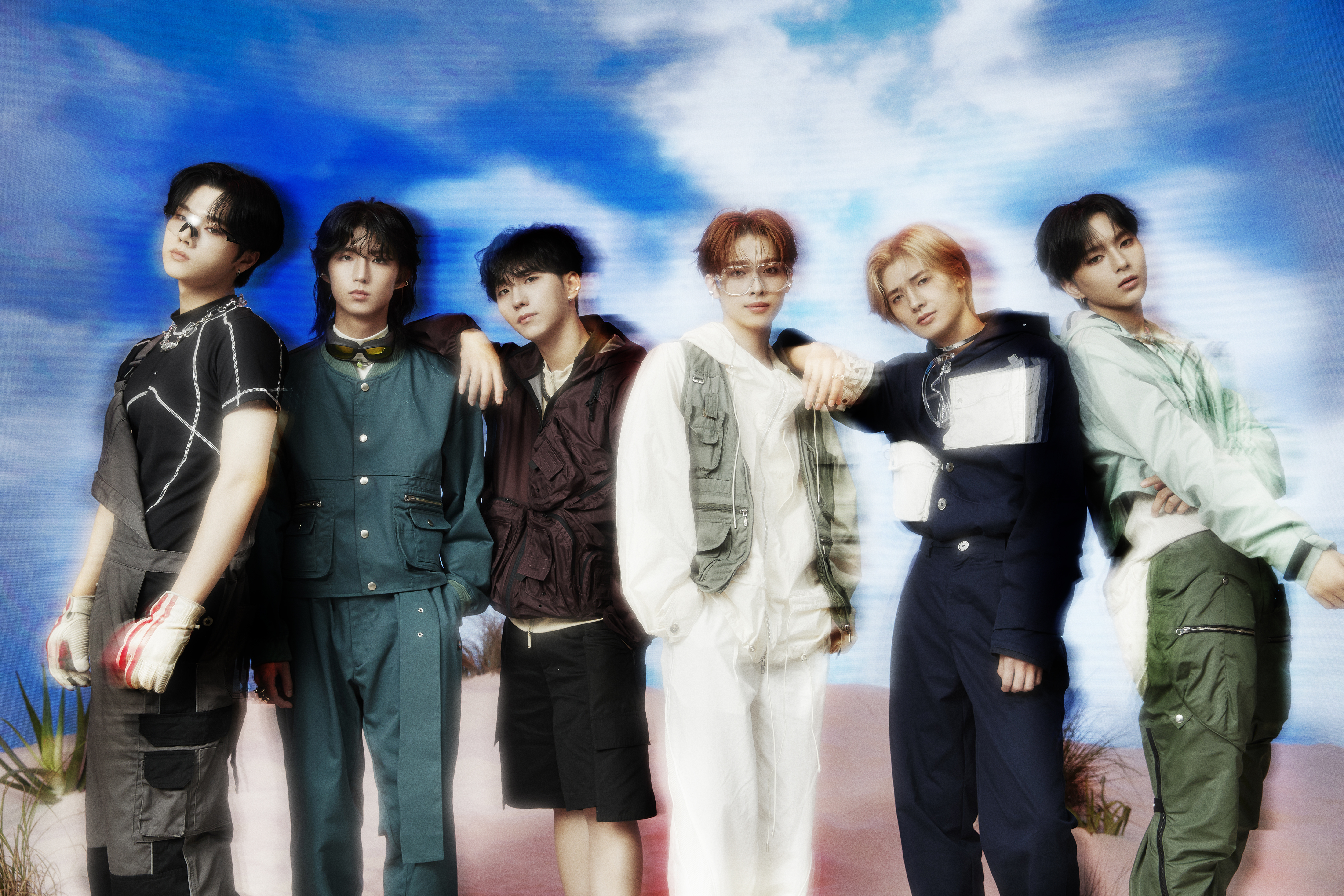 When asked about any stage mistakes, the band chuckled. In fact, despite their perfect looking performances, the band admits they do make a lot of blunders. But, it really doesn't affect the moment at all – it might even add to it, which is what makes any live performance special.
"We actually make a lot of mistakes on stage, because when we get hyped up with the crowd, our energy goes up and we get so excited. We sometimes play the wrong note, but that's not the important thing. We're not there to play perfect music, we're there to communicate with fans and share our energy together," said Gun-il.
As for what role models they have, Xdinary Heroes pulls from a variety of influences – some you may not even expect. As much as they are musicians, they're also fans. They cited many classic rock bands as their inspirations, and it definitely shows in their music.
For Gun-il, he said, "MUSE will always be my biggest musical inspiration."
For Gaon, the front man, it seems only fitting that he is influenced by Green Day. "From when I was young, I really loved Green Day," he said.
O.de said, "My favorite artist is DAY6! They're the trigger that made me want to start [performing] as a band."
Jooyeon said, "All kinds of band music [inspire me], including 5SOS. [They] are my greatest inspiration for our music."
For Jungsu and Jun Han, they took a slightly different approach.
Jungsu actually shouted out Justin Bieber as his role model. "He could be very different from our musical color, but his performance and music, also the attitude of the music from Justin Bieber is exactly what I want to have. I think the reason why I love him, so far, is that he can interpret all things with his own music," Jungsu said.
Meanwhile, Jun Han pulled inspiration from everywhere – even the public. "The music that I heard on the street also comes up as an inspiration for composing our music. Among them, I mostly listen to Plini, a guitarist from Australia," he said.
What's Next For Xdinary Heroes
Although the band are just getting started, it's also worth looking back on the many activities they have done so far and their favorite concepts. For Gaon, his favorite was the rider concept from their Livelock album. In the future, he wants to elevate this and try out a more vintage concept.
"If there is a chance, I'd love to try a concept where all members ride on an old car wearing suits with red ties," Gaon said.
Aside from their showstopping rock hits, the band demonstrates their versatility with slower songs that are equally as impactful. For new listeners, Jooyeon recommended "PLUTO" and "Good enough" as more public-friendly songs that are a great way to get introduced to the band.
"Almost all of our tracks seem to be a little bit hard to attract you on the first listen, but those two songs are very comfortable to hear while maintaining our own color," Jooyeon said.
While Xdinary Heroes admits their music may be a bit intimidating for new listeners, their dedication to their music is electrifying and has what made so many convert into their fans, Villains. Off-screen, their jamming translates even better on stage, and EnVi can't wait to watch the band grow as they continue touring through Europe.
Before they signed off, they left EnVi with these messages for Villains.
Gun-il: Hey everyone! Thank you so much for your continuous love for Xdinary Heroes. I can't wait to go to the city near you to see you guys in person! Please stay healthy and safe until then! Love you!
Jungsu: It's an honor to do an interview! We'll show our great music and cool things from us so please keep supporting us! We must meet in real life global Villains!
Gaon: Xdinary Heroes is still growing up at the moment! We'll keep going and [make] all global Villains happy!
O.de: Hi all Villains around the world! Thank you always for your support. We'll come to you with our best and love you all!
Jun Han: We just want to give our fans happiness even though we cannot meet each other often. We love you guys and your support. Thank you so much!
Jooyeon: Please look forward to our future. We want to keep our words to become the world's best band ever so please be with us forever Villains!
Stream Xdinary Heroes's music on Youtube, Spotify, and Apple Music. Follow them on TikTok and Instagram.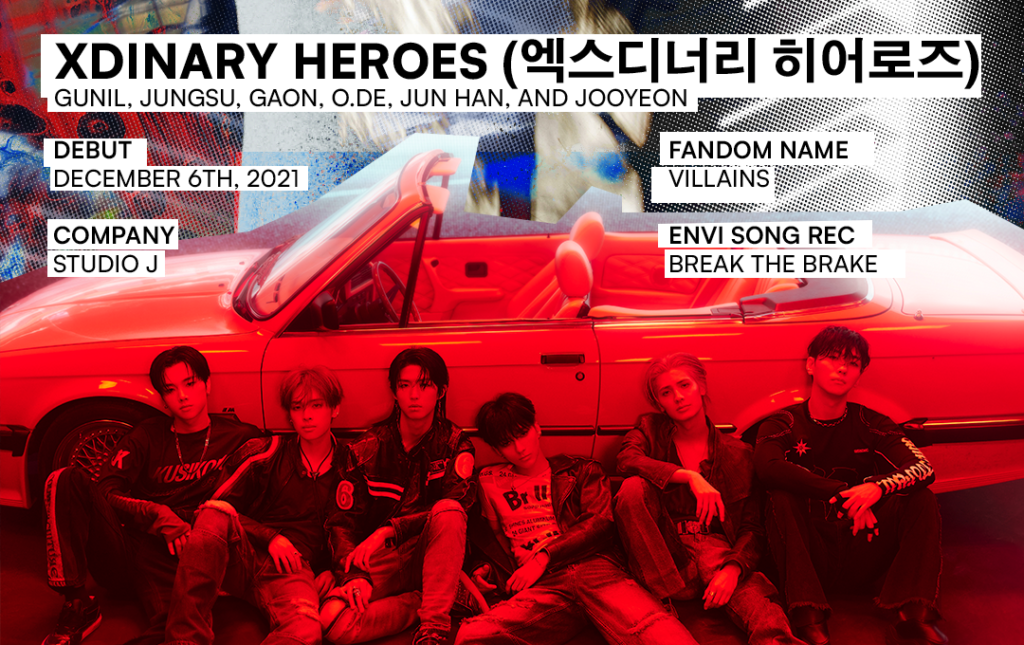 For more interviews with your favorite rock bands across the Asian diaspora, check out EnVi's concert recap and interview with Korean rock band SURL.