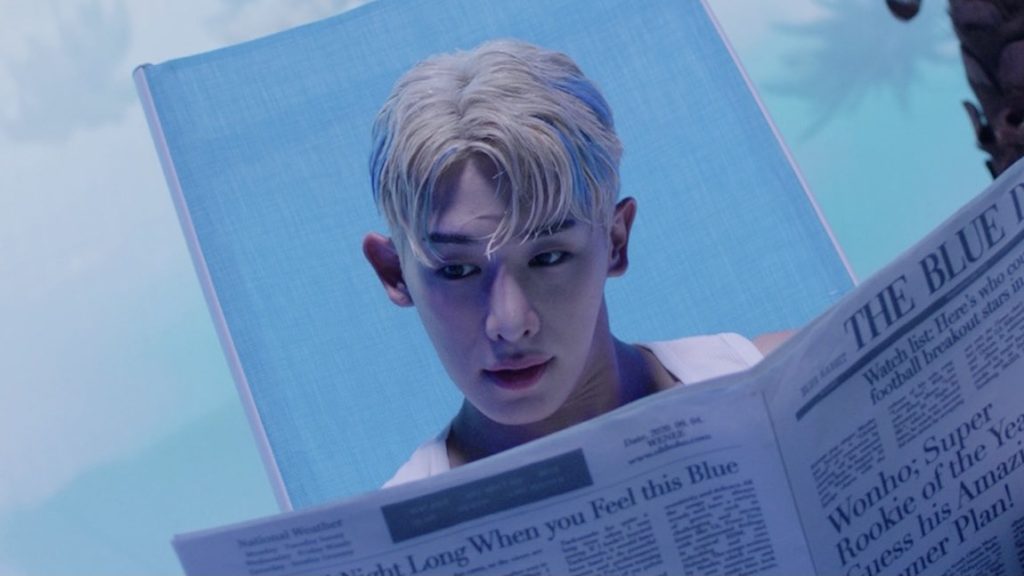 Seven months after February's Love Synonym Pt. 2: Right for Us, Wonho's back, and he's feeling the blues. Officially released on September 14, "Blue"  is Wonho's latest music video and the lead single on his highly anticipated second mini-album, Blue Letter. A groovy, refreshing song, "Blue" is the perfect song for the summer. 
Blue: Wonho Takes 
The second track off Blue Letter, "Blue" is a true gem. Described as a pop dance track, this laidback bop is underpinned by a steady, rhythmic bassline that features Wonho's bright vocals."Blue" a refreshing follow-up to the darker, more sensual tone of "Lose" and "Open Mind," and the angsty heartbreak of "Losing You." The track is a perfect addition to any summer playlist, with a catchy, slightly '80s-inspired chorus and a catchier hook – "can you feel, feel the blue?" 
The lyrics are filled with references to dreams, the beach, and the ocean and chronicle the joy and sweetness of a summer romance: "Can you feel the blue? / We can feel it everywhere / Just you and me together / Deep inside the blue." Lyrically, it's reminiscent of NCT Dream's "Dive Into You" and Twice's "Dance the Night Away" – and who doesn't love a sea-themed summer love song? 
"Blue" is sweet, simple, and easy on the ears, and the colorful, multi-themed music video, teased on September 9 and again last Monday, only adds. It follows Wonho as a popular American football player who finds himself enamored with a girl he meets at a diner one night after a lost game. The storyline is reminiscent of more than a few teen movies  and the football theme makes one fondly reminiscent of EXO's 2015 hit, "Love Me Right." 
The MV travels back and forth among the football field, the beach, the diner, and dance sequences in a kaleidoscope of colors and a diverse cast of actors and dancers alongside a  bright-eyed, happily infatuated Wonho. In the end, he and his teammates claim the championship, and amid their celebrations, Wonho gets the girl. The choreography is fun and simple, easy to replicate without distracting from the relaxed, cheerful atmosphere of the song itself. The Blue music video is an instant serotonin boost, and if you were looking for a catchy tune to add to your summer playlist, look no further. 
By Wonho, For WENEE
The entire mini-album save "Intro: Seasons and Patterns," features Wonho's participation in composition, arrangement, and lyric writing. Additionally, Wonho once again ventures into English-language territory with both "No Text, No Call" and an English version of "Blue."
Alongside the talents of producers Oshimaxx, ENAN (SAVAGE HOUSE GANG) and Sun Ahn, Blue Letter features the work of 브라더수 (Brother Su), whose catalog includes Wonho's "LOSE," BTS' "I Need U," NCT 127's "Welcome to my Playground," and BLACKPINK's "As If It's Your Last." Brother Su is also known for several Monsta X hits, including "All In," "From Zero," "Love Killa," and "Fantasia". 
In an interview with NME, Wonho describes Blue Letter as a "message to those who are feeling lost, depressed or having a hard time." The motif of the color blue appears once more in this latest release, and Wonho uses its significance to convey the range of emotions expressed in each track's lyrics, from the upbeat title track to the lonely, melancholy "Stranger, to the honest yet comforting 24/7. In short, Wonho's Blue Letter chronicles the process of finding and fighting for love even in the darkest of places, and there's an undertone of hope that permeates this entire mini-album.
Fan Reactions
Here what's fans have had to say:
I love the song, i love the mv, i love you! 💙💙💙💙#원호#블루 #BLUE #WONHO_BLUE#블루레터 #Blue_Letter

— Coco 💙💫🍀 (@yooandacat) September 14, 2021
Wonho!! Thank you so much!! This is amazing!! I really love it!! It's so addictive and catchy!! We'll just party all night long. When you feel, feel the blue!! So beautiful!! 💙🎶🔥#블루레터 #Blue_Letter#Wonho_BlueLetter #원호 #WONHO @official__wonho pic.twitter.com/dKfX7UtklG

— Aida |#원호사랑해 |💙💌🐰 (@aida_wenee) September 14, 2021
Yes!!!! I feel the blue. This song is definitely going to get people up and dancing.
I want to see wonho always this happy. 🤭😍 so cute!!!! 💙💙💙💙 pic.twitter.com/LAbMuAc0vk

— Dayd_reamer (@dayd_r3amer) September 14, 2021
This is definitely a Wonho song 🥰 Fun, energetic and cute just like Bunny. MV was fun to watch. Definitely Riverdale inspired lol. I think this might be my favorite title song? I love it all. Great job Wonho!! Let's get it!!! 💙💙💙💙💙💙💙💙💙 pic.twitter.com/2ycU84fst7

— Cynz (@cynklai) September 14, 2021
This is a really fun song. I'm already singing that chorus in my head over and over. The mv was really cute too. Loved everything about it. 💙💙💙 #Wonho_BlueLetter#WONHO #원호@official__wonho @official_WH_jp

— cad_1070 (@cad_1070) September 14, 2021
As promotions begin for Blue Letter, Wonho will perform "Blue" on music shows and has already made special appearances on MDromeda KPOP's it's Live and 1theK's Suit Dance, among others. In the meantime, bask in the excellence of a project Wonho was wholeheartedly invested and involved in. We can't wait to see what he'll do next. 
Want more ? Read about NCT 127's latest release here!
Thumbnail courtesy of Highline Entertainment.