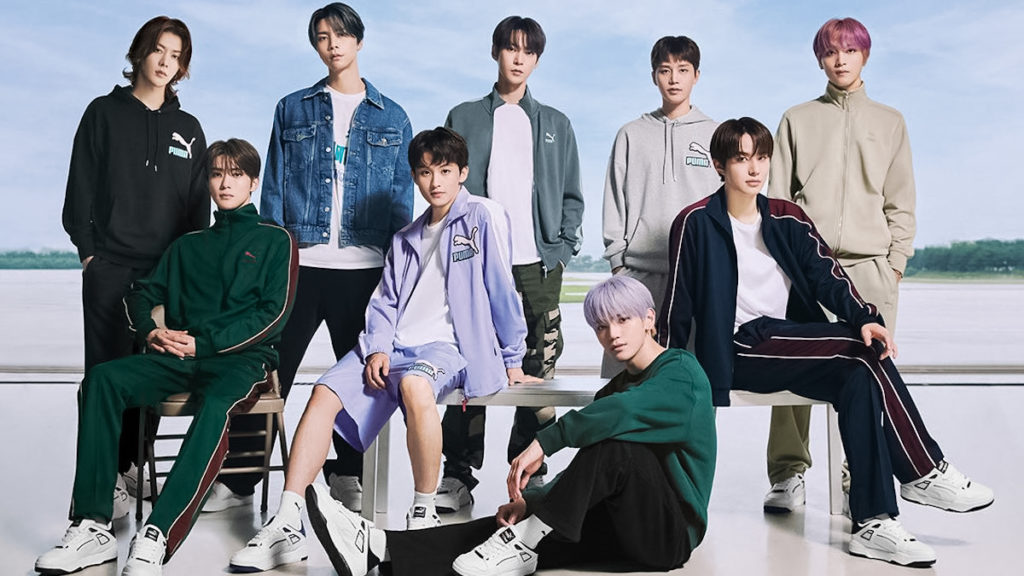 K-pop group NCT 127 and their collaborations with brands have turned into headline-worthy affairs in recent days. After the announcement of a team-up with the merch platform Represent, the nine-member act shows no signs of slowing down. On July 25 (KST), it was revealed that PUMA recruited the global stars as the brand's new ambassadors from Asia-Pacific.
NCT 127 x PUMA
NCT 127's popularity among brands has been hard to ignore since their debut in 2016. In the past few years, however, the hugely successful group has deservedly cemented its place as a go-to endorser for brands. From beauty to fashion, the members of NCT 127 are lending their image to promote a variety of companies. In their latest power move, Taeil, Johnny, Yuta, Taeyong, Doyoung, Jaehyun, Jungwoo, Mark, and Haechan—collectively known as NCT 127—were appointed ambassadors of the German apparel corporation PUMA. The news of NCT 127's new endorsement deal follows previous fan speculation about a partnership between the group and PUMA back in May.
In a statement, the sportswear company explained the partnership, "NCT 127 is a hugely popular representative K-pop boy group among the 10-20s age groups across APAC (Asia-Pacific region), including Japan, China, Singapore, and Thailand." PUMA representatives added, "Based on the strong influence, passion, and creativity of NCT 127, we plan to conduct various campaigns and actively communicate with fans and consumers in APAC to increase the brand value."
Reintroducing the Slipstream sneaker
NCT 127's appointment corresponds with PUMA's steady efforts to recognize remarkable athletes and stars from around the world. In addition to a long list of international icons such as Dua Lipa, the group follows Chinese stars like Yang Yang, Liu Wen, and Korean idol Sunmi as brand ambassadors from the Asia-Pacific region.
For their first project with the brand, NCT 127 will join a new chapter of the Slipstream sneaker, which was recently reintroduced with the help of pro athletes, stars, and influencers. Among other big names, the likes of Neymar Jr, Danna Paola, and Romeo Beckham became the protagonists of a campaign released on June 9.
The Slipstream sneaker is one of PUMA's signature shoes. First introduced back in 1987 as a basketball shoe, it enjoys great popularity in the American and Japanese markets—much like NCT 127. Now, PUMA has reinvented the famous sneaker and enlisted the help of popular figures to appeal to "Sneakerheads born after 2000."
To The World
In their new role, NCT 127 will be actively participating in campaigns, the first one slated for release on July 29 in Korea and August 4 in Japan. As we look forward to more of NCT 127's world takeover, you can take a look at EnVi's favorite pieces from the band's collaboration with Represent here.