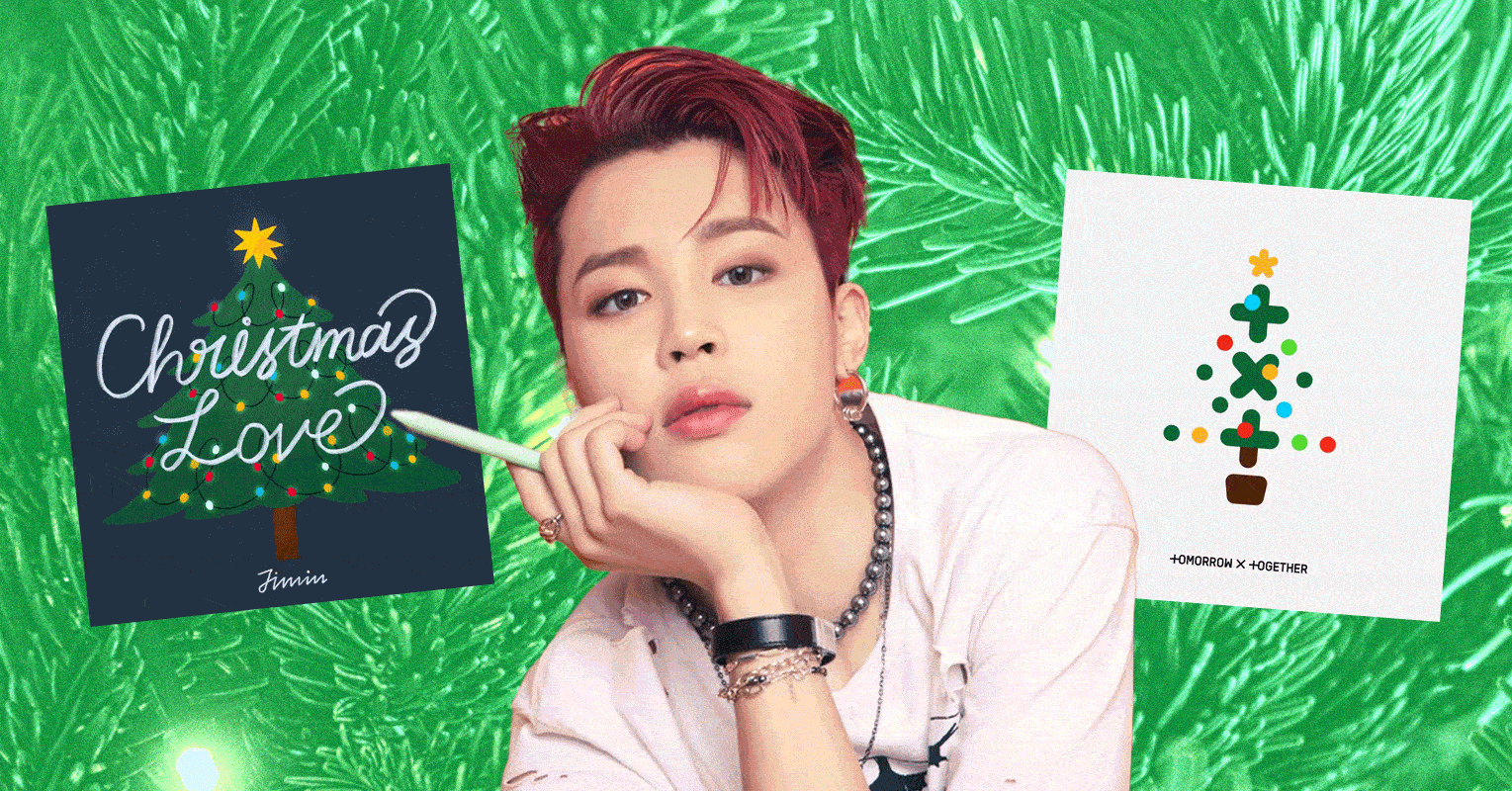 It's the most wonderful time of the year and EnVi has 10 songs by K-pop artists to get you in the holiday spirit. So grab a cup of hot cocoa, some candy canes, and let the warmth of these cozy tracks make your holiday bright!
"Christmas Love" by Jimin of BTS
What are the holidays, if not a bit nostalgic? In this original track by Jimin of BTS, Jimin captures the pure love of Christmas as he reminisces about his favorite childhood memory. In a personal blog post, Jimin wrote, "As we grow up, I think we miss our childhood a lot… I hope you can go back for a while to the old days that everyone remembers after listening to the song." "Christmas Love" is a soft acoustic track with an innocent twinkling motif that will surely leave you daydreaming about pleasant childhood memories.
"Christmassy!" by THE BOYZ
Released on their third anniversary, THE BOYZ reflect on their love for their fans throughout the years with this delightful holiday single. "Christmassy!" is the epitome of feel-good with its upbeat nature and the music video leaves viewers feeling as if they are the star of a holiday rom-com. Melodious jingle bells and chimes are scattered all over the song and paired with heavenly harmonizations from THE BOYZ. The holiday season may only come around once a year, but that one-of-a-kind love can be celebrated all year-long as the guys sing, "Just being together / It feels like Christmas, on and on."
"Merry & Happy" by TWICE
"Merry & Happy" by TWICE is a sweet song about spending the holiday season with a loved one. The song opens with the lines, "Every year, when I turn the calendar to December / The same, unknown emptiness starts to creep up." The members recall their loneliness from past holidays, but their newfound love has made their season brighter. As the chorus cheerfully sings, "Now I like Christmas too / The falling white snow doesn't make me lonely," the members now share merry and happy memories with the one they love.
"Last Christmas" Cover by Hongjoong of ATEEZ
Hongjoong shines in his cover of Wham!'s melancholic '80s hit, "Last Christmas." Beyond being ATEEZ's captain, he is an excellent lyricist and rapper and made his own spin on the hit single as he wrote his own raps in place of some of the verses. His delicate vocals are complemented by the bright synth in the chorus. The cover ends with the hope of healing from heartbreak as he sings, "When that day comes, the world will be colored white / And I hope we will be purely happy, as if nothing happened."
"For You (Holiday Remix)" by Lee Hi
This sweet love song by soloist Lee Hi will make you feel warm and cozy this holiday season. The holiday remix combines a groovy guitar beat and jingle bells with the singer's smooth trills and harmonies. "For You" featured a holiday-themed live performance with singer Crush with its original release. Just as the two demonstrate in the video, "For You" is perfect to set the vibe for decorating and getting into the seasonal spirit. Listening to the song might even make your own heart beat for a special someone.
"Jingle Bell Rock" Cover by Young K of DAY6
Young K's warmth from his velvety, timeless voice is quite fitting for his cover of the cheerful classic "Jingle Bell Rock," originally by Bobby Helms. The stripped down cover was released on Young K's birthday, December 19, as part of his YOUNG ONE series on YouTube. This cover highlights the DAY6 bassist's vocal abilities and accentuates his charisma as he smiles sweetly while singing. If you find comfort in holiday tradition, this cover will surely get you in the holiday spirit.
"Christmas EveL" by Stray Kids
How do you feel the holiday spirit if you hate winter? Stray Kids has an answer for you! "Christmas EveL" sits at the intersection of parody and festivity. The group laments the troubles that come with cold weather through comical lyrics like "The overnight snow is pretty for just a second / Romantic? Not / Look how fast the selfish cars made it turn black." A mix of heavy bass, sirens, and jingle bells puts a spooky and satirical twist on the holidays.
"Wish Tree" by Red Velvet
"Wish Tree" by Red Velvet is a slow, melodious tune of wishing for an innocent, childlike happiness during the holidays with a loved one. With rhythmic jingle bells and chimes, the instrumentals paint a beautiful scene of a winter wonderland. The lyrics portray a sense of nostalgia with the lines, "Kids lining up to meet Santa / Twinkling eyes, bright smiles / I used to be like that back in the days." The members sing of wishing to keep that pure happiness with the person they love for many winters to come.
"Have Yourself A Merry Little Christmas" Cover by Wendy of Red Velvet, Jay JungJae Moon, and Nile Lee
With the accompaniment of Jay JungJae Moon and Nile Lee, Wendy of Red Velvet showcases her soprano vocal range in this elegant cover of "Have Yourself A Merry Little Christmas." What begins as a delicate take on the track transitions into a jazz rendition halfway through. Wendy's voice is bright and lively as she adapts to the bouncy instrumental. This cover is perfect for a cozy night curled up by the fireplace.
"Sweet Dreams" by TOMORROW X TOGETHER
The guys of TOMORROW X TOGETHER warm up hearts with this sweet serenade. Soft synth and jingle bells can be heard in the back as the member's harmonize to create a dreamy effect with their vocals. "Sweet Dreams" sounds like what shaking a snow globe looks like. When the song begins, the melody floats steadily like snowfall, until the final note and snowflake lands softly. Ending on a tender note, this is the perfect track to play at the end of a holiday party.
Want more songs to get into the holiday spirit? Check out our roundup of iconic NCT Christmas songs here!