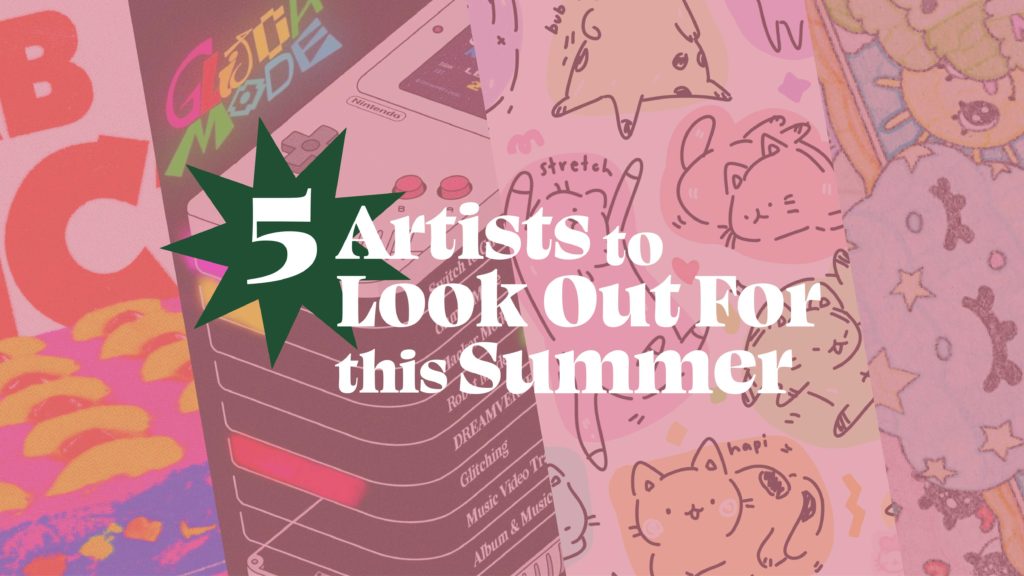 At EnVi, we love to highlight and celebrate artists and their creative processes. To celebrate the arrival of summer, EnVi spoke with five emerging visual artists to watch this summer. These artists incorporate vibrant colors, pop culture references, and demonstrate that there is power in being vulnerable in your craft. Anj, OPingo, Lizi, Moah, and Cherie chat with EnVi to discuss their art, inspirations, and the joys of being creators.
Neoidio
Anj is a graphic design artist with fun and unique creations often centered around K-pop. She has a growing following and has even had artworks shared by SM's official PinkBlood Instagram account.
EnVi: What inspires your graphic design?
Anj: What got me inspired to do K-pop designs was the creative direction of K-pop music videos! I remember watching "IDOL" by BTS and being obsessed with the color and playfulness of the whole video. I then found NCT videos starting with "Cherry Bomb" and "Simon Says" and the whole styling and concept really got me hooked! Ever since then I've been really attached to the NCT brand because they bring so much inspiration to the table!
EnVi: What do you enjoy the most about being a creator?
Anj: I love being able to share my love of graphic design and K-pop with other creators on both Instagram and Twitter! Having this community really helps trigger new creative ideas and helps everyone keep each other motivated. I love learning about interaction statistics and understanding what type of graphic design my audiences like and being able to experiment with different content to see if it would be received well or not!
I don't try to get hung up on too many statistics because it does affect creative block too, and you feel pressured to post. So now I have learnt that being a creator is about your flow of work and your ideas being visually represented in a way you want, rather than what other people would like you to create!
EnVi: Some of your graphics have slogans that can be motivational, how do you come up with these?
Anj: A lot of the slogans I come up with while trying to motivate myself! My thought process is that if I'm thinking this then I'm sure it will resonate with someone else! Some of the slogans just drop out of thin air too after I have designed something, it really is a mix of the two!
OPingo
OPingo is a digital artist heavily inspired by early 2000s anime. Her art adopts the feel of the original muse, while still showcasing her personal style. The utilization of simple brushes on Procreate is an important tool in the creation of this art, which features interesting portraits with a focus on softness.
EnVi: What types of themes/content do you usually like to draw?
OPingo: I like to draw people and characters! I'm very much into character design too; I love to do that! I would say I do a lot of commissions because when people talk about their characters, I just love to build them with my style, which I think is a lot of fun. So I'd say that character design is definitely my specialty.
EnVi: Where do you get your inspiration from?
OPingo: Pinterest! Pinterest is like the heaven of every artist! I'm also very into Y2K, grunge, and a lot of soft-core aesthetics. These are the things that I search for on Pinterest to really inspire me when I draw characters in my own style. Anime also helps me a lot!
EnVi: What advice would you give to other young people who want to do art?
OPingo: I'd say it's nice to start being creative by yourself, but it would also help so much if you could try to look beyond that to inspire yourself. Getting help from YouTube is definitely helpful because you can find and see so much. But, I'd also say that if you want to draw by yourself, you should definitely look on Pinterest. You could look for people, for example, if you wanted to learn how to draw anatomy.
Tracing models could also help a lot for new artists, and it's a lot cheaper than buying an anime pose app. Every two weeks, you could dedicate your time to tracing or practicing your anatomy until you're comfortable with it. But when it comes to colors, I'd definitely say that YouTube is better for that. I feel like a lot of YouTubers do a good job when it comes to color and lighting.
Lizeok
Lizi Grace is a collage artist and digital illustrator who creates mixed media works using distinct and fresh materials like CDs, toys, fabrics tied together with bright colors and pop culture. Their work is a perfect balance of a nostalgic childhood of the 90s/00s merged with their modern K-pop interests.
EnVi: What inspires your art?
Lizi: My work is heavily inspired by aspects of my ADHD. I enjoy making work that explores daydreaming, hyper-fixations, and overstimulation through bright colors and patterns that fill the entire image. Introspection tends to go with this as well and I find myself inspired by aspects of my inner child while I explore these themes, too.
EnVi: What do you enjoy most about being a creator?
Lizi: The thing I love most about being a creator is sharing my work. I've always loved making art and sharing it with those around me so having a place on social media to widen those I can share my art with is really exciting and makes me excited to continue to create.
EnVi: What do you think is the most empowering about highlighting and exploring themes of identity in your art?
Lizi: I think what's most empowering about it for me is how it shows me that I'm really not alone in what I'm experiencing, which in turn means my art is relaying that same message to people who come across my art. Being vulnerable can be really scary and intimidating, but those who relate to that piece of you you're sharing will let you know and when that happens it almost feels like you're giving each other the reassurance that things are hard sometimes, but I've had this feeling, too, and I hope we both end up okay—and in a world that sometimes feels very individualistic it's an extremely powerful reassurance to receive.
Moahthecow
Philippines-based Moah is a self-taught graphic designer. Moah's artworks frequently feature a blend of bright colors, the repurposing of advertisements, and the occasional pop-culture reference – Harry Styles being a favorite. In addition to graphic design, Moah is also versed in digital illustrations, collage making, photography and even 3D modeling.
EnVi: What inspires your art?
Moah: The things I see every day are what inspire me the most, may they be in the digital or in the "real" world. I am inspired by the things I see as I live my day-to-day life. This is probably why someone once told me that I manage to make design so personal. I see beauty in the mundane and this is what the subject of my art pieces usually is. Aside from this, I also enjoy browsing through Pinterest and my Instagram saved tab as it lets me see the kind of art I enjoy looking at. But what inspires me the most are really bright colors, it gives me a type of joy that makes me want to just keep making art.
EnVi: What do you enjoy the most about being a creator?
Moah: I'm a Development Studies (DS) student and we often joke around that DS means Depressed Studies because of how daunting our readings and topics are. We talk about all the unfortunate things happening in the world as a result of people's exercise of power. With that, being a creator and making art gives me an escape from this. It allows me to be happy as I genuinely love the process of experimenting in art, and it gives me something to look forward to every day.
Being a creator has also allowed me to do things that I never thought I'd be able to do. As someone who constantly feels imposter syndrome every day, making art eases this even just for a while. If you told me 6 years ago that I'd be making art every day for the last 432 consecutive days (as of writing), I wouldn't believe you at all. But that's what I've been doing, and I'll never be able to understand how I'm able to do that.
EnVi: How do you motivate yourself to get started with a piece?
Moah: As weird as it sounds, I just sit on my desk in front of my laptop and iPad with a show/music/podcast running in the background and press random buttons on Photoshop until something comes to me. Over the past few weeks, I've also realized that ideas come faster to me whenever I don't feel stressed so I've been making the most out of the break I have from my life as a university student. Right now, ideas for art pieces just come naturally to me and I sometimes have more ideas than what I can make in a day. So I end up just writing it down on my phone or sketchbook and just start on them whenever I feel like doing so.
I also give myself the freedom to experiment and explore without expecting a certain turnout whenever I post the artwork. This has allowed me to have a positive relationship with the process of making art and it's one of the reasons why I haven't been burnt out yet.
miaocherii
Sherry Feng–pseudonymously known as Cherie–specializes in digital art, acrylics, and watercolors. An explosion of pastel colors, Cherie's artworks feature animals, plants, and the occasional Studio Ghibli or Pokemon character. Through the use of cute motifs, Cherie hopes to create uplifting artworks that encourage others to appreciate life.
EnVi: What inspires your art?
Cherie: While I am certainly inspired by other artists, current events, pop culture, and larger-than-life issues, I have to say I am more strongly inspired simply by little moments in my life – whether that may be the cute plushies gifted to me by friends, foods and desserts I get to enjoy, memories and experiences with loved ones, beauty in nature around me during my walks, or my cat, who of course is my biggest source of inspiration!
I find that I get the most creative and feel the strongest excited spark to create something new simply by looking around at the myriad of cute things around me or recalling things that made me happy, whether that may be as recent as the cake I made for some friends last night, or looking at a picture from years before of my adorable cat on a cute rug making that silly face. I find so many aspects of my own life fulfilling and vibrant (I think largely due to how many hobbies and things I like to be involved in!), and I feel so lucky and blessed that inspiration comes quite easily and naturally to me.
EnVi: What do you enjoy the most about being a creator?
Cherie: I think being able to bring something to life, especially in a tangible form, is the most enjoyable and satisfying part about being a creator! While it may seem like a very cliche answer, I can't deny how true it is; there have been so many times as a child or while growing up when I had ideas in my head and remember thinking "I wish what I'm picturing was a real thing", as a sticker or piece of clothing or nice tote bag – something I could hold in my hand and see with my own eyes.
It's amazing to be able to do that now; to bring an idea to fruition – from the vague beginnings of brainstorming to sketching an idea to finalizing an illustration and then producing it in a physical form of some sort! I'll always be excited and wondrous at the whole process, knowing that I literally brought something into existence in this world. Of course sharing my creations and knowing they're also out there being loved by others adds to that delight and happiness I get as a creator.
EnVi: What do you include in your artwork to convey a happy tone?
Cherie: Even though I feel like there are aspects of my art style, like me, that are ever-growing, changing and developing, I have to say that I constantly gravitate toward a pastel color palette and motifs involving nature and animals (flowers and cats especially!). I sometimes enjoy including little messages with puns and relating to positivity into my works as well.
I am a firmly enthusiastic believer that soft pastels and use of many colors can always bring a smile to someone's face. Whenever I see a piece from another artist that uses color in a beautifully soft or striking way, it really does light up and brighten my day, so I try to do the same with my work! I love including animals and plants in my works as my own cat and houseplants bring me so much joy. I think they represent the simple pleasures of being alive and of growth, and I hope that by including them in my work, I can bring warmth and the appreciation of life to others!
If you would like to check out more of these artists' work and keep up with them on their artistic journeys, be sure to follow them on Instagram: @neoidio, @0ping_ping0, @lizeok, @moahthecow, and @miaocherii.
Interested in more art content? Read about the different art movements that influenced Red Velvet's "Feel My Rhythm" music video here!